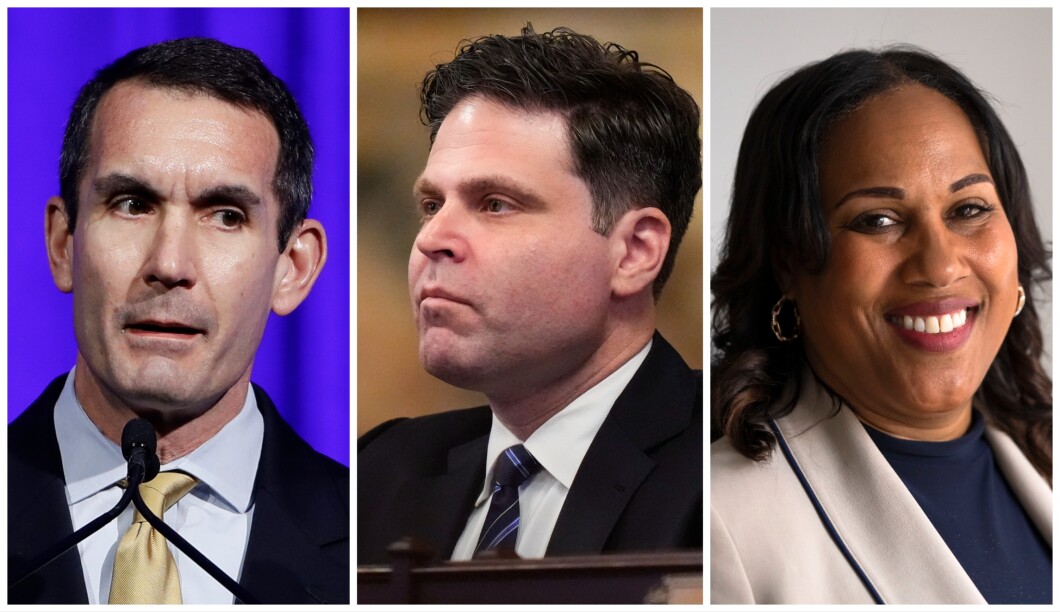 While there's a heavy focus on the pres­i­den­tial elec­tion in 2024, sev­er­al states will also hold races for attor­ney gen­er­al — a role that often push­es politi­cians into the spot­light and sets them on a col­li­sion course with nation­al office.
Penn­syl­va­nia and North Car­oli­na are notable open-seat attor­ney gen­er­al races com­ing in 2024, with states like West Vir­ginia and Wash­ing­ton also hold­ing open elec­tions for the posi­tion next year. In these races, the cur­rent attor­neys gen­er­al are either opt­ing to retire or run­ning for gov­er­nor, a typ­i­cal next step.
STUNNING 38% WOULD VOTE THIRD PARTY IN TRUMP-BIDEN ELECTION
Here are the attor­ney gen­er­al open races to watch head­ing into next year's elec­tion cycle.
2024 Demo­c­ra­t­ic can­di­dates for Penn­syl­va­nia attor­ney gen­er­al. Left: Eugene DePasquale; Cen­ter: Demo­c­ra­t­ic state Rep. Jared Solo­man; Right: Keir Brad­ford-Grey. Can­di­date not pic­tured: Joe Khan.
AP
Penn­syl­va­nia
The race for Penn­syl­va­nia attor­ney gen­er­al is heat­ing up for Democ­rats after Attor­ney Gen­er­al Michelle Hen­ry announced she would not run for a full term. She was appoint­ed after Gov. Josh Shapiro (D‑PA), who served as attor­ney gen­er­al before her, won in 2022.
Sev­er­al Democ­rats have thrown their hat into the ring, and there are four vying for a chance to face the Repub­li­can can­di­date in Novem­ber 2024. For­mer Penn­syl­va­nia Audi­tor Gen­er­al Eugene DePasquale, for­mer Bucks Coun­ty Solic­i­tor Joe Khan, for­mer Defend­er Asso­ci­a­tion of Philadel­phia head Keir Brad­ford-Grey, and Penn­syl­va­nia state Rep. Jared Solo­man are run­ning for the Demo­c­ra­t­ic nom­i­na­tion.
Endorse­ments for the Demo­c­ra­t­ic can­di­dates are lim­it­ed as of now — only …