9 House Republicans Vote Against Bill Requiring Background Checks to Small Business Programs Exploited by China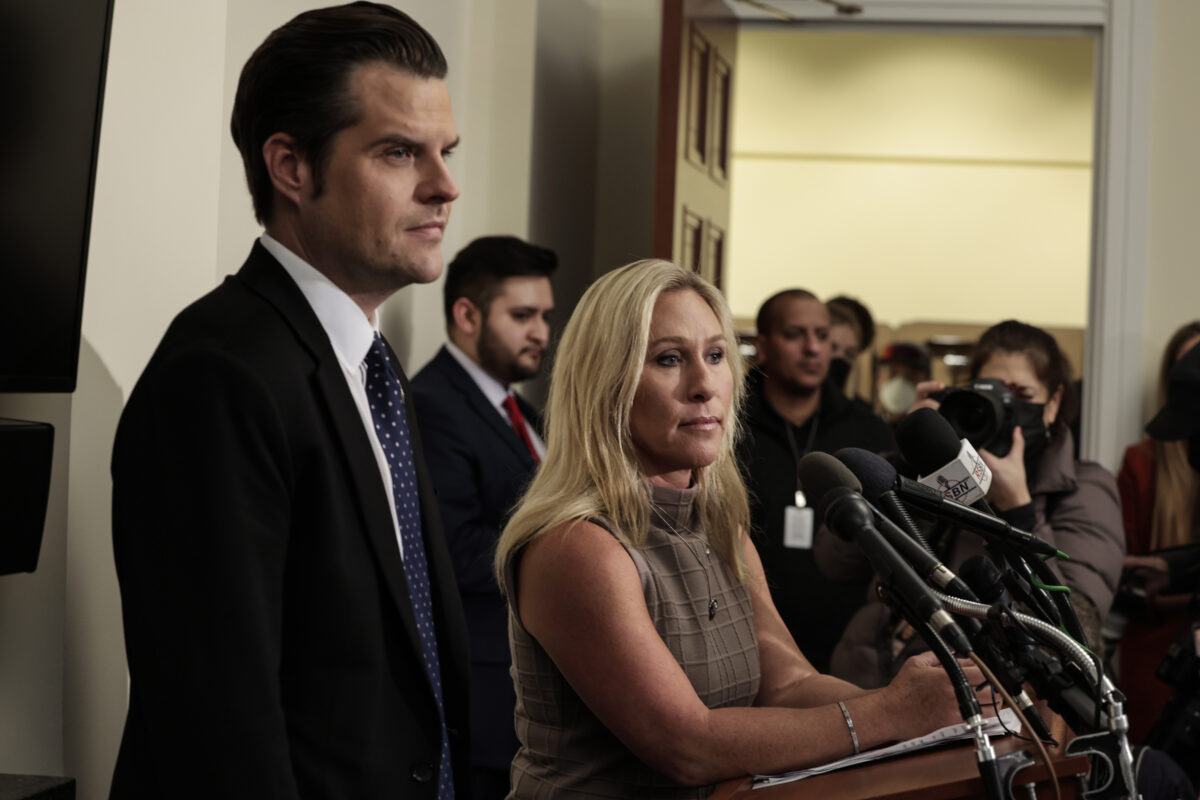 Nine House Republicans voted on Sept. 29 against passing a bill that would require federal agencies to do background checks on companies that are seeking government funds through small business programs while having ties to foreign nations deemed a national security risk, including China.
The bill is titled the SBIR and STTR Extension Act and passed Thursday in a 415–9 vote. Changes made to the bill aim to ensure that foreign countries of concern cannot access national security-related technology.
Nine GOP lawmakers: Reps. Andy Biggs (R-Ariz.) Dan Bishop (R-N.C.), Mo Brooks (R-Ala.)  Matt Gaetz (R-Fla.), Marjorie Taylor Greene (R-Ga.), Thomas Massie (R-Ky.), Tom McClintock (R-Calif.), Ralph Norman (R-S.C.), and Chip Roy (R-Texas) opposed the measure.
The bill, led by Small Business committee chair Sen. Ben Cardin (D-Md.) and Sen. Joni Ernst (R-Iowa), passed the Senate unanimously last week. It now heads to President Biden's desk to be signed.
Specifically, the measure requires federal agencies with Small Business Innovation Research (SBIR) or Small Business Technology Transfer (STTR) programs to establish and implement a "due diligence program" that would assess the security risks posed by small businesses seeking federal funds.
Both the SBIR and STTR are U.S. government-funded programs that aim to help certain small businesses conduct research and development projects that have the potential for commercialization.
The due diligence program should use a risk-based approach to assess "the cybersecurity practices, patent analysis, employee analysis, and foreign ownership" of a small business seeking funding, including the "financial ties and obligations (which shall include surety, equity, and debt obligations) of the small business concern and employees of the small business concern to a foreign country, foreign person, or foreign entity," according to the bill.
It should also "assess awards and proposals or applications, as applicable, using a risk-based approach as appropriate, including through the use of open-source analysis and analytical tools," the bill states.
'Not an Essential Funding Priority'
Agencies shall not grant funding under the SBIR if they determine that the small business submitting the proposal or application has an owner that is "party to a malign foreign talent recruitment program" or "has a business entity, parent company, or subsidiary located in the People's Republic of China or another foreign country of concern."
Funding should also not be granted if the small business has an owner that has "a foreign affiliation with a research institution located in the People's Republic of China or another foreign country of concern," the bill states.
The bill states that foreign countries of concern are: the People's Republic of China, the Democratic People's Republic of Korea, the Russian Federation, the Islamic Republic of Iran, and any other countries determined to be of concern by the secretary of state.
The SBIR and STRR programs were set to expire at the end of this month. The bill extends them through Sept. 30, 2025.
Gaetz, when asked why he voted against the legislation, told The Hill: "As the Biden administration cripples every facet of our economy, authorizing millions more for SBA is not an essential funding priority."
Changes to the bill came after a Department of Defense review that found that "China, not the United States, is the ultimate beneficiary of DoD and other [U.S. government] research investments" and that the CCP was stealing technology developed in the U.S. by exploiting small business research programs.
"Washington is spending billions of your tax dollars every year to hypothetically achieve technological dominance over Communist China, but the ultimate beneficiary of that effort may be the CCP," Ernst said in a statement on Thursday.
"No matter how much of your money Washington spends to 'win' the global tech race, we will never win by surrendering American-made innovation and subsidizing our adversaries. This cycle is bound to continue until these grant programs are both required and empowered to hold unscrupulous recipients of taxpayer funds accountable for selling out to China—and my bill will fix this."
The Epoch Times has contacted Reps. Massie, Biggs, and Roy for comment.
Reps. Greene, Brooks, McClintock, Norman, and Bishop could not be reached.