Abrams in Georgia Policy Speech Goes After Kemp's Rural Base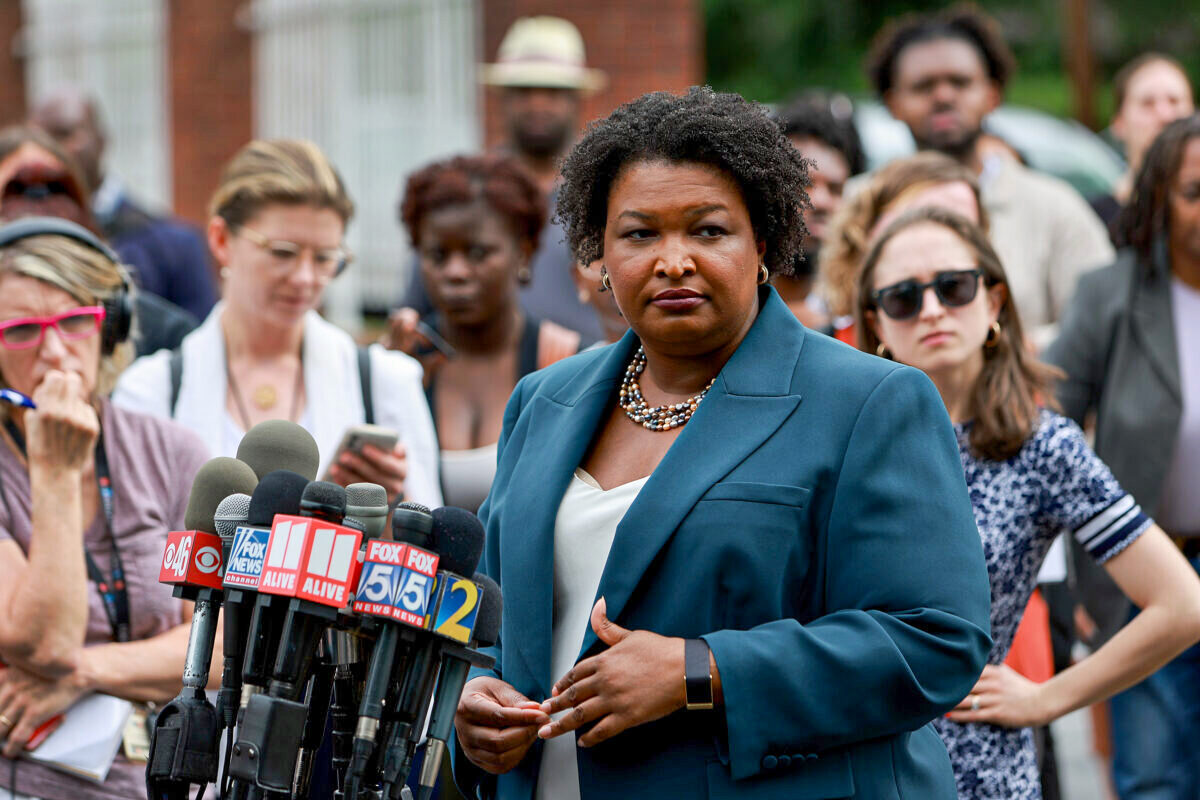 Stacey Abrams, whose aspirations to the Georgia governor's mansion and beyond have gained national attention, laid out her plans Tuesday night to boost the state's economy without raising taxes.
She targeted her opponent Brian Kemp's base voters—those in rural areas—with proposals specifically tailored to their needs. They include more support for small businesses, a Medicaid expansion allowing rural hospitals to reopen, and a promise to deliver free technical education.
One way she hopes to pay for this is legalized sports betting and casino gambling in Georgia.
She's not betting the entire program on that. Expanding Medicaid for the first three years costs the state nothing, said Charles Bullock, a political science professor at the University of Georgia, and after that, only about 10 percent.
That influx of money—$3.5 billion a year—will prop up shaky small-town hospitals, allow closed ones to open, and restore health care access to areas where hospitals are currently few and far between, Abrams said.
She excoriated Kemp repeatedly for the weaknesses she cited in the state's economy, including refusing to spend money the federal government granted the states and instead wanting to use it for tax rebates.
Abrams repeatedly used the word "extreme" to describe Kemp's tenure in office and warned of the dire consequences the state's tough abortion laws and permissive gun laws will have in encouraging businesses here to leave the state and discourage others from coming here at all.
Hot-Button Issues
Abrams didn't hesitate to touch on hot-button issues that have nothing to do with the economy, like the Florida shooting of Trayvon Martin and the Jim Crow laws of the South's past.
She proposed raises averaging $11,000 for teachers, vowed new labor protections, and expressed her support for unions. She railed against Kemp's strict abortion laws and permissive gun laws.
She talked about the hard life many working or middle-class people live —things she knows about personally, from her family's financial struggles growing up to juggling finances to care for her ailing parents.
But she also painted a picture of a rising Georgia economy, creating a better life for many without raising taxes.
"Don't believe me? Check my math and check out my plan," Abrams said.
Expanding Medicaid
A Medicaid expansion—making more people eligible for the poverty health insurance program launched by Lyndon Johnson in the 1960s—is an idea that polls well in the state, Bullock said. Anywhere from 55 to 60 percent of Georgians support it. At least ten rural hospitals forced to accept patients who can't pay have closed their doors in the last few years, he said. Creating a revenue stream for them would reverse that trend.
But Bullock said that a Medicaid expansion wouldn't be locked in if Abrams was elected. It first has to pass a legislature that will undoubtedly be Republican-controlled. The legislature in 2018, preparing for a possible Abrams victory in her first race against Kemp, transferred that power from the governor to the legislature.
Other Abrams proposals might prove popular as well, he said. One would allow cluster bidding—allowing smaller businesses to divide up large government contracts too big for each of them to bid on individually. The inability to do this has limited bidding to the same big firms.
Abrams also promised to increase lending to minority businesses. Minorities make up 48 percent of the state's population, but minority-owned businesses only get 12 percent of the state's contracts, she said.
She went after Kemp's fiscal conservatism, saying other Southern states who equally value it have found innovative ways to invest and expand. States like Kentucky, Tennessee, and North Carolina are pulling ahead of Georgia, which she said has dropped markedly in its ranking in per capita income since Republican governors first took over the state in 2004.
No to Raising Taxes
Democratic strategist Fred Hicks of Atlanta thought it significant that she vowed not to raise taxes. "That's addressing the Republicans' favorite line of attack head one, that she'd be a tax and spend liberal."
So too were references about what she'd do over the four years of her term, Hicks said. Those counter charges that she'd leave to run for president or vice-president in 2024.
Her promised support for farmers counters Kemp's charges in their 2018 contest that she was hostile to agriculture, Hicks said. And she charged Kemp with hypocrisy in opposing federal spending while touting his obtaining federal money for rural broadband.
"She's defending and attacking in one speech," Hicks said. The key for her, he said before she spoke, would be coming across to the voters as empathetic rather than delivering a dry policy speech.
Abrams' speech, Hicks said, might force Kemp to change his usual game plan, running up his vote in rural Georgia and then closing the race in Atlanta. "Efforts to penetrate his rural wall could force him to change his strategy for the first time."
In late July, Kemp led Abrams by 4.2 percent in the Real Clear Politics average of major polls. Abrams, though, has plenty of out-of-state money.
Kemp, for his part, faces the additional challenge of bringing over the quarter of Republican voters who sided with former Senator David Perdue in the GOP primary. Perdue was endorsed by Donald Trump, as the former president sought to get even with Kemp for what he saw as Kemp's inadequate support in the hotly disputed 2020 presidential election.
Kemp can't afford, in a close race for many of the Trump-Perdue voters, to stay home.
Abrams knows she didn't do well in south and central Georgia in 2018, Hicks said.
"She's a numbers person. She's data-driven. She knows where she did and didn't do well last time," he said.
Meanwhile, she can be confident in her performance in the Atlanta metro area.