Airline Chaos Could Persist Until 2024, Despite Efforts to Cure Woes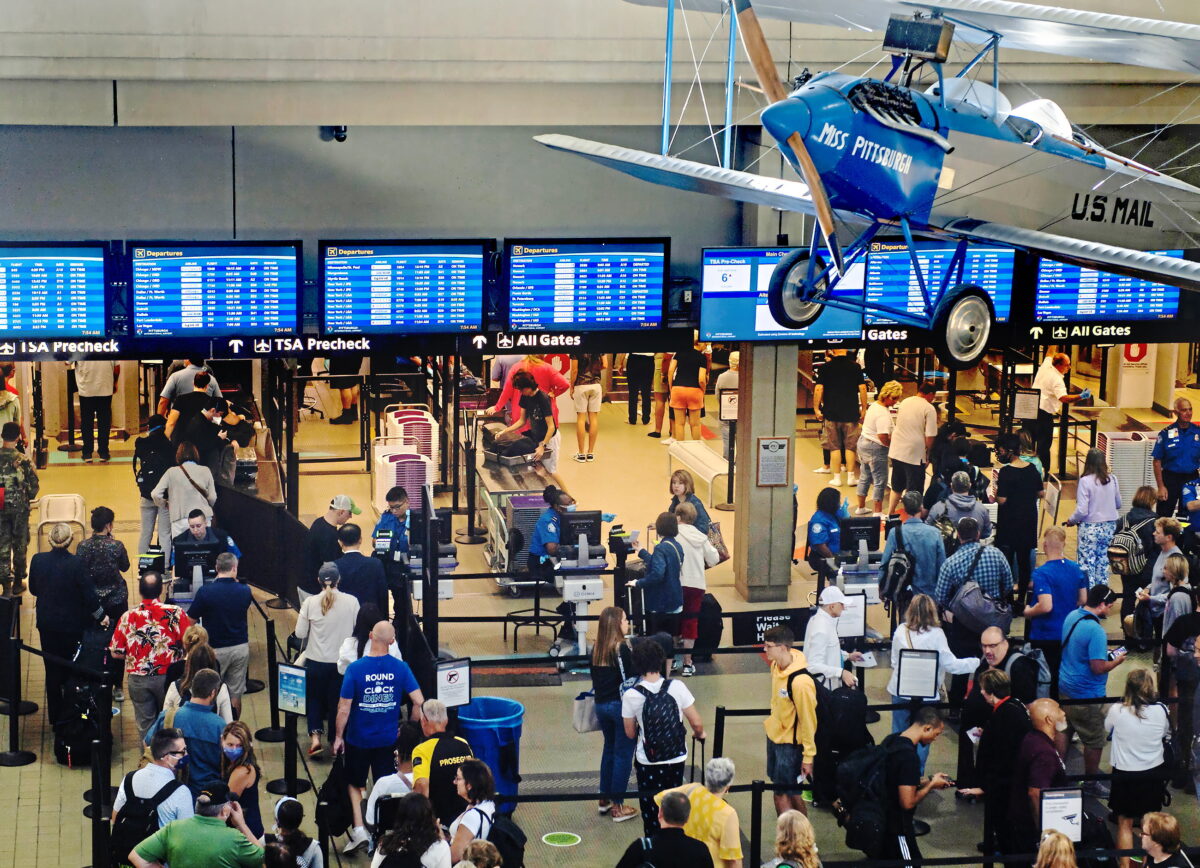 After a record-breaking summer of angst, aggravation, and anger at America's airports, little relief may be in sight.
The problem came into sharper focus during the past few weeks with airline complaints in May and June soaring 270 percent above pre-pandemic levels.
While airlines and federal officials recently announced improved customer service and information-sharing practices with travelers, critics say those measures amount to baby steps. They advocate bigger, more meaningful strides to alleviate the chaos and restore order.
"When we look at the misery that we've seen this last summer, the thought is: How long could it last?" Jay Ratliff, an aviation expert, told The Epoch Times on Sept. 9.
Ratliff said that the problems predate the COVID-19 pandemic, are more complex than many people realize, and may persist until 2024.
Pandemic Exposed Flaws In System
While the COVID-19 pandemic was in full swing and air travel slowed to a trickle, consumer complaints and demands for refunds and other compensation burgeoned.
From January 2020 to June 2021, the the Department of Transportation received 124,823 airline complaints; 83 percent involved refunds. In contrast, the agency received just 15,324 airline complaints in 2019, a DOT analysis says; only about 10 percent of that year's disputes focused on refunds.
The number of DOT complaints is especially remarkable because, airline passengers would customarily lodge complaints directly with airlines and were unaware that they could escalate their concerns to the DOT, Ratliff said.
However, the federal agency's ability to intervene is somewhat limited because there currently is "no requirement for an airline or a ticket agent to compensate passengers holding non-refundable tickets if they cancel air travel," the DOT says.
When the pandemic hit, airlines' systems were overwhelmed with an unprecedented influx of refund requests. The air carriers also didn't have enough money to make good on those requests quickly.
"Passengers entitled to refunds who normally would have received them promptly were left waiting or, in other cases, denied refunds and offered vouchers or travel credits instead," the DOT said. Some customers faced circumstances that prevented them from taking advantage of the vouchers or travel credits. They ended up with "no compensation at all," the DOT said.
Ripple effects of the refund requests spread as the federal government, ticket agents, and credit card companies mediated disputes with disgruntled airline customers.
Staff Shortage Woes
Meanwhile, even though the federal government provided emergency funding to keep airlines afloat, the companies were forced to cut costs. They furloughed and laid off tens of thousands of employees. As of last year, U.S. airlines employed 4.8 million full-time employees, compared to the pre-pandemic staffing level of almost 5.4 million employees.
Many highly-compensated employees fell off the rosters because they were offered early retirement packages or quit due to stressful conditions.
Airline professionals such as pilots and flight attendants require extensive training; replacing them is therefore time-consuming and challenging, Ratliff said.
Some people theorize that airlines fired large numbers of pilots for refusing to take the government- and airline-mandated COVID-19 inoculations.
But industry sources doubt that. They say solid statistics are hard to come by. But they told The Epoch Times that many pilots remained employed because they either got the jab or avoided it via a religious exemption.
Medical conditions are probably responsible for grounding more pilots than vaccine-mandate firings ever did, the sources said. They blame long-term illnesses, some possibly caused by side effects of the shots or consequences of COVID-19.
In addition, the commercial aviation industry was already facing a pilot shortage several years before the pandemic. That's because recruiting of pilots from the military, a primary feeder system for commercial airlines, has declined.
'Total Meltdown' Could Come in Winter
Airlines have already announced plans to cut tens of thousands of flights from their fall schedules.
Theoretically, such adjustments should result in fewer flight cancellations and more on-time flights. But Ratliff said he thinks the proposed schedules are still too ambitious.
If the industry is already over-burdened and then a significant snowstorm hobbles an airline hub or blankets the Northeast U.S. for two or three days, "you're talking about a total meltdown," he said.
"It's going to be this summer's misery times five if that takes place," he said.
Small Improvements
The Department of Transportation on Sept. 1 rolled out its Airline Customer Service Dashboard—a webpage comparing how individual airlines handle "controllable" cancellations and delays.
Across social media, people roundly praised the DOT for the dashboard, which is intended to make it easier for airline customers to know their rights.
In addition, the DOT is accepting public comment on a proposed rule change. The new rule would codify the department longstanding assertion that "it is an unfair business practice" for an air carrier to refuse refunding airfares on flights that were either canceled or changed significantly.
The rule also would require airlines to provide non-expiring vouchers or travel credits when passengers cannot travel because of public health emergencies or when they are ill with infectious diseases.
A woman named Louise Mount favors the rule change. She posted this comment via the Federal Register:
"It is about time someone thinks of the travelers. We pay cash for a (flight ticket), yet they only offer us a voucher back if they cancel our flight. We only get two weeks' vacation a year, save up for it, get the time off, then can't go because the airline canceled our flight. … I can't afford to lose that money and shouldn't have to."
More Action Needed
Critics say the proposed rule change does nothing to address underlying issues.
In a letter dated Aug. 31, a bipartisan group of 38 attorneys general complained to Congress that they forwarded thousands of airline complaints to the DOT, but the agency failed to resolve the issues.
"Americans are justifiably frustrated that federal government agencies charged with overseeing airline consumer protection are unable or unwilling to hold the airline industry accountable and to swiftly investigate complaints," the letter said.
Over the years, when confronted with airline complaints, Republican and Democratic presidents alike "have failed to spur" action from the DOT.
Because state attorneys general have little or no authority over airlines, "this vacuum of oversight allows airlines to mistreat consumers and leaves consumers without effective redress," the letter said, asking Congress to pass a law granting attorneys general the authority to enforce airline consumer-protection laws.
The group also suggests that Congress consider transferring investigations of airline complaints "to an agency more primarily focused on consumer protection, such as the U.S. Department of Justice or the Federal Trade Commission."
Even if DOT tightens rules as proposed, "we remain deeply concerned and frustrated that the agency is unable or unwilling to vindicate the rights of consumers and to hold airline companies accountable for irresponsible actions," the letter said.