All Eyes Focus on Arizona as Five Republicans Vie for Votes in Key Senate Primary
Political analysts across the country will watch closely as Arizona primary election numbers begin to trickle in after polls close on Aug. 2.
They'll be especially interested to see which of the five Republican candidates for U.S. Senate emerges with the most votes.
The winner will advance to challenge the incumbent Sen. Mark Kelly, a Democrat elected in a special election in 2020. Kelly doesn't have a Democratic opponent so he automatically moves forward to face the winner of the Republican contest on Nov. 8.
As of July, the country's go-to predictors of political races said it would be impossible to guess who might win the fall matchup in Arizona, calling it a solid toss-up.
The race's outcome is consequential for the entire country.

Kelly's is one of three Democrat-held Senate seats considered up for grabs in November by forecasters. A loss for Kelly, or one of the other Democrat incumbents in the trio of toss-ups, could shift control of the Senate to Republicans.
To try to keep that from happening, Democrats from all over the country have poured money into the race to help keep Kelly in office. Since January 2021, he's raked in a little more than $54.1 million in contributions, the second-largest amount for a federal candidate, according to Federal Election Commission records.
Kelly's haul is dwarfed by the cash stash held by the country's top money-raiser, U.S. Senator Raphael Warnock (D-Ga).

Warnock also won his seat in a special election in 2020, and is trying to hold on for a second term. His race is one of the three solidly considered a toss-up by prognosticators.
He is a pro-choice pastor and money from around the country has gushed in for him. Since 2020, he's raked in nearly $85 million, federal records show.
Warnock's challenger is former NFL running-back and Heisman Trophy winner Herschel Walker. The former University of Georgia football star is backed by former president Donald Trump.
The third Senate race considered a toss-up is in Nevada, where Democrat Catherine Cortez-Masto has raised $23.6 million since January 2021. She sits at seventh place on the list of money-raisers. In the Top 10, three are Republicans.
Cortez-Masto faces Trump-backed challenger Adam Laxalt, former attorney general of Nevada, in the fall. Laxalt, who is enthusiastically supported by Fla. Governor Ron DeSantis, as well, bested seven other candidates to win the Republican primary.
In November, Cortez-Masto and Laxalt will go up against a candidate with the Independent American Party, two Independents, and a Libertarian.
Pennsylvania's U.S. Senate race is too tricky to predict, some forecasters say. In that state, a U.S. Senate seat is open, because Republican Sen. Pat Toomey did not seek reelection.
Squaring off in Pennsylvania on Nov. 8 are physician Mehmet Oz, known on TV as Dr. Oz, who barely squeaked through the Republican primary. He'll take on Democrat John Fetterman, the state's Lieutenant Governor, who suffered a stroke two days before the primary.
Fetterman says he's still struggling with speech and hearing problems. But he's visited with campaign volunteers recently on video calls. Fetterman and Oz also will face two Independents, a Constitution Party candidate, and a Libertarian.

If Oz doesn't win and the Pennsylvania seat flips blue, Democrat control of the Senate could become more entrenched. Two lawmakers represent each of the 50 states in the Senate. The group is equally split by Democrats and Republicans. But control belongs to the Democrats because Vice President Kamala Harris, a Democrat, casts tie-breaking votes.
While the fall result in Arizona remains a nail-biting question, the Republican primary in the race appears easier to predict, based on polling data.
Tech entrepreneur and Trump endorsee Blake Masters leads the pack, finding favor with almost 28 percent of voters, suggests a RealClearPolitics average of polls conducted between June 7 and July 2.
Masters, who makes frequent appearances on Fox News, has energized crowds by speaking about closing the border to illegal immigrants and protecting free speech.
He's railed about guarding against Chinese investments in U.S. real estate, and preserving gun rights outlined in the Second Amendment, so that people can defend themselves from criminals and "the country from tyranny."
The pro-life father of three young boys is married to his high school sweetheart.
With swagger, he punches at the gamut of progressive policies. He boasts endorsements by Sen. Josh Hawley (R-Mo.), Rep. Marjorie Taylor Green (R-Ga.), Rep. Jim Banks (R-Ind.), Rep. Madison Cawthorn (R-N.C.), tech billionaire and founder of PayPal Peter Thiel, Trump national security adviser Robert O'Brien, and Fox News TV host Tucker Carlson.
It's not clear how much the nod from Trump is helping Masters.
Trump lost in 2020 in Arizona, after winning in 2016, points out analyst Keith Gaddie, who leads the department of political science at the University of Oklahoma and researches what drives voter opinions.
"This makes for some strange brew in Arizona," he said.
Left to decide the balance of power in the U.S. Senate could be conservatives who didn't like Trump, Gaddie said.
"Plenty of money in this race," he said, "and tension is on whether never-Trumper GOP voters will mobilize for an election denier," like Masters.
Masters did not respond to a request by The Epoch Times to discuss his positions on issues, including the 2020 election results.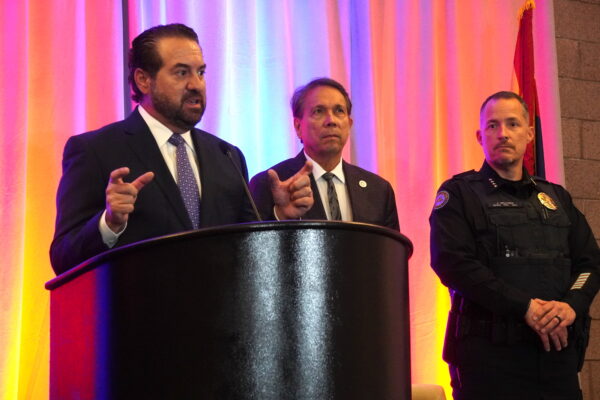 Now polling in second place, 10 points behind Masters, is the state's attorney general Mark Brnovich. Between September 2021 and early April, polls suggested the former JAG officer held a significant lead.
Trump has criticized Brnovich for not protecting election integrity in the 2020 race that put his challenger for reelection, Joe Biden, into the White House. Brnovich has insisted he followed the law.
When Brnovich was heckled about the 2020 election during a candidate debate in June, he responded, "If the truth hurts, then just shut the hell up."
He did not appear at another candidate debate in July, citing a scheduling conflict. He did not respond to requests for comment.
Brnovich, the son of immigrants who fled communism in former Yugoslavia, has campaigned on a desire to secure the southern border and be "tough on border crime."
His website says he wants to restore election integrity, and he established an election integrity unit in Arizona in 2019 to prosecute those who violate election law.
He describes himself as pro-life, and supports defending the Second Amendment and religious freedom. He also aims to promote policies that would keep jobs in the U.S. and provide a "lighter regulatory touch for businesses strangled by government."
Brnovich has been endorsed by Fox News TV hosts Sean Hannity and Mark Levin.
The RealClearPolitics average of polls shows solar magnate Jim Lamon nipping at Brnovich's heels, favored by 15 percent of voters.
Lamon's self-funded campaign also focuses on shutting down the flow of illegal immigrants into the country, and agrees with the other Brnovich and Masters on the need to complete a border wall.
All three candidates agree that China's creeping power over the U.S. economy and growing boldness militarily must be addressed.
Lamon, an Army veteran, and Masters have pointed fingers at each other for business dealings with China.
Lamon's website showcases a long list of conservative plans for policy-making. His website also lists a cavalcade of endorsements, many from law enforcement associations and law enforcement officials at the local, state, and federal levels.
Retired Major General Michael "Mick" McQuire, who served in the U.S. Air Force and Air National Guard for more than 30 years, also yearns to do battle with Kelly.
A former F-16 pilot and instructor, he eventually commanded the 162nd Fighter Wing.
In his dual role reporting to the governor as adjutant general of the Arizona National Guard, McQuire refused to send national guardsmen to surround the U.S. Capitol in the days following the controversial events of Jan. 6, 2021.
That's because local authorities, not federal officials, must request National Guard support for a deployment to be legal, and they didn't, he said.
He's passionate about upholding the U.S. Constitution and securing the border. And his website lists a collection of endorsements from 16 current former and current elected officials, including former Alaska Gov. Sarah Palin and Arkansas Gov. Asa Hutchinson.
Also running is Justin Olson, former CFO for Turning Point USA and a current member of the Arizona Corporation Commission.
He served in the Arizona House of Representatives from 2011 to 2017.
The father of nine hopes to curb government spending and overreach. He's pro-life and supports securing the border and protecting the Second Amendment. His website lists his takes on issues from fighting Big Tech and confirming conservative justices, to banning critical race theory from school classrooms and supporting law enforcement.
All five candidates aim to take on Kelly, a former astronaut hoping to hang on to his seat beyond a partial first term. Kelly also is the husband of former Arizona congresswoman and anti-gun activist Gabby Giffords.
In 2011, Giffords was speaking at an event in Tucson, when a gunman opened fire, killing six and injuring 13 others. Giffords was shot in the head and resigned from Congress a year later to focus on her recovery. She was honored by President Joe Biden at the White House in July with the Presidential Medal of Freedom.
Kelly says he's running again because, after 25 years in the Navy and as part of NASA, he's learned how to lead and get along well with others to solve challenging problems. He shares a long list of political priorities on his official Senate website.