Biden Falsely Claims He Presented Late Uncle With Purple Heart During Vice Presidency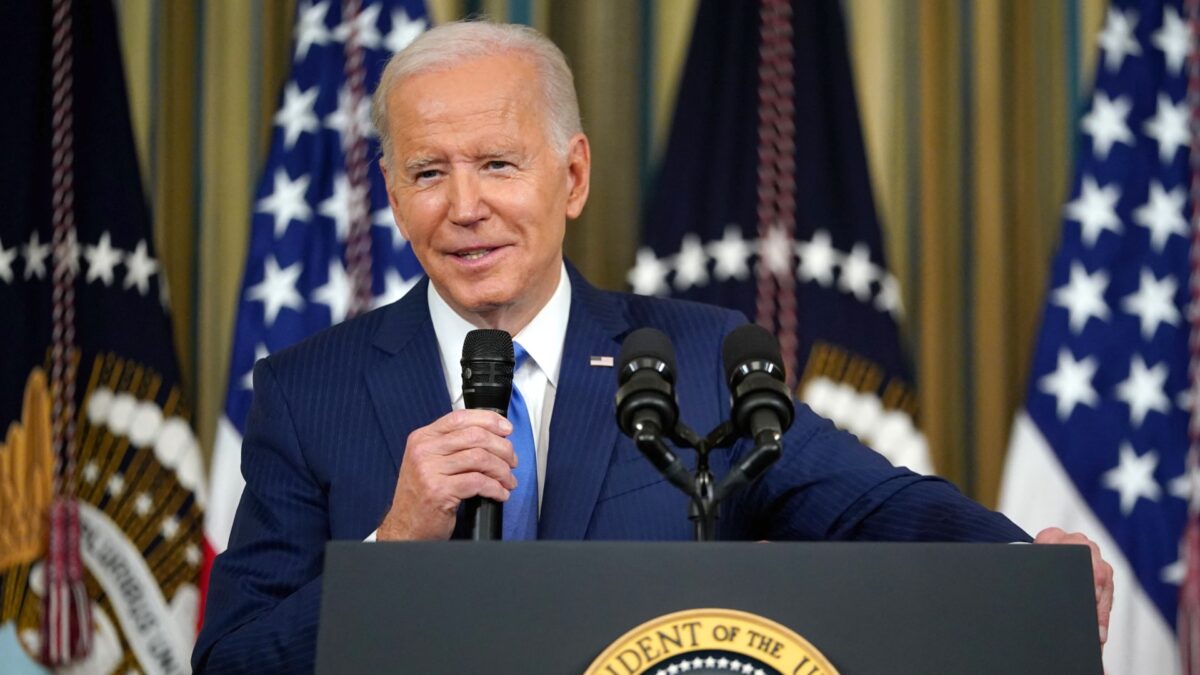 While speaking in his home state of Delaware on Dec. 16, President Joe Biden raised some brows when he recounted an impossible story about his late uncle Frank.
The president was addressing attendees of a Delaware Veterans Summit and PACT Act Town Hall in New Castle when he launched into an account of how, after he became vice president, his father had asked him for a favor.
"He said, 'Joey, Uncle Frank fought in the Battle of the Bulge … and he won the Purple Heart and he never received it. He never—he never got it. Do you think you could help him get it?  We'll surprise him,'" Biden recalled.
Adding that he did present his uncle with the Purple Heart, Biden noted that the World War II veteran did not want to accept it because others had given their lives in the battle, but he had survived.
While moving, the story was discredited as false by Snopes, which noted that, although Frank Biden did serve in World War II, he died in 1999. Joe Biden was not sworn in as vice president until 2009.
Previous Gaffes 
The president has made several gaffes in recent months, prompting concern among some observers.
In October, for instance, Biden told attendees of a Pennsylvania campaign rally that Democrats had campaigned in "54 states" to prevent the Affordable Care Act from being repealed, despite the fact that there are only 50.
Other recent errors have included mixing up the countries of Cambodia and Columbia, claiming to have met the "inventor" of insulin, a scientist who died before the president was born, and misstating when and how his son Beau died.
"Inflation is a worldwide problem right now because of a war in Iraq and the impact on oil and what Russia's doing," Biden said at a Nov. 1 rally in Hallandale Beach, Florida. "I mean, excuse me, the war in Ukraine. I'm thinking of Iraq because that's where my son died … because he died."
Beau Biden returned home from his deployment to Iraq in 2009. He died of brain cancer at Walter Reed Memorial Hospital in May 2015.
Questions About Fitness for Office
In September, Republicans renewed their calls for Biden to take a cognitive test to prove his mental fitness after he appeared to forget that Rep. Jackie Walorski (R-Ind.) had died in a car accident in August.
"I want to thank all of you here, including bipartisan elected officials like … Senator Braun, Senator Booker, Representative … Jackie, Jackie are you here?" Biden said at a Sept. 28 conference on Hunger, Nutrition, and Health. "I think she was—she wasn't—going to be here to help make this a reality."
Walorski had helped to organize the conference.
"No amount of spin from the White House can justify President Joe Biden forgetting the tragic passing of Jackie Walorski—the latest gaffe that calls so much into question," Indiana Republican Party Chairman Kyle Hupfer said at the time. "The American people deserve a straight answer, not a political talking point, as to how the president of the United States could forget that a congresswoman he was purportedly trying to honor had passed away just last month."
One person who has repeatedly expressed concern over the president's apparent cognitive decline is Rep. Ronny Jackson (R-Texas), former White House physician under the Trump, Obama, and George W. Bush administrations.
When asked on Dec. 16 whether he thought Biden would seek reelection in 2024, Jackson told Fox News that he didn't think the president would survive the rest of his first term, let alone run for a second.
"I took care of three presidents as a physician—three administrations—and I know what it takes mentally and physically to do this job," he noted. "And this man cannot do the job."
The Epoch Times has reached out to the White House for comment.