Biden Says John Fetterman's Wife Will Make a 'Great Lady in the Senate'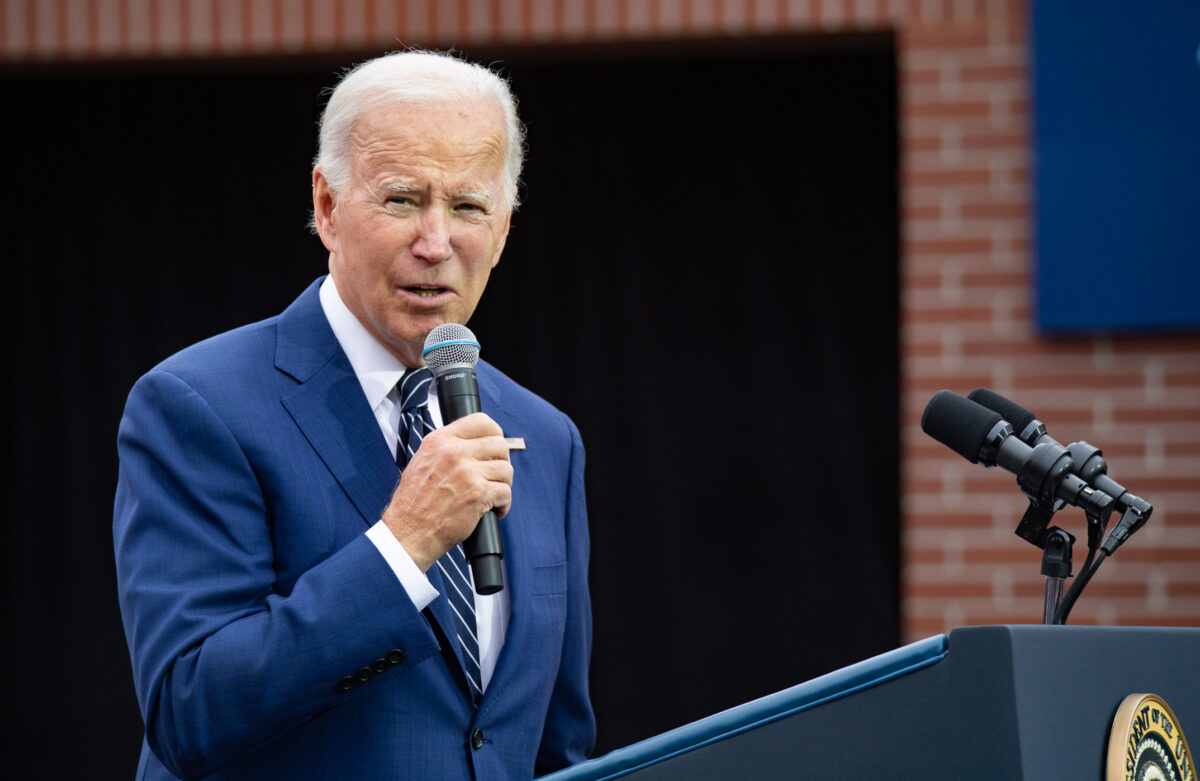 President Joe Biden said on Oct. 20 that Pennsylvania Senate candidate John Fetterman's wife, Gisele Baretto Fetterman, will make a "great lady in the Senate."
The remarks, apparently in error, were made while on a stop at the site of a bridge that collapsed last year in Pittsburg, Pennslyvania, where he touted his $1 trillion infrastructure bill.
During the speech, Biden thanked John Fetterman, the state's lieutenant governor, who attended the event.
"John, thank you very much for running. I really do appreciate it," said Biden. "And Gisele, you're going to be a great, great lady in the Senate."
The apparent gaffe was made amid ongoing questioning of John Fetterman's health and cognitive ability since he suffered a stroke in May days before the primary. His GOP opponent Dr. Mehmet Oz has repeatedly questioned his ability to serve as senator if elected.
On Oct. 19, the Fetterman campaiign released a medical report that said Democratic nominee "is recovering well from his stroke and his health has continued to improve."
Earlier this week, Oz came under fire for suggesting that Gisele would serve as senator if her husband was elected.
Gisele Fetterman came to the limelight after taking a stepped-up role in her husband's Senate bid after the stroke took him off the campaign trail in May.
Last week, she criticized NBC journalist Dasha Burns, who conducted John Fetterman's first in-person interview since the stroke, after Burns revealed that the lieutenant governor required close captioning to read the questions asked, and that "in small talk before the interview without captioning, it wasn't clear he was understanding our conversation."
Gisele Fetterman suggested Burns should face "consequences" for her comments, while labeling the reporter an "ableist."
John Fetterman and Oz are set to debate on Oct. 25 for the first time. Fetterman has insisted on using a computer to translate audio to text. No other debates have been scheduled.
The lieutenant governor once led Oz in the polls by double digits, but that advantage has gradually declined in recent months.
A AARP Pennsylvania poll released this week conducted by Fabrizio Ward and Impact Research among 1,377 likely Pennsylvania voters between Oct. 4 and Oct. 12 shows Fetterman with a 48 percent to 46 percent lead, which is within the margin of error 4.4 percentage points.
Early voting started in Pennsylvania on Sept. 19. The midterm election is slated to take place on Nov. 8.
Jeff Louderback and Zachary Stieber contributed to this report.