Biden Scheduled to Appear at Intel's $20 Billion Semiconductor Plant Groundbreaking in Ohio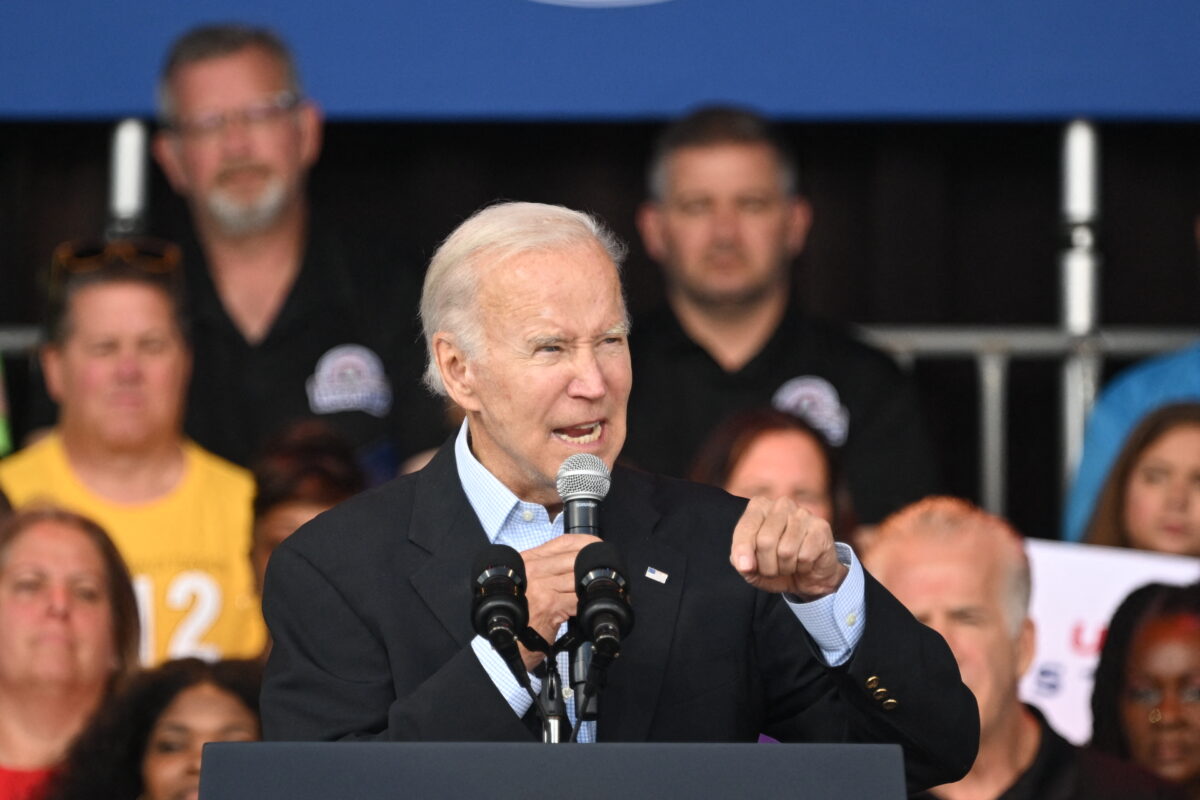 President Joe Biden is scheduled to visit Ohio on Sept. 9 when Intel Corporation breaks ground on its $20 billion semiconductor fabrication facility, which is the state's largest-ever economic development project.
Ohio Republican Governor Mike DeWine, who is seeking reelection; and Ohio Democratic Rep. Tim Ryan, who is running for U.S. Senate against Donald Trump-endorsed J.D. Vance, have said they will attend.
Retiring Republican Sen. Rob Portman, whose seat Vance and Ryan are vying to fill, is also slated to be there.
DeWine has repeatedly skipped Trump's visits to Ohio while Ryan has not appeared at Biden's previous 2022 stops to the state, though congressional voting records show he has voted with the president 100 percent of the time.
Intel said that the facility will include two factories, open in 2025, employ 3,000 people, and provide an average salary of around $135,000.
Over the next decade, the company's total investment could eclipse $100 billion with six additional fabrication facilities, according to Intel CEO Patrick Gelsinger.
To land the project, Ohio offered Intel around $2 billion in incentives, including a 30-year tax break, infrastructure funding, and grants. Intel has allocated $150 million in educational funding to expand the semiconductor industry across the region and the country.
The facility will be located in New Albany, east of Columbus.
At the groundbreaking, Biden is expected to talk about the CHIPS and Science Act, which he signed in August.
The $280 billion measure provides more than $52 billion in grants and additional incentives for American computer chip producers to build U.S.-based manufacturing plants. It offers a 25 percent tax credit to companies that invest in domestic chip facilities.
The act also calls for spending on research programs that will total around $200 billion over the next 10 years, according to the Congressional Budget Office.
"We are better positioned than any other nation in the world to win the economic competition of the 21st century," Biden said when he signed the bill. "We need to make these chips here in America to bring down everyday costs and create jobs."
Ryan, who is running on a populist platform, voted for the CHIPS Act, a bill he helped author. Vance, who is an America First candidate, said he would have voted for the measure if he was in office. It is one of the few issues the opposing candidates agree upon.
"This is an unbelievable bill," Ryan said in a House floor speech. "This is the first step toward an industrial policy in the United States of America, and it is time for us to quit the politics."
Conservatives like Rep. Marjorie Taylor Greene (R-Ga.) and Rep. Jim Jordan (R-Ohio) did not vote for the CHIPS Act.
Greene said that the legislation is "America Last" and posted on Twitter that "Congress is repulsive." The House Freedom Caucus, of which Jordan is a member, released a statement saying that the CHIPS Act was stocked with "crony capitalist handouts" and "woke policies."
"The massive, pro-China CHIPS Act" was "one of the grossest taxpayer-funded handouts I've ever seen," Sen. Rick Scott (R-Fla.), chairman of Senate Republicans' campaign arm, said.
Vance believes that the urgency of domestically produced computer chips outweighs the concerns voiced by his fellow conservatives.
"It is impossible for our modern economy to function without access to high-quality computer chips," Vance said in a statement. "With the passage of the CHIPS Act, the Senate took an important step to ensure these products are made in America by American workers.
"There's so much more we must do to ensure Ohio leads the way in this crucial industry, and when I'm in the Senate, we'll get it done," Vance added.
Intel originally announced a June groundbreaking on its Ohio facility, but it delayed the event awaiting passage of the CHIPS Act.