Biden Takes Unexpected Trip to Delaware on Air Force One to Vote in Primary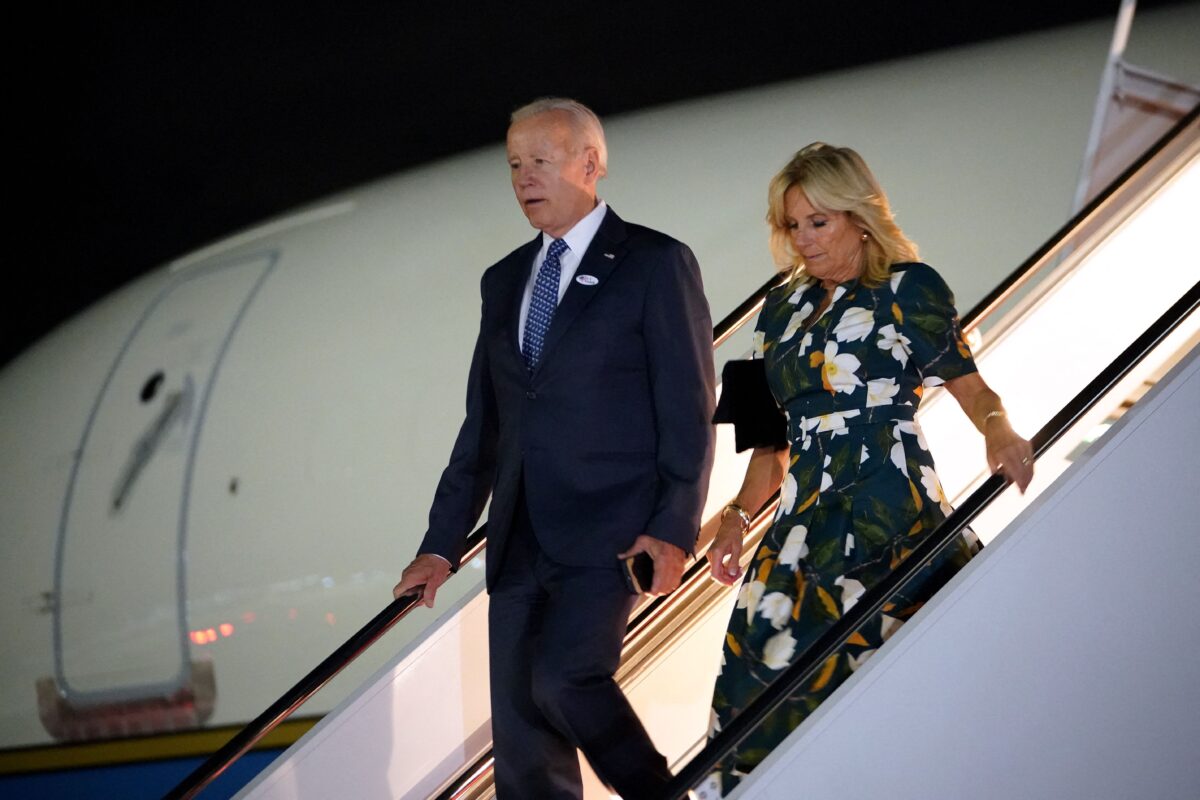 President Joe Biden made an impromptu appearance in his home state of Delaware on Sept. 13 to cast his vote in the state's primary election, despite being able to vote by mail following a law his administration passed in July.
Biden, who has prioritized issues such as climate change and clean energy incentives during his time in office, was accompanied by First Lady Jill Biden for the trip as the pair flew via Air Force One.
Two motorcades and local police protection were also utilized for the brief jaunt to Wilmington, where Biden spends most of his weekends, despite there being no high-profile races listed on the ballot.
The only race on the ballot was for state auditor, where incumbent Kathleen McGuiness, a Democrat, is running for reelection against Lydia York, a lawyer who has been endorsed by the Delaware Democratic Party. York would be the first black person to be elected to the role if she wins the election.
Polls closed at 8 p.m. in Delaware on Tuesday. Asked by reporters before embarking on the trip why he had decided to fly in, Biden simply said, "To vote."
No cameras were allowed at the Tatnall School's Laird Performing Arts Center, where Biden cast his vote before making a quick pit stop at his home.
It was unclear why Biden flew into Delaware using the presidential aircraft at taxpayers' expense to cast his vote in person, given that he is able to vote by absentee ballot. Delaware also offered in-person early voting over the weekend when Biden was at his home in Wilmington, Bloomberg reported.
Celebrating at White House
Biden declined to answer questions from reporters when asked why he did not return an absentee ballot instead, following a law that was passed in the summer that allows Delaware voters to vote by mail without an excuse.
The president's trip came after he had spent the day hosting lawmakers, CEOs, activists, and other guests at the White House to celebrate the passage of the billion-dollar Inflation Reduction Act aimed at tackling climate change and bringing down the cost of living as inflation soars across the country.
Data released by the Bureau of Labor Statistics (BLS) on Sept. 13 showed the U.S. annual inflation rate came in at 8.3 percent in August, down slightly from July's reading of 8.5 percent but still higher than experts had forecast.
Food and shelter costs contributed to increased inflation, as they rose 11.4 percent and 6.2 percent, respectively, year-over-year.
"It will take more time and resolve to bring inflation down, which is why we passed the Inflation Reduction Act to lower the cost of healthcare, prescription drugs, and energy," Biden said in a statement.
Reuters contributed to this report.