Biden Tells Voters to Choose Democrats Because Republicans Will 'Crash the Economy' on Purpose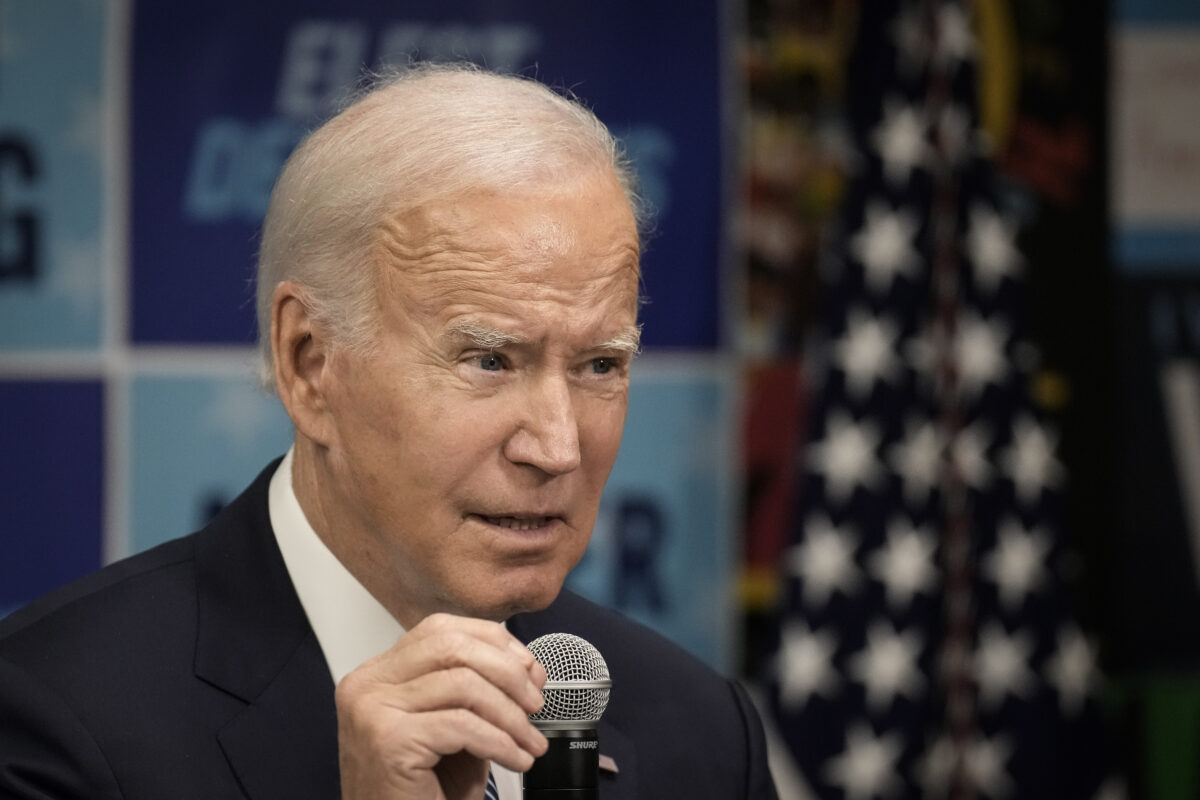 President Joe Biden on Oct. 24 delivered what he dubbed his "closing arguments" to voters ahead of the November midterms, claiming that Republicans would "crash the economy" in an effort to get him to cut Social Security and Medicare.
"The Republicans have made it clear that if they win control of the Congress, they will shut down the government, refuse to pay our bills, and it'll be the first time in our history America will default unless I yield and cut Social Security and Medicare," Biden said.
"In order to cut Social Security and Medicare, they're threatening to default on the federal debt," Biden continued. "There's nothing that will create more chaos, more inflation, and more damage to the American economy than this."
"Either give in to their demands on Social Security and Medicare … or Republicans are going to crash the economy," Biden said, who made the remarks in a speech at the Democratic National Committee (DNC) headquarters.
Biden added, "Let me be clear: I will not cut Social Security. I will not cut Medicare."
Biden made similar remarks from the White House on Oct. 21.
The president's claims have since drawn a rebuke from Republicans on the House Ways and Means Committee. In a fack check released on Oct. 24, the GOP lawmakers wrote that independent fact-checkers have debunked Biden's "zombie claim" that Republicans would like to cut Social Security and Medicare. Rep. Kevin Brady (R-Texas) is the committee's ranking member.
"Republicans want to strengthen Social Security and Medicare for future generations," the GOP lawmakers wrote.
As for Biden's other claim, they wrote "Biden has crashed the economy and wants to blame Republicans."
"Experts anticipate a recession, if we aren't already in one, and a shrinking economy," they explained.
Almost two-thirds of corporate economists believe the United States is ready in the midst of a recession or has a "more than-even likelihood" of going into a recession in the next 12 months, according to the latest survey from the National Association for Business Economics. The survey, released on Oct. 24, comes as U.S. annual inflation topped 8.2 percent in September.
Voters trust Republicans more than Democrats in handling the economy, according to an ABC News/Ipsos poll. The survey, conducted on Oct. 21 and 22, found that 36 percent of Americans trust Republicans more on inflation and gas prices, compared to 21 percent and 22 percent of people, respectively, who trust Democrats on the two issues.
Referendum
Also during his speech on Monday, Biden framed the November elections as a "choice" and emphasized that it is not a "referendum."
"Everybody wants to make it a referendum, but it's a choice between two vastly different visions for America—significantly different," Biden said.
"Democrats are building a better America for everyone with an economy that grows from the bottom up and the middle out, where everyone does well," Biden said.
He continued, "Republicans are doubling down on their mega MAGA trickle-down economics that benefits the very wealthy," pointing to GOP efforts to block his student debt relief program as an example.
On Oct. 21, a federal appeals court temporarily blocked Biden's relief program, in a lawsuit brought by six Republican-led states—Arkansas, Iowa, Kansas, Missouri, Nebraska, and South Carolina.
Some Republicans have long billed the midterm elections as a referendum on Biden, including former President Donald Trump.
"This election is a referendum on skyrocketing inflation, rampant crime, soaring murders, crushing gas prices, millions and millions of illegal aliens pouring across our border, race and gender indoctrination, converting our schools," Trump said during a campaign rally in Pennsylvania on Sept. 3.
Trump added, "And above all, this election is a referendum on the corruption and extremism of Joe Biden and the radical Democrat Party."
On Oct. 17, when leaders of the Republican National Committee (RNC), National Republican Senatorial Committee (NRSC), and National Republican Congressional Committee (NRCC) announced their "take back" the country tour, they called the November elections a referendum on Biden and Democrats' three failures—"rising costs, out of control crime, and an open border."
RNC spokesperson Emma Vaughn issued a statement Monday criticizing Biden's speech.
"The only Democrats willing to welcome Joe Biden at this point are paid DNC employees who work in Washington, DC," Vaugh stated. "Meanwhile, down-ballot Democrats across the country are desperate to hide their Biden voting records.
"Voters know Democrat control of Washington delivered higher prices, more crime, and a nation headed in the wrong direction."