Biden White House Touts Economic Record During Quiet August Recess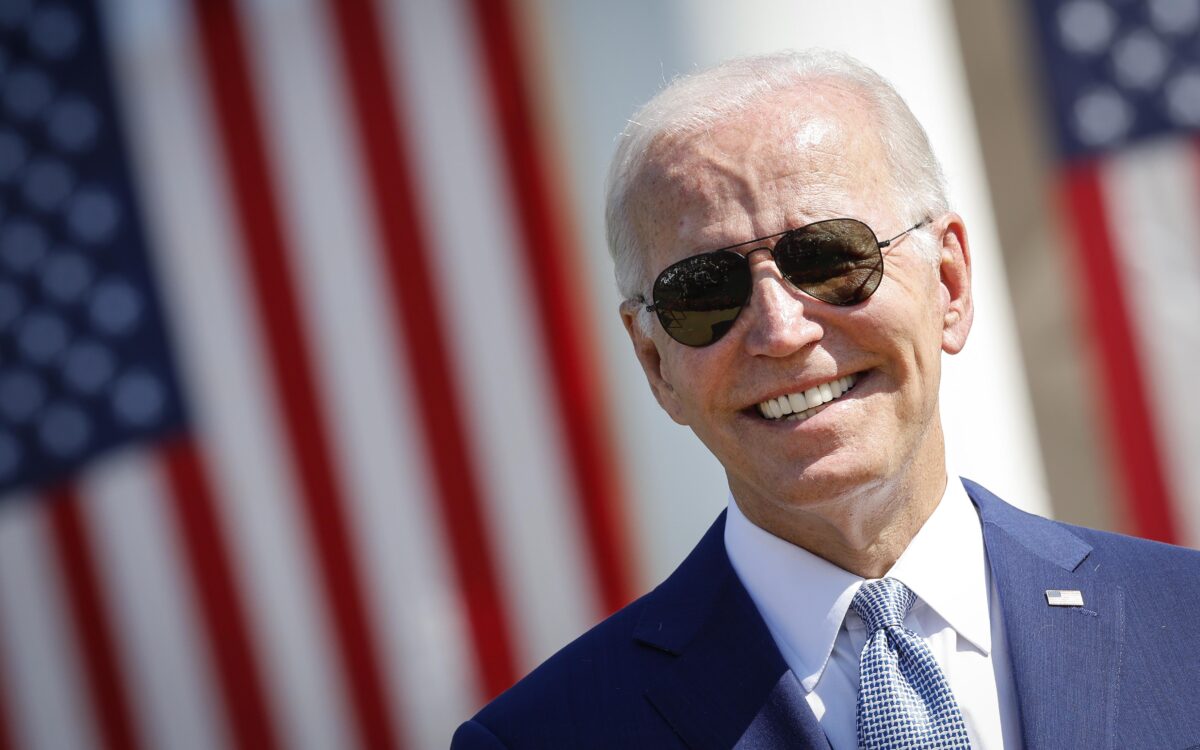 A White House memo stated that the U.S. administration would take advantage of the quiet August recess to tout President Joe Biden's latest string of successes.
Many Democrats and left-leaning pundits have stated this had been the best week of the president's term.
In recent days, the Biden team started taking advantage of the data as officials have been busy highlighting the broad array of economic and legislative gains that "beat the special interests and delivered what was best for the American people."
"We are continuing to see encouraging economic developments, including strong job growth and lower energy prices," said Cecilia Rouse, the chair of the Council of Economic Advisors (CEA), in a statement.
But are the claims being made by the president and his administration accurate?
Zero Percent Inflation?
Biden and Vice President Kamala Harris celebrated the July annual consumer price index (CPI) that eased to 8.5 percent, down from 9.1 percent in June. They claimed that there was "zero inflation" last month.
"Before I begin today, I want to say a word about news that came out today relative to the economy. Actually, I just want to say a number: Zero," he said during a White House address on Wednesday. "Today we received news that our economy had zero percent inflation in the month of July."
The vice president echoed the same sentiment.
"The data shows our economy had 0% inflation in July. We have more work to do, but @POTUS and I are clear: we're building an economy that works for all Americans," Harris posted in a tweet.
Press secretary Karine Jean-Pierre was also ebullient over the inflation numbers, purporting that the U.S. economy had 0 percent in July.
"While the price of some things went up, the price of others, like gas, clothing, and more, dropped," she posted on Twitter.
Many critics slammed the White House for spinning the CPI data.
Speaking in an interview with CNBC on Thursday, pollster Frank Luntz took exception to the administration's wording.
"For him to say the inflation rate is zero is gonna be one of those issues that we remember the Biden administration for playing games with the English language," he said.
Sen. Tim Scott (R-S.C.) noted that inflation was still at a 40-year high, adding that "President Biden can try to spin it however he wants, but the American people know that today's inflation report is bad news."
"Gas is up 44% from last year. Electricity is up 15.2% from last year. Food is the most expensive since 1979. The Biden White House is living in a fairytale while Americans are living in a nightmare," Sen. Ted Cruz (R-Texas) posted in a tweet.
In addition to the headline reading, food prices were up 10.9 percent year-over-year and 1.1 percent month-over-month. The cost of electricity surged at an annualized rate of 15.2 percent and 1.6 percent on a monthly basis. Shelter costs also rose 0.5 percent month-over-month and 5.7 percent year-over-year.
Biden Touts Gas Prices
The president's Twitter account has repeatedly been posting about falling gasoline prices. The recent post highlighted that the national average gas price tumbled below $4 per gallon.
"That's over one dollar down from peak prices. And I'm not done calling on oil producers to increase global supply so prices can drop even more," Biden said.
"I promised I'd address Putin's price hike at the pump, and I am. We've used our strategic petroleum reserve to get relief to families fast—and we rallied our allies and partners around the world to do the same. More work remains, but prices are dropping."
According to the American Automobile Association (AAA), the national average for a gallon of gas is $3.99, down more than 20 percent since hitting its peak of $5.01 in June.
But while the president attributed tapping into the nation's emergency reserves to the decline, some industry experts also point to falling consumer demand that is down by more than 300,000 barrels per day from a year ago, according to Energy Information Administration (EIA) data (pdf).
Moreover, the EIA's Short-Term Energy Outlook (STEO) forecasts that gasoline consumption for 2022 will be 8.83 million barrels per day, down from the previous estimate of 8.84 million. Researchers project that demand will fall by about 120,000 barrels a day in the third quarter amid elevated pump prices.
Sliding crude oil prices has been the other notable factor for the considerable drop in gas.
West Texas Intermediate (WTI) crude oil prices have plunged nearly 15 percent over the last three months to around $94 per barrel. Brent, the international benchmark for oil prices, has also declined at the same pace to just under $100 a barrel. Investors' expectations for softer demand amid growing recession fears have sent prices falling. Chinese demand has also weakened amid its Zero COVID strategy.
Many consumers have been changing their consumption habits in response to high gas prices. Multiple surveys, from AAA to the Hankook Tire Gauge Index, show that motorists are driving less because of higher gasoline costs compared to a year ago.
Andrew Gross, the national public relations manager at AAA, says this has also resulted in changes to broader household spending plans.
"While many Americans are adapting their daily habits to make up for higher gas prices, it also affects their future travel plans," he said in a statement. "Many Americans have postponed taking a vacation this year. With gas prices remaining volatile for the foreseeable future, consumers will likely be paying higher prices than in previous years."
The Inflation Reduction Act
Biden took a victory lap on the Inflation Reduction Act, urging the public to take the word of 130 economists, Nobel Laureates in Economics, and other public figures. The experts, he says, agree that it will fight inflation, reduce the budget deficit, and grow the economy without raising taxes on anyone earning less than $400,000.
"Making in America is coming back. And with the investments in the Inflation Reduction Act, we're going to supercharge our recovery," he wrote in a tweet.
But not everyone agrees with the administration's promises.
The Joint Committee on Taxation (JCT) noted that taxes would go up for most Americans earning under $400,000 (pdf). The Penn Wharton Budget Model (PWBM) estimated that the federal deficit would be reduced by just $89 billion if the Affordable Care Act (ACA) subsidies are extended. The Congressional Budget Office (CBO) expects the legislation's impact on inflation to be negligible (pdf). The Tax Foundation predicts that the bill would cost approximately 29,000 jobs.
In addition, 230 economists penned a letter to the House and Senate leadership, arguing that the legislation's title is a "misleading label."
"The inaptly named 'Inflation Reduction Act of 2022' would do nothing of the sort and instead would perpetuate the same fiscal policy errors that have helped precipitate the current troubling economic climate," they wrote.
Can PR Help Biden?
Officials are attempting to reverse the president's abysmal approval ratings that hover around 40 percent, according to Real Clear Politics. Despite the expectation of a so-called red wave and a wipeout of Democrat-held seats in the House, the prospects for the Democratic Party have improved. According to a recent Beacon Research/Shaw & Company Research poll, sponsored by Fox News, the Democrats and Republicans are now tied in the general congressional ballot.