Biden's Irvine Visit Promotes Katie Porter, Lower Prescription Prices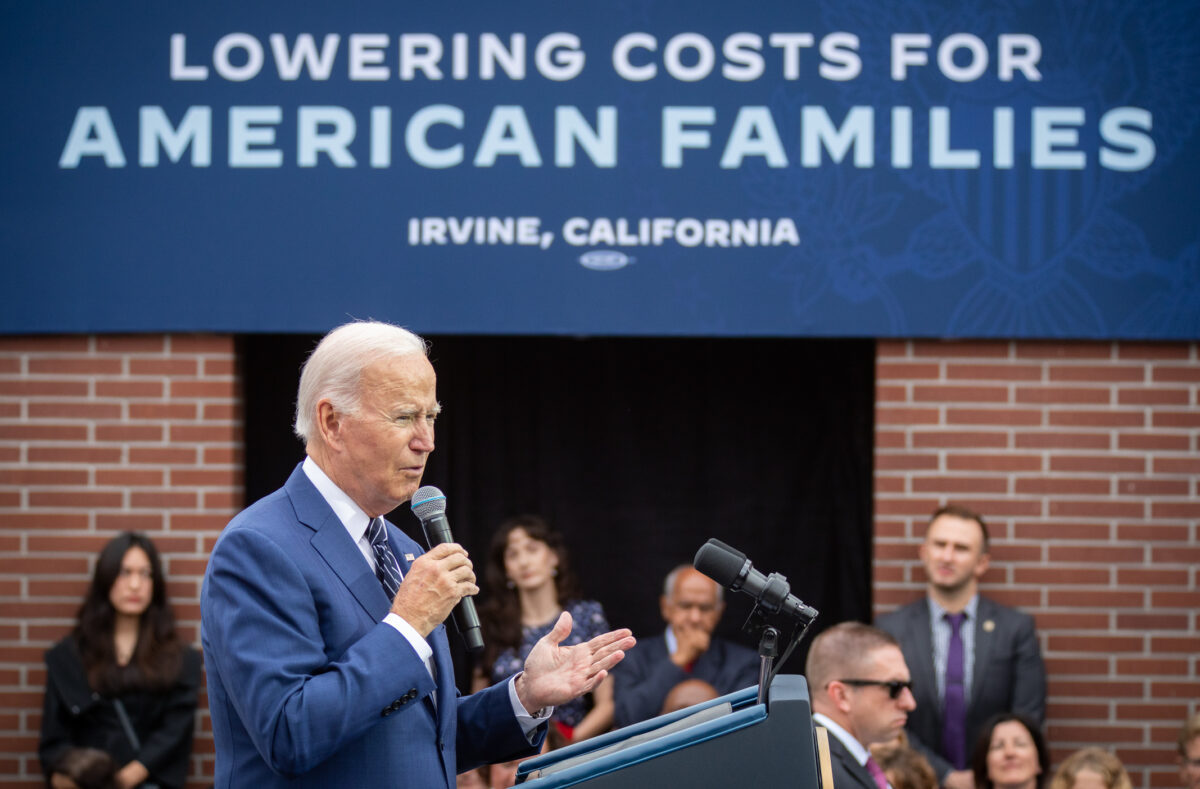 IRVINE, Calif.—President Joe Biden traveled to Orange County Oct. 14 and touted his administration's efforts to lower prescription drug and medical costs for American families.
After arriving at John Wayne Airport from Santa Monica Airport shortly before 2 p.m., he spoke to a crowd of roughly 100 people within a brick enclave on the Irvine Valley College campus.
Biden highlighted what he called cost-saving measures in the Inflation Reduction Act, which will include an average $800 annual reduction in health care premiums for 13 million families, while also taking aim at Republicans for opposing the inflation legislation.
"Now congressional Republicans are telling us their number one priority is to repeal, if they win back the House and Senate, repeal the Inflation Reduction Act," Biden said at the press conference.
President Biden said issues of a possible GOP takeover will be worse for inflation, which has increased 8.3 percent since Biden took office, according to U.S. Labor Department.
Ahead of the Orange County visit, Biden also signed an executive order directing the Department of Health and Human Services to explore other ways of driving down prescription drug costs. The order directs HHS to submit a report in 90 days for not only reducing drug costs but also promoting access to "innovative drug therapies" for Medicare recipients, according to the White House.
Throughout Biden's visit, he frequently praised Rep. Katie Porter (D-Irvine), who introduced the president to the podium.
"No one wants to testify before Katie," Biden said of lobbyists and special interest groups at congressional committee hearings because her questions are "to the point and revealing."
Porter has been under public scrutiny after she told the Irvine mayor in a text message last month that the city's police department is a "disgrace." She has sent the message after one of her supporters was arrested by Irvine police at a town hall last July.
Porter spoke at the press conference of the rising prescription drug costs for families within her district, blaming pharmaceutical companies for wanting to "line their pockets with our tax dollars."
"Corporate greed worsens health outcomes, rips off taxpayers, and threatens capitalist competition," she said.
In response, the California Republican Party lashed out at the country's record on inflation, noting it is at a 40-year high, including a 13 percent rise in the cost of groceries since last year and local gas prices over $6 per gallon.
"Californians are struggling thanks to Joe Biden, (Democratic Rep.) Katie Porter and California Democrats' reckless and radical policies," state Republican Party Chair Jessica Millan Patterson said in a statement.
Outside of the bricked area of President Biden's podium and crowd, the faint sounds of protestors holding signs both in admiration for Iran, and anti-Biden dialogue could be heard until finishing his speech.
Following his Irvine appearance, Biden returned to John Wayne Airport for a flight to Portland, Oregon.
City News Service contributed to this report.