Building an Alternative Medical Economy in Response to 'Tyranny': Telehealth CEO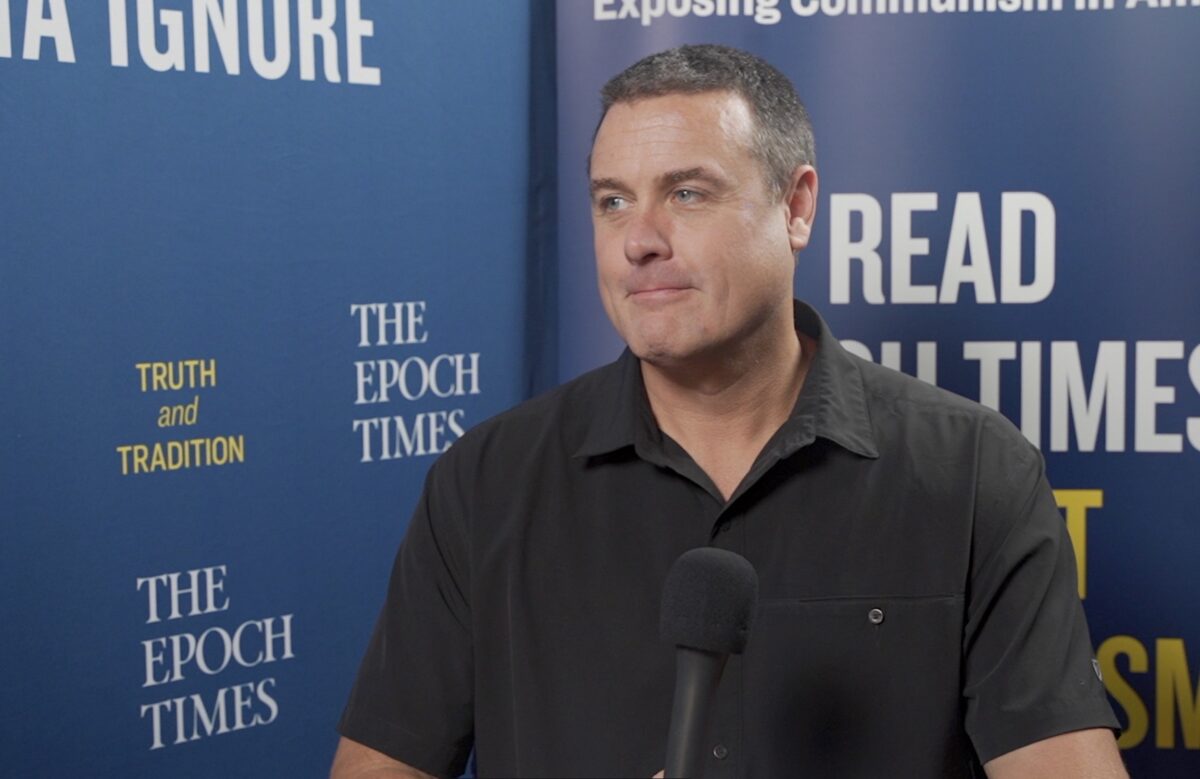 Military veteran and entrepreneur Adam Hardage aims to build an alternative medical economy in response to what he calls "tyranny" in the nation.
Hardage is CEO and co-founder of Remote Health Solutions (RHS), along with Dr. Jon Baugh, its chief medical officer. The two started the company five years ago, focusing on high-quality telemedicine care. After experiencing lockdowns and COVID-19 vaccine mandates, and what he calls "corruption within the medical industrial complex," Hardage decided to build a "medical economy 2.0."
Speaking with The Epoch Times on Aug. 12, Hardage said of the lockdowns and mandates: "It's immoral, it's unethical, and it's unconstitutional."
"Moreover, it's frankly criminal, and it's just punitive unnecessarily to fire health care workers that were last year's heroes, and now they're this year zeros, all for just refusing an experimental gene modification injection," Hardage added. "So we're going to make it our mission to hire every single one of those providers across the nation. We're going to build the medical economy 2.0."
There are no national statistics on how many health care workers have been fired nationwide for refusing the COVID-19 vaccines. In New York, a state with one of the most strict vaccination requirements, about 34,000 health care workers have quit, retired, or been fired over refusing the vaccines.
'Noah's Ark for Medicine'
Hardage and his team pivoted the business model about a year ago. RHS now provides concierge-level health care for patients across the nation. In addition, the company, which Hardage calls the "Noah's Ark for medicine," welcomes medical professionals whose careers were jeopardized because they refused COVID-19 vaccines.
Hardage said RHS can handle up to 90 percent of a patient's typical needs through virtual care. The virtual medicine service can be especially helpful under certain circumstances, for instance, if a child gets sick at night or during a holiday.
"We want you well. It's in our best interest financially for you to be healthy," said Hardage. "If we're giving out bad treatment, bad advice, bad guidance to our patients, and they get sick all the time—well, then, we're going to go out of business."
Because the business charges a flat fee for unlimited care per month, seeing the doctor more frequently or getting additional treatment will not benefit RHS financially.
"A hospital is completely the opposite," said Hardage.
To illustrate, Hardage used the example of COVID-19 treatment. He said hospitals are financially incentivized to perform PCR testing, use remdesivir, intubate COVID-19 patients, and put them in the ICU.
Remdesivir is a controversial drug, authorized and later approved in 2020 by the U.S. Food and Drug Administration (FDA) to treat COVID-19 patients. Multiple studies have shown that remdesivir has no effect on hospitalized COVID-19 patients. In fact, some doctors claim that the drug has played a key role in COVID-related deaths, and the World Health Organization (WHO)  recommended against the drug in November 2020. Following the publication of a clinical trial in April, the WHO now suggests using remdesivir in mild or moderate COVID-19 patients at high risk of hospitalization.
Hospitals in the nation are eligible for a 20 percent add-on payment for using some FDA-approved or authorized COVID-19 treatments, including remdesivir, according to an interim final rule issued by the Centers for Medicare and Medicaid Services (CMS), an agency under the Department of Health and Human Services (HHS).
Dr. Peter McCullough, a renowned cardiologist and epidemiologist, has called administering remdesivir as a frontline therapy "intentional and injurious to the population."
"As a doctor, I use lots of drugs in the hospital. I've never had an antibiotic or antiviral where the entire hospital stay would get a 20 percent bonus," McCullough told EpochTV's "Facts Matter" program in early August. "Americans should be asking questions."
According to CMS, the add-on payment was to "mitigate potential financial disincentives for hospitals to provide new COVID-19 treatments" during the public health emergency period.
The Epoch Times has contacted HHS for additional comment.
Alinsky's Playbook
Hardage believes the United States has experienced "an attempted Marxist, communist, internal coup."
Having served in the military for 20 years, "I cannot believe that this is the country that I came back to," Hardage said. "I don't understand what I'm seeing a lot of times. But now, after the last few years, I've really started to unpack it. And I understand very clearly what's going on. This is nothing less than Saul Alinsky's playbook of, let's go after the first pillar, for example, which is health care."
Alinsky was a community organizer and left-wing social activist. His thought, reflected in the 1971 book "Rules for Radicals," is believed to have influenced former President Barack Obama.
A Parallel Economy
Hardage said the damage to today's medical system can be traced back to Obama's policies.
"What you are seeing right now is a direct result of the Obamacare policies," Hardage said. "If a hospital is going to take money from Medicare, Medicaid—Affordable Care Act—then they have to follow those guidelines, those mandates, those regulations."
Hardage feels federal health agencies could have recommended early treatment options such as vitamin D, C, B, zinc, quercetin, ivermectin, or hydroxychloroquine. However, these drugs are safe but not "profitable."
In reaction, what Hardage calls a "parallel economy" has been built, standing "in direct response to oppression, to tyranny."
"Stop giving your money to the institutions that are corrupt, that are literally taking everything from you, including your health, and join a patriot organization such as ours," Hardage said.
To Support and Defend the Constitution
Hardage believes what he is doing is a continuation of his service to his country: "I've taken the oath of office many times," he said, citing the oath service members take to "support and defend the Constitution of the United States against all enemies, foreign and domestic."
"That doesn't mean I'm going to pick up a gun and go run around the streets like a crazy person. But it does mean that we're going to defeat them at the ballot box. We're going to defeat them in the war of ideas. We're going to defeat them on the stage. We're going to defeat them with the whole notion of reawakening America, instead of resetting America."