California Truckers Impacted by New Law Warn 'Prices are Going to go Through the Roof'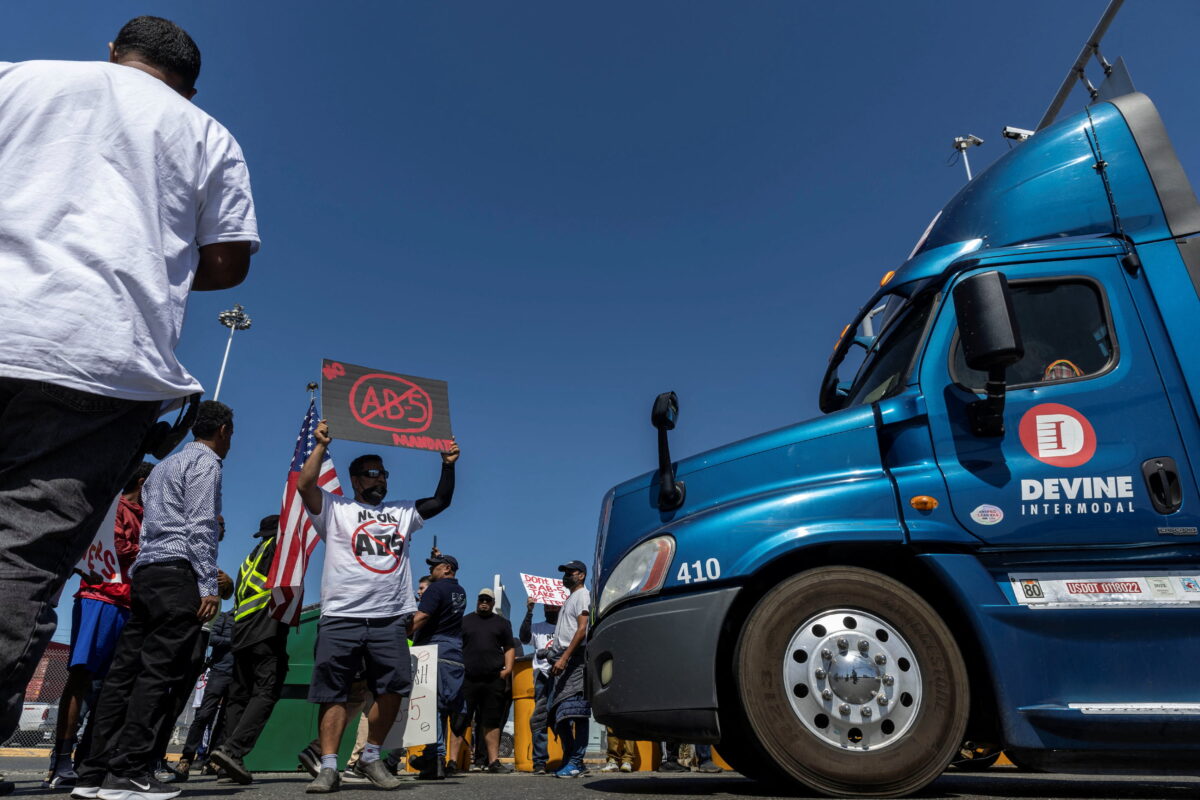 LONG BEACH, Calif.—Michael Clifford works for a trucking company in Utah but spends much of his time making deliveries in California.
As a non-resident company employee, Clifford said he's not happy with California's new labor law—Assembly Bill 5 (AB 5)—that was passed and signed into law in 2019 and went into effect last month after a failed legal challenge.
The new law requires independent truck owner-operators—some 70,000 strong throughout the Golden State—be classified as employees, with few exemptions.
"The owner-operators run on a tight profit margin. Everybody thinks they make a lot of money, but they don't," said Clifford while standing in line at a transportation logistics company near the Port of Long Beach on July 26.
The way the new law is written, he said, AB 5 likely will do more harm than good to the state's trucking industry in the future.
For starters, it will create "all kinds of problems in the supply chain, the food supply chain," amidst a nationwide shortage of truck drivers, Clifford told The Epoch Times.
"What we do here will affect the food supply in another country. It's very connected," Clifford said.
On June 30, the U.S. Supreme Court declined to hear a challenge on whether AB 5 violates the Federal Aviation Administration Authorization Act of 1994 regarding truck owner-operators.
The court's refusal to review the case removed a legal hurdle allowing the law to move forward in California, sparking protests across the state. The California Trucking Association likened the situation to pouring gasoline on a fire.
"In addition to the direct impact on California's 70,000 owner-operators—who have seven days to cease long-standing businesses—the impact of taking tens of thousands of truck drivers off the road will have devastating repercussions on an already fragile supply chain, increasing costs and worsening runaway inflation," the associate added.
Jason Rabinowitz, president of the Teamsters Joint Council 7, told CBS the new labor law is about unioning independent truckers and correcting worker "misclassification."
"Every worker, every driver deserves the right to have a union and all the benefits that come with that," he said.
Law Sparks Protests
Owner-operators protesting AB 5 at the Port of Oakland managed to shut down operations for a week in July, prompting the city to file a suit against the truckers.
In a July 21 letter regarding the protest, the port's  executive director Danny Wan said his office would continue working to address the concerns of the truckers to end the blockade.
"I understand the frustration over AB 5. We hear you. We have heard you since day one of your protest action," Wan said.
"We support your first amendment right for a peaceful demonstration. However, as we discussed, even before your demonstration began, the supply chain locally to globally was already congested. We do not want to see the loss of business and jobs here."
Northern California's Port of Oakland is a major economic engine for global trade, "and we want to keep our jobs here," Wan added.
Truckers Sound Off
"More taxes, more revenues for the state, huh?" remarked Jose Guzman, a company truck driver, told The Epoch Times he waited to receive his papers at Three Rivers Trucking in Long Beach on July 26.
"I have a couple of family members who are owner-operators. I know they work here out of port. It seems crazy."
Another truck driver who wished to remain anonymous said the labor law would devastate California truck owner-operators.
"Every individual who has just purchased, or is paying off their truck, pretty much can't work anymore," he told The Epoch Times.
"As an owner operator, you're kind of on your own. If it continues, what I'm thinking is people are going to start leaving California.
"You know what's hard about that? They're affecting an industry that's for the state—for everyone. The thing is—and this is the part that sucks—I don't think anyone is financially ready to stop working to set the [new] standards."
Another company truck driver waiting for an oil change in Long Beach feared a surge in price inflation if the law remained in effect.
"It's going to increase everything if they shut the truckers down. Prices are going to go through the roof, and it's wrong. It's totally wrong. It's stupid for them to do that. This is America—c'mon, people. Common sense," the trucker told The Epoch Times on condition of anonymity.
"Who do you help by doing this? What's the purpose? We need goods moved around. There's no way around it. If you create a law, make it for the people, not against the people. Why would you try to destroy families?"
According to the California Employment Development Department (CEDD), an "ABC" employment status test that went into effect in January 2020 defines if a worker is an employee or independent contractor in California.
"A worker is considered an employee and not an independent contractor unless the hiring entity meets all three conditions of the ABC test," according to the CEDD website.
These conditions include that a worker proves he or she works independently, performs the work outside the hiring company's regular business, and routinely works in an independently established trade.
At the Long Beach Travel Center truck stop, Efraim Lara, owner of Lara's Transportation in Carson, California, said he isn't happy about the prospect of losing his business and the freedom to set his schedule.
"I don't feel good because it's going to be hard for us. I'm the boss. I don't want to back to [reporting] to a boss. I don't want that," Lara told The Epoch Times.
Francisco Gonzalez, owner of FJ Trucking Services in Palmdale, California, said what concerns him is the potential loss of flexibility as an independent owner-operator.
"I'm not going to have the same freedom," he told The Epoch Times.
"They're trying to make us get rid of our trucks at a certain point—as they did before when they changed for the air quality. I had to give up my good truck and get a new truck—this one I paid off last month for $95,000. "
Gonzalez said he logs between 1,000 and 3,000 miles on his 2015 semi each week based on the job. An owner-operator can earn anywhere from $120,000 to $150,000, "depending on how hard you work," he said.
"Right now, I can do my own time. I work when I have a chance. If I want to work more, I work more; if I work less, I can work less. It's going to be my schedule."
His Own Boss
Under AB 5, Gonzalez said he could lose all that.
"We just got to keep fighting. We have the right to be independent. I will have to sell the truck, and [a company] will have to hire me. I won't be making the same money as an independent. When the big companies hire you back, they're going to pay you less."
Titus Jones, owner of D&W Trucking in Inglewood, California, took the opposing view, saying he supports AB 5 given the amount of cheating that goes on among truckers operating under the legal "umbrella" of owner-operators.
"It is a serious problem because when you see legitimate companies—family businesses that have been in business for years—you have trucks sitting on the side," Jones told The Epoch Times.
"The American Dream is generating your income. When you purchase a truck, you're going after the American Dream. When you're chasing the American Dream, and you've got a lot of cheaters interfering with that, then you feel this is not right. How is this working?"
Company trucker Alex Velasco said while the new labor law doesn't affect him, he thinks it will "cause more harm to owner-operators."
"They're going to have to pay W-2, and that's going to cost more money for the owner-operators."
Ron Caetano, a consultant for the Owner Operators Co-Op in California, said that "on the surface" AB 5 has shown that companies have tried to pay their employees 1099 self-employment wages to avoid paying normal wages and benefits.
Unfair Advantage
"That's unfair," Caetano told The Epoch Times. "The law says if I have an employee, I have to pay them W2. The employers have been skating the law and brought [AB 5] upon themselves.
"Technically, 1099 is cash under the table—even though they're reporting it. You've got to be able to look at it from both sides. You've got to be fair to the honest employers."
Though AB 5 "levels the playing field for all carriers, "you're still going to have some who are going to try to cheat the system," Caetano said.
"I've seen a massive change in the industry—for the worse. There are carriers out here just ripping off owner-operators [under cover of 1099]. What we did was decide let's start a co-op. Technically, we're just a bunch of owner-operators in one big organization. "
The trucker's cooperative helps members pass the ABC test to continue working as owner-operators, Caetano said.
"All they've got to do is give us a call, and we get them running," he said.
Clifford said AB 5 is a "huge deal" and is not good for free enterprise.
"I wish we could take the time to talk about what is true capitalism because it's not what's [happening] in this country at this time," Clifford said.