LIVE August 6, 10:45 AM ET: CPAC Texas 2022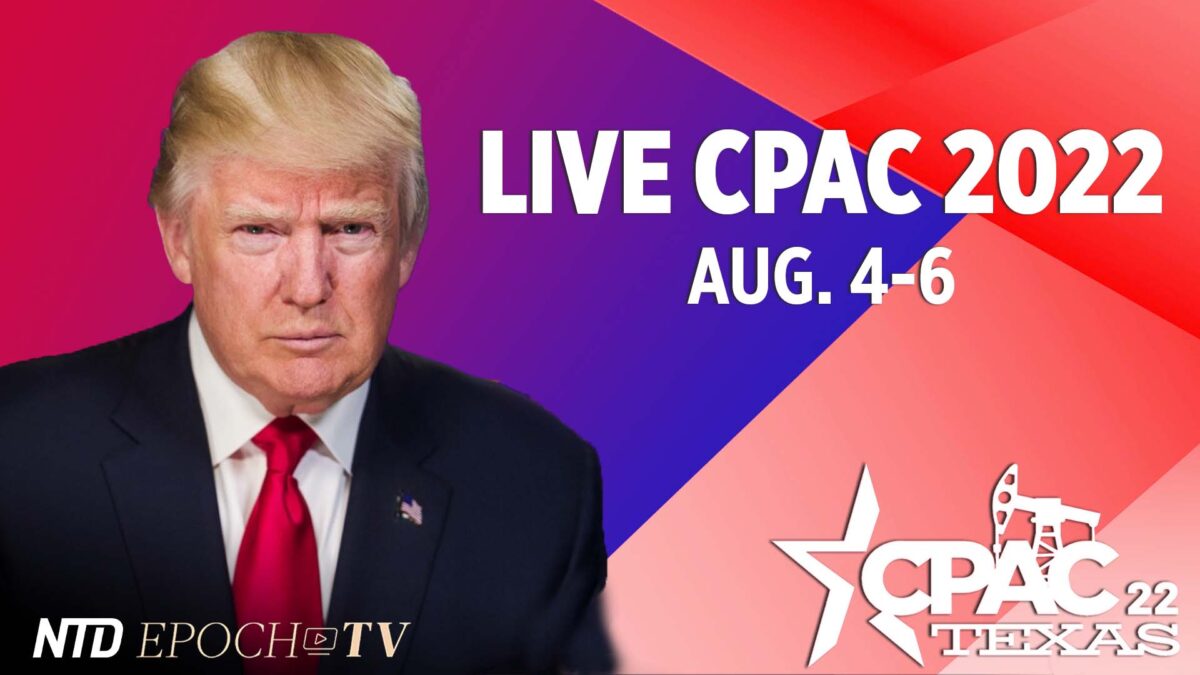 The Conservative Political Action Conference (CPAC) Texas 2022 will take place at the Hilton Anatole hotel in Dallas from Aug. 4 to Aug. 7. Former President Donald Trump is scheduled to speak at 6:35 p.m. ET (5:35 p.m. CT) on Aug. 6. EpochTV and NTD will livestream CPAC Texas 2022, starting at 10:45 a.m. ET (9:45 a.m. CT) on Aug. 6. Access the livestream on this page.
Program Overview
* Events are subject to change, and all times are Central Daylight Time (CDT).
9:45 am – 10:00 am
Criminal Justice Reform Done Right
Doug Collins
10:00 am – 10:40 am
The World is Watching
Jay Aeba, Miklos Szantho, Eduardo Bolsonaro
10:40 am – 11:00 am
Caging the Red Dragon
Bill Hagerty, Gordon Chang
11:00 am – 11:25 am
Energy Insecurity
James Carafano, Gary Palmer, Beth Van Duyne, Joshua Phillipp
11:25 am – 11:40 am
Saving the West
Nigel Farage
11:40 am – 11:50 am
Jenny Beth Martin – Speech
Jenny Beth Martin
11:50 am – 12:15 pm
Power Play
Kevin Kiley, Ben Cline, Bo Hines, Chris Miller, Matt Gaetz
12:15 pm – 12:40 pm
Making Woke Go Broke
Orlando Salazar, George Farmer, Christl Mahfouz, Glenn Story
12:40 pm – 12:55 pm
Socialist News Network
Jesse Kelly
12:55 pm – 1:50 pm
The Frontline Prescription
Ronny Jackson, Rich McCormick, Joseph Humire
1:20 pm – 1:40 pm
Wiping Up the Pooh
Gordon Chang, Jan Jekielek
1:40 pm – 1:55 pm
Ric Grenell – Speech
Ric Grenell
1:55 pm – 2:20 pm
Cold Dead Hands
Betty Cardenas, Greg Steube, Ken Buck
2:20 pm – 2:45 pm
Fighting Soros
Matt Schlapp, Wendy Kinney, Elaine Beck
2:45 pm – 3:10 pm
I'm Not a Biologist
Mary Miller, Riley Gaines, Taylor Silverman
3:10 pm – 3:35 pm
We Are All Domestic Terrorists
Mercedes Schlapp, Ian Prior, Ryan Girdusky, Julie Pickren
3:35 pm – 3:50 pm
From the Heart
Mark Robinson
3:50 pm – 4:05 pm
CPAC Straw Poll: Presented by Real America's Voice
Matt Schlapp, Charlie Gerow, Jim McLaughlin
4:05 pm – 4:30 pm
The Role of Congress: Post-Roe
Abraham Enriquez, Penny Nance, Michelle Fischbach
4:30 pm – 4:50 pm
Power Play
Lauren Boebert, Tudor Dixon, Warren Davidson
4:50 pm – 5:20 pm
American History: What You Don't Know
Glenn Beck
5:20 pm – 5:35 pm
The Best is Yet to Come
Kimberly Guilfoyle
5:35 pm
Closing Remarks
Donald J. Trump
* Click the "Save" button below the video to access it later on "My List."
Follow EpochTV on social media:
Twitter: https://twitter.com/EpochTVus
Rumble: https://rumble.com/c/EpochTV
Truth Social: https://truthsocial.com/@EpochTV
Gettr: https://gettr.com/user/epochtv
Facebook: https://www.facebook.com/EpochTVus
Gab: https://gab.com/EpochTV
Telegram: https://t.me/EpochTV