Crist to DeSantis Supporters: 'I Don't Want Your Vote' Because of 'Hate in Your Heart'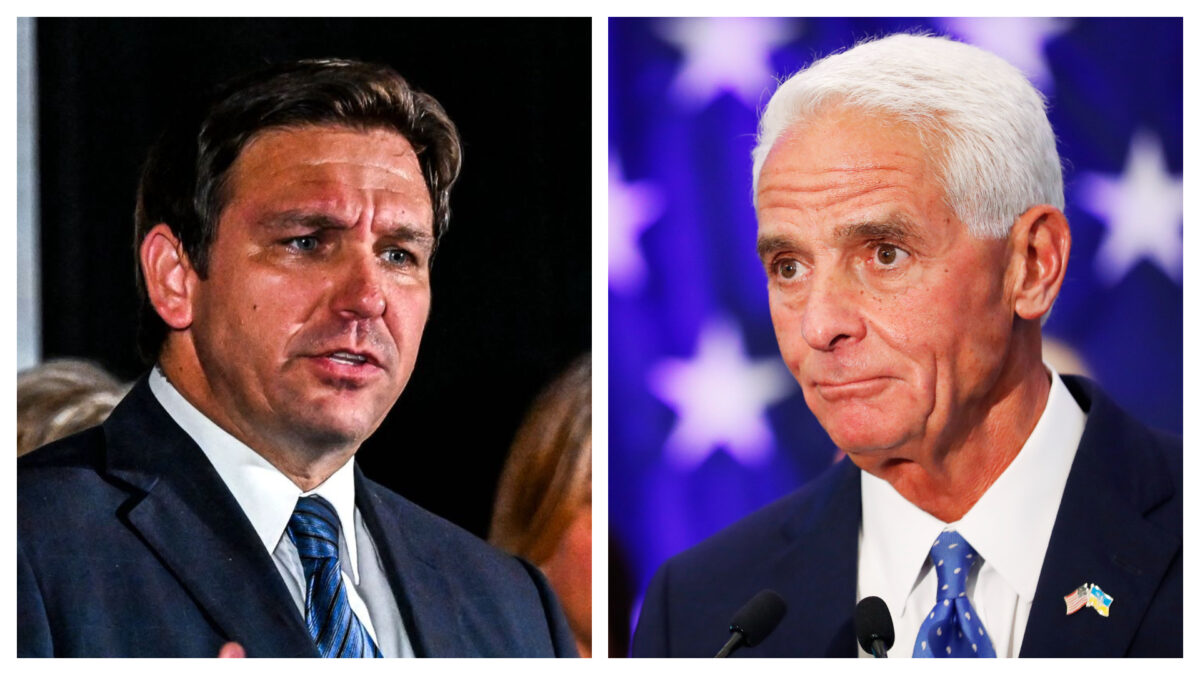 The morning after Florida Democratic voters chose him to take on incumbent Republican Gov. Ron DeSantis in the fall, Congressman Charlie Crist spoke directly to his opponent's supporters.
"Those who support the governor should stay with him and vote for him," Crist said on Aug. 24 at his first press conference after winning the gubernatorial primary.
"And I don't want your vote!" Crist added, forcefully emphasizing every word. "If you have that hate in your heart, keep it there. I want the vote of the people of Florida who care about our state."
DeSantis appeared on the evening Fox News show, Tucker Carlson Tonight, to respond.
"He doesn't want your vote. You're morally beneath him. I've never seen a politician say that," host Tucker Carlson chuckled to DeSantis, who appeared by video call.
"This is his fifth decade running for office," DeSantis said of Crist. "He's a chameleon, typical career politician.
"People support me because I kept the state open and protected their jobs. Charlie Crist wanted it locked down. So that's not hate in their heart. They're just appreciative that they had a governor who was standing up for them."
Analysts have predicted Crist's long history in Florida politics could be a liability for him. He served as a Republican governor of Florida from 2007 to 2011, but walked away from the chance at a second term. Instead, he ran for the U.S. Senate.
During that campaign, he switched his affiliation to Independent, when it appeared Marco Rubio was leading for the Republican nomination. Rubio won the seat in the general election.
Two years later, Crist changed party affiliation again. As a Democrat, he challenged the state's Republican Gov. Rick Scott, who was running for reelection. Crist lost then, too.
Scott is now a U.S. Senator representing Florida, and Crist represents the St. Petersburg area in the U.S. House of Representatives.
DeSantis is finishing his first term as governor. He narrowly won the spot as Florida's top executive in 2018, after stepping down from his congressional seat before the end of his third term.
When they square off in November, DeSantis and Crist will be up against three write-in candidates, a Libertarian, and two others with no party affiliation. Political forecasters have said DeSantis is likely to win.
And that's because Floridians agree with his policies, DeSantis told Carlson.
"Parents around the state support me because we made sure schools were open, and we're working to make sure [students] get education, not indoctrination. That's not hate in their heart. They're just appreciative that they have a governor that's fighting for them."
DeSantis has made education a priority in his administration. He banned the teaching of Critical Race Theory in schools and, in April, signed into law the Parental Rights in Education bill. That legislation builds on the Parents' Bill of Rights he signed into law in 2021.
And just before the Aug. 23 statewide primary, DeSantis endorsed 30 school board candidates from around the state and actively campaigned for them. All but five either won or advanced to the next round in the election cycle.
Since announcing his bid to unseat DeSantis, Crist has attacked the incumbent relentlessly, ignoring his three Democrat opponents, even before beating them with almost 60 percent of the vote.
His top challenger, the state's commissioner of agriculture and consumer services, Nikki Fried, had hoped to be the first female governor of the Sunshine State. She battered Crist for his flip-flopping political career, but still fell short with 35.3 percent of the vote.
The day after his win, Crist told an MSNBC host, "I'm going to beat [DeSantis] because I'm running on love, and love always wins. If he wants to run on hate, culture wars, dividing people, and making people hate each other, that's his turf. It's not mine. I'm on different turf, and it's what Floridians deserve."
DeSantis fired back during his Fox News appearance, "He claims that he wants to unify Florida. He says he wants a Florida for all, and then you condemn a majority of the people in the state of Florida. Give me a break."
In 2021, the number of registered Republicans surpassed Democrats in the state for the first time.
DeSantis has avoided any negative campaigning up until this point. But shortly after Crist was declared the winner of the primary, the incumbent put out a statement saying, "Freedom is on the line this November—and our bold agenda for parental rights in education, safe communities, a vibrant economy, and a protected environment is vital to keeping the state of Florida free.
"Our state is worth fighting for, and I am calling on all Floridians to put on the full armor of God as we will fight tooth and nail to protect Florida from the destructive agenda of [President] Joe Biden and his No. 1 ally in Florida, Charlie Crist."
In another statement from his campaign, he pointed out that Crist "voted to add 87,000 IRS agents to target the middle class on the taxpayer's dime, he supports defunding the police, and he supports the woke indoctrination of our children."
Meanwhile, Crist got back on the campaign trail, speaking passionately about his plans to expand access to abortions, fight for the rights of the LQBT community, and protect immigrants living in the U.S., Fox News reported.
"The guy [DeSantis] is anti-democracy; I'll be pro-democracy. He's anti-women; I'll be pro-women. He's anti-African American; I'm pro-African American. I'm pro-Floridian, and he's against Florida," Crist said.
And Crist repeated his frequent accusation that DeSantis cares more about running for the White House than governing Florida.
DeSantis consistently dismisses talk of a 2024 run for president. But politics watchers believe it's an almost-sure bet the 43-year-old father-of-three will announce his candidacy, if he wins reelection in the fall.
Polls suggest he's the second-most-popular potential Republican candidate for 2024, behind former president Donald Trump. When Trump is removed as an option in polling, DeSantis consistently wins.
Despite low approval ratings for Biden, Crist continues to attach himself to the sitting president, who says he'll run for reelection in 2024. Crist has heaped praise upon Biden, calling him an "amazing man" and a "good man."
Crist is expected to announce a lieutenant governor running mate soon, and said he's looking for a candidate with "decency, kindness [and] compassion," Fox News reported. DeSantis' running mate is Lt. Gov. Jeanette Nunez.
Republicans have what's known as political trifecta in Florida, holding the governorship, a majority in the state senate, and a majority in the state house. The GOP also has what's known as a triplex in the state. That's when one political party holds the offices of governor, attorney general, and secretary of state.
Florida, according to Ballotpedia, is one of 20 states to have both a Republican trifecta and triplex.