Election Integrity a Key Issue in Secretary of State Races
At a rally with former President Donald Trump last weekend, Nevada Republican Secretary of State nominee Jim Marchant encouraged an enthusiastic MAGA crowd to cast their vote for him on Nov. 8 and added his belief about the 2020 election.
"We have something in common," said Marchant, a businessman and former Nevada State Assembly member. "President Trump and I lost an election in 2020 because of a rigged election."
He also pledged to ensure election integrity in Nevada and help secure a Trump victory in 2024 if he runs for president.
"When I'm Secretary of State of Nevada, we are going to fix it. And when my coalition of secretary of state candidates around the country get elected, we're going to fix the whole country, and President Trump is going to be president again in 2024," Marchant said.
Until the aftermath of the 2020 presidential election, Secretary of State races took a back seat to higher-profile offices. Now, with midterms less than a month away, both parties are prioritizing those races, especially in states with Trump-endorsed candidates.
Marchant, who holds a lead in multiple polls over Democratic opponent Cisco Aguilar, formed the America First Secretary of State Coalition, which consists of more than a dozen Republican candidates for secretary of state and other offices that have an impact on elections.
Among the states the coalition is targeting are Arizona, Michigan, Nevada, and Pennsylvania. Biden won all four states in 2020. Each state has drawn election integrity controversy.
"If we get all of our secretaries of state elected around the country like this, we take our country back," Marchant said at the rally.
The Democratic Association of Secretaries of State, which served as the party's main campaign arm, has booked $11 million in TV spots in Michigan, Minnesota, and Nevada.
Among the Secretary of State's responsibilities are supervising and monitoring elections, providing campaign finance disclosures, and managing and preserving public records.
Here is a look at four of the most prominent Secretary of State races in the country:
Nevada
Marchant has been outspent by Aguilar, but polls have consistently shown the Trump-endorsed candidate in the lead.
Donna West, who is the former chair of the Clark County Democratic Party and now volunteers as an organizer for the same county party, told NBC News that "Marchant can't be trusted, but I just don't think a lot of people are even paying attention to the race. We've been knocking on doors, and people aren't aware of the race. They still don't understand what the secretary of state does."
Democratic-tied organizations have released TV ads criticizing Marchant for his beliefs of election fraud and how he said he wouldn't have certified the 2020 presidential election results in Nevada.
Aguilar and groups that support him have poured $1.3 million into ads since Sept. 1, according to AdImpact, a political ad-tracking group.
Multiple national polls this year have indicated that voters trust Republicans over Democrats by a wide margin on economic issues.
An attorney who served as a staffer for former Senate Majority Leader Harry Reid, Aguilar told reporters that voters are "looking at gas prices and especially rent. It's a kitchen table issue." That hurts Democratic candidates, he added.
Marchant still holds leads in the polls. In early October, The Nevada Independent/OH Predictive Insights survey showed Marchant ahead of Aguilar, 39 percent to 31 percent.
CNN published a poll on Oct. 6 with Marchant carrying a 46 percent to 43 percent advantage, and 11 percent saying they will vote for neither candidate, not vote, or have no opinion.
Marchant has frequently said that he investigated what he called a "rigged election" from 2020 and uncovered "horrifying" irregularities, though he has provided no details.
Election fraud in Nevada has existed for years, Marchant claims.
"In Nevada, and maybe other places all over the country—we haven't, in Nevada, elected anybody since 2006," Marchant said in a January 2022 podcast. "They have been installed by the deep state cabal."
It was "statistically impossible that Joe Biden won" Nevada in the 2020 presidential election, Marchant has argued.
This week, Aguilar is launching a television spot as part of a $1 million ad campaign. In the ad, Aguilar claims that Marchant is "too dangerous" to be Secretary of State.
The spot also showcases Marchant's own words talking about his work to "try to fix 2020" and his preference to "get rid of early voting."
Aguilar concludes the ad by saying, "I will defend your right to vote."
Arizona
Mark Finchem, the Republican nominee for Secretary of State in Arizona, was in Washington on Jan. 6, 2021, for the "Stop the Steal" rally.
Endorsed by Trump, Finchem also has said that the 2020 presidential election was stolen. He has encouraged decertifying the 2020 results in Arizona, where Biden won by a little more than 10,000 votes. Finchem also supported Maricopa County's ballot recount.
On the one-year anniversary of the Jan. 6, 2021, U.S. Capitol breach, Finchem tweeted that "the real insurrection was how Democrats 'rigged the vote in Arizona with tens of thousands of fraudulent votes'."
A CNN poll released last week shows that Finchem leads Democrat Adrian Fontes 49 percent to 45 percent.
Finchem and Fontes met on the debate stage on Sept. 20.
"Do you think Arizona voters want their chief election officer at a riot at the U.S. Capitol to overthrow an election?" Finchem was asked by the moderator. "Is that what you think Arizona resident voter citizens want?"
"The last I checked, [being] where something is happening is not illegal. I have been treated as a witness, not as a suspect," Finchem responded.
Finchem was the main subject of questions for the next 26 minutes.
Fontes has characterized Finchem's views about the 2020 election as "dangerous," a common buzzword for Democrats when discussing Jan. 6, 2021.
During the debate, Fontes said that the race is not only about preserving mail-in ballot voting in Arizona, but it is also about defending democracy from threats posed by "the far-right."
Finchem's presence at the Jan. 6 protest illustrates political extremism, Fontes stated.
"What [Finchem] did was engage in a violent insurrection" resulting in the deaths of police officers," Fontes said, not mentioning the protesters who died. "He is part of an organization that has called for the violent overthrow of this country."
Fontes, who served as Maricopa County Recorder from 2017 to 2021, created his own election law for political reasons while serving in that position by printing illegal ballots.
The ballots included illegal voting advice and were mailed to thousands of voters—until a Superior Court judge in Arizona blocked Fontes in 2020, Finchem pointed out.
Arizona Secretary of  State Katie Hobbs, the 2022 Democratic nominee for governor, learned about Fontes' action and wrote a letter calling it illegal.
After the Maricopa County Board of Supervisors and Hobbs said Fontes ignored their orders not to mail out the ballots, Arizona Attorney General Mark Brnovich filed suit.
"The Maricopa County Recorder cannot unilaterally rewrite state election laws," Brnovich said in a press release.
"Fontes is creating chaos in our elections during an already difficult time. In times of crisis, the public looks to our elected officials to follow the law—not make reactionary decisions for political gain."
Evidence of ballot fraud to a degree that would overturn the 2020 election in Arizona "doesn't exist" and "it's time to move away [and] not rehash old issues," Fontes said at the debate.
Finchem shot back, "We need to build confidence. We need a secretary of state who follows the law, not make up law as he goes along."
Michigan
Election integrity is the central issue in the Michigan Secretary of State race between incumbent Democrat Jocelyn Benson and Republican nominee Kristina Karamo.
Supporters have donated $4.2 million to Benson, who has said "election deniers want to take over statewide offices so they can potentially be in a position to block or undo, or fail to certify election results."
Karamo has raised around $900,000.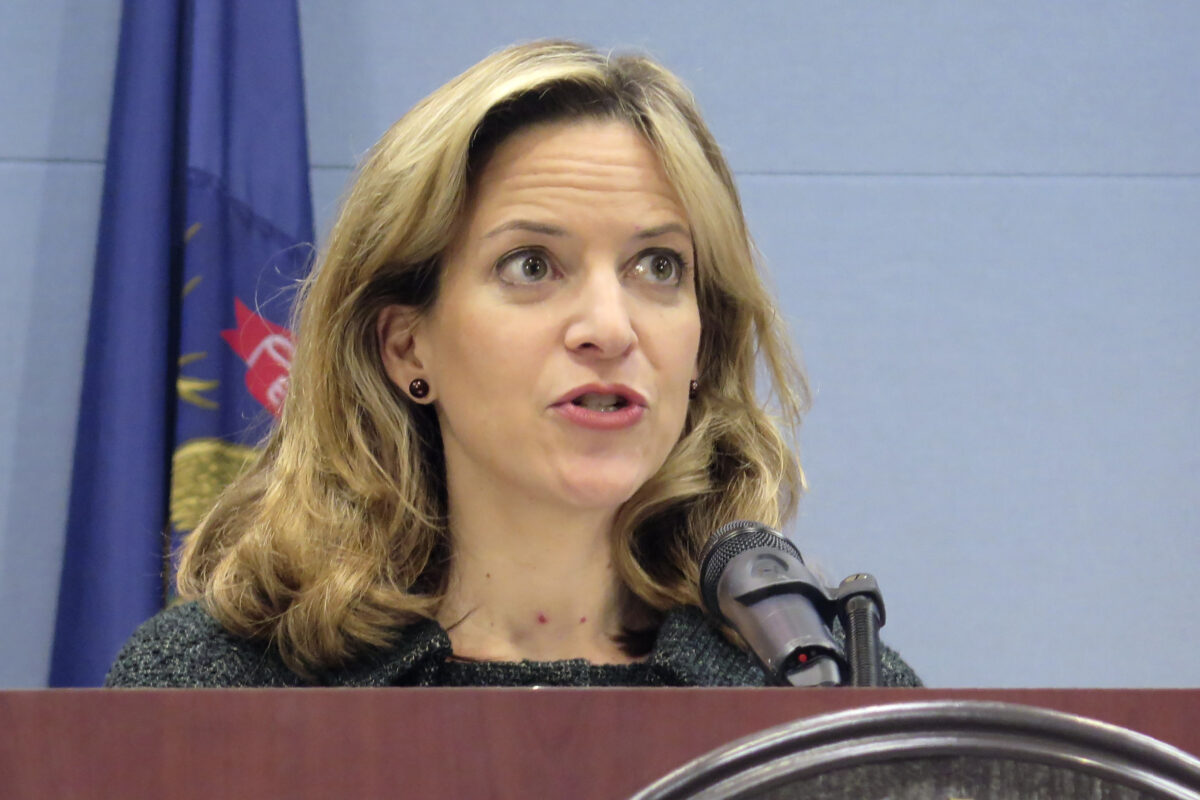 Benson has held a double-digit lead in the polls.
One ad from the Karamo campaign said that Benson is part of a George Soros-funded plan to "place politicians where the races are close." The ad claims that Benson has "influenced" Michigan elections and that "she could alter the course of presidential history in 2024 if she is re-elected.
During the Michigan Republican Party convention in August, Karamo said, "I'm pro-life from conception to natural death, and that's the reason I got into politics is to fight against abortion."
DASS' Michigan TV ad attacks Karamo for her pro-life stance on abortion and her comments that it is "child sacrifice" and "a very satanic practice."
"Why is Kristina Karamo running for secretary of state? That's a good question," the spot's narrator asks.
A former community college instructor, Karamo drew attention when she alleged there was illegal vote counting at the former TCF Center in Detroit where she was a self-appointed "poll challenger."
She stated her claims in an affidavit and told the Detroit Free Press that "The allegations in my affidavit ARE accurate. I submitted an affidavit regarding what I personally witnessed. You have never investigated the specific allegations in my affidavit, nor has anyone else. Therefore, you cannot claim my allegations were inaccurate."
Karamo is endorsed by Trump and decisively won the Michigan Republican primary.
Karamo has been outspoken this year about abortion, LGBT issues, and religion. On a Michigan radio show in August, she called abortion "the most wicked thing ever. It's far more wicked than slavery."
She told talk show host David Harris that "the reason why I say it's far more wicked than slavery—because you and I are evidence that the slaves, many slaves, survived—aborted children don't survive because that's the whole premise is to kill them. And so when we enter into a point in society that murdering other people is permissible to make my life better, then that's human sacrifice."
Benson supports abortion rights but has been campaigning on customer service at Secretary of State branches, voting rights, and election security.
Benson was quickly thrust into the national spotlight during her first term as Secretary of State.
She oversaw the 2020 Michigan election that became a spotlight for Trump and his supporters regarding election fraud.
Benson has said it was the most secure election in Michigan's history.
She oversaw the implementation of absentee voting expansion that allows voters to mail in or drop off their ballots, and she used $4.2 million in federal money to mail applications to voters in 2020 when the pandemic was active.
Benson was first elected in 2018 after losing to former Secretary of State Ruth Johnson in 2010.
She served as CEO and executive director of the Ross Initiative in Sports for Equality and is the former dean of Wayne State University Law School.
Benson authored a book that looks into the role of Secretaries of State in overseeing elections and enforcing voting laws.
The Michigan Secretary of State race is presented as a choice between one candidate who would honor voter integrity and another who would not allow valid election results.
"It is not hyperbolic to say that the future of our democracy is on the ballot this fall," Benson told Michigan media outlets.
Georgia
Georgia's Republican incumbent Secretary of State Brad Raffensperger drew criticism from Trump and his supporters for refusing demands from Trump to overturn the 2020 presidential election results in the state.
Raffensperger is running against Democratic nominee Bee Nguyen, a Georgia State Representative who says he is no hero.
A September poll by the Atlanta Journal-Constitution showed that Raffensperger had a 19 percent lead over Nguyen and carried 20 percent support from Democrats.
"I will stand for the voters of Georgia to make sure we have fair and honest elections for everyone. That is my solemn pledge," Raffensperger said during a forum at a Macon African Methodist Episcopal church last week. "I'm not looking left. I'm not looking right."
Raffensperger did not protect voters when he backed Senate Bill 202, or Georgia's voting law, which was passed last year, his opponent charged.
The GOP-led Georgia General Assembly required additional ID for absentee voting, eliminated paperless online absentee ballot requests, and limited drop boxes.
"I voted against that voter suppression bill, and he has fully embraced that bill even though he says we've had a secure election," said Nguyen, who served as a state representative in the same district formerly held by Georgia Democratic gubernatorial nominee Stacey Abrams. "I believe that our democracy in our country is made better when more people are able to participate."
Last May, Raffensperger defeated Trump-endorsed U.S. Rep. Jody Hice in the Republican primary.
Trump had said that Raffensperger did a "terrible job of watching over Voter Integrity in Georgia" and hoped for a Hice victory.
Hice focused his campaign on election integrity and claimed there was fraud in the state's 2020 voting count.
Raffensperger defended the results as accurate.
Before he was elected as Secretary of State in 2018, Raffensberger was a state representative and CEO of a contracting and engineering design company.
"I've grown a broad-based coalition because I've done my job,"  Raffensperger told the Atlanta Journal-Constitution. "People respect that with tremendous pressure, I did not waver. I stood on the rule of the law and the Constitution."