FBI Responds to Reports That 'SWAT Team' Was Used to Arrest Pro-Life Activist in Front of Children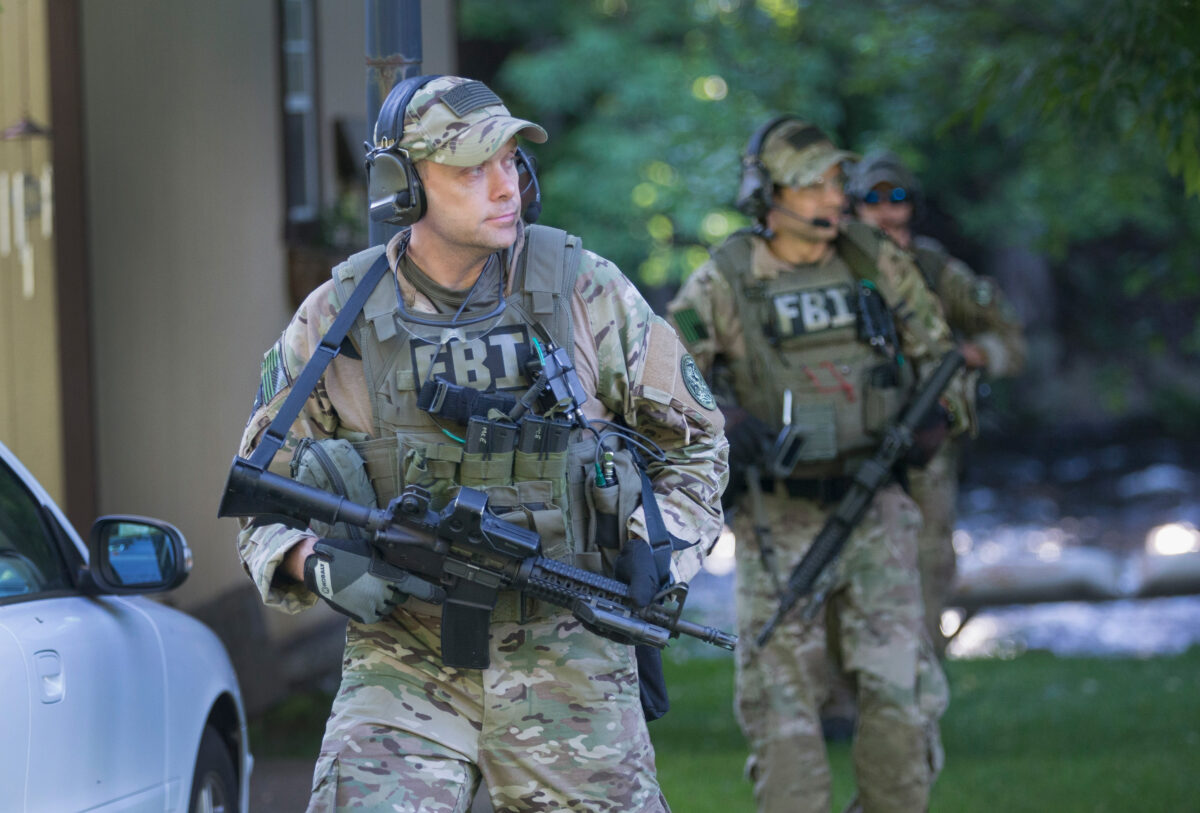 The FBI on Monday responded to media reports and claims that it sent a SWAT team to raid the Pennsylvania home of pro-life activist Mark Houck.
"There are inaccurate claims being made regarding the arrest of Mark Houck. No SWAT Team or SWAT operators were involved," the FBI Philadelphia office told The Epoch Times. "FBI agents knocked on Mr. Houck's front door, identified themselves as FBI agents, and asked him to exit the residence. He did so and was taken into custody without incident pursuant to an indictment."
When reached for comment, the bureau did not directly address claims made by Houck's wife, Ryan-Marie Houck, that agents had their guns drawn and pointed them at her and Mark Houck, however.
"While it's the FBI's standard practice not to discuss such operational specifics, we can say that the number of personnel and vehicles widely reported as being on scene Friday is an overstatement, and the tactics used by FBI personnel were professional, in line with standard practices, and intended to ensure the safety of everyone present in and outside the residence," the statement said.
The FBI also did not address an allegation that their children could see the arrest and "were all just screaming" while the arrest was being carried out. The bureau's comment to The Epoch Times on Monday also appears to be a boilerplate FBI statement that was sent to other news outlets about Houck's arrest.
The agents "had big, huge rifles pointed at Mark and pointed at me and kind of pointed throughout the house," Ryan-Marie Houck told LifeSite News. "Our staircase is open, so [the kids] were all at the top of the stairs which faces the front door, and I was on the stairs as well, coming down," she said. "The kids were all just screaming. It was all just very scary and traumatic."
And in an interview with the Catholic News Agency, Ryan-Marie said agents allegedly told them they were going to break down the door if they didn't open it.
"They had about five guns pointed at my husband, myself, and basically at my kids," she said, adding that upwards of 25 agents were involved in the raid. The FBI did not comment on the number of agents that were used in the arrest.
An unnamed FBI source told Fox News that there were possibly 15 to 20 agents, denying that 25 were there.
The individual also said that agents who arrived at the door had guns out already and firearms were never pointed at Houck, his wife, or children, and the guns were lowered and holstered once he was arrested. Another unnamed law enforcement official told Fox that agents never entered their house. The Epoch Times could not independently verify either claim.
Criticism
Republican officials, including Pennsylvania gubernatorial candidate Doug Mastriano, decried the raid and accused the FBI of targeting ordinary citizens for political reasons. The FBI recently has faced significant backlash from whistleblowers and GOP officials in recent days for what they say is increasing political bias among the bureau's leadership.
"The continued weaponization of the FBI and persecution by Joe Biden's DOJ against ordinary Americans is an outrage," Mastriano said in a statement.
As of Monday afternoon, a GiveSendGo fundraiser for Houck's family raised nearly $200,000.
The fundraiser alleged that with Houck's arrest, the Biden administration, "Planned Parenthood, and its pro-abortion allies want to send a message of fear to the pro-life community of Pennsylvania"
Charges
U.S. Attorney Jacqueline Romero said Friday that Houck was charged by indictment with violation of the Freedom of Access to Clinic Entrances (FACE) Act. They alleged that Houck assaulted a 72-year-old man near a Planned Parenthood center in Philadelphia in October 2021.
The FACE Act, according to the DOJ, "makes it a federal crime to use force with the intent to injure, intimidate, and interfere with anyone because that person is a provider of reproductive health care."
According to the Department of Justice (DOJ), the alleged victim, B.L., was attempting to escort two patients from the Planned Parenthood clinic when Houck "forcefully shoved" the individual "to the ground."
On the same day, Houck "verbally confronted" B.L. and again "forcefully shoved" them to the ground near the Planned Parenthood center. That incident caused injuries to B.L. "that required medical attention," the DOJ said, without elaborating.
Brian Middleton, spokesperson for Houck's family disputed those allegations, saying that he was defending his 12-year-old son from B.L.'s harassment. The family is now attempting to produce a video of the incident.
The man fell to the ground when Houck pushed him away, Middleton said, disputing prosecutors' claims he shoved the abortion escort.
Both city police and the district attorney's office declined to file charges against Houck over the incident, the family spokesperson told the Catholic News Agency. B.L. also filed a private criminal complaint against Houck, but Middleton said it was dropped when B.L. did not show up in court on multiple occasions.
Houck's attorney, Thomas More Society Vice President and Senior Counsel Peter Breen, told LifeSiteNews that Houck also agreed to turn himself in voluntarily several months ago.
"Rather than accepting Mark Houck's offer to appear voluntarily, the Biden Department of Justice chose to make an unnecessary show of potentially deadly force, sending twenty heavily armed federal agents to the Houck residence at dawn this past Friday," explained Breen. "In threatening form, after nearly breaking down the family's front door, at least five agents pointed guns at Mark's head and arrested him in front of his wife and seven young children, who were terrified that their husband and father would be shot dead before their eyes."