Five Takeaways From Tuesday's Primaries in Florida, New York, and Oklahoma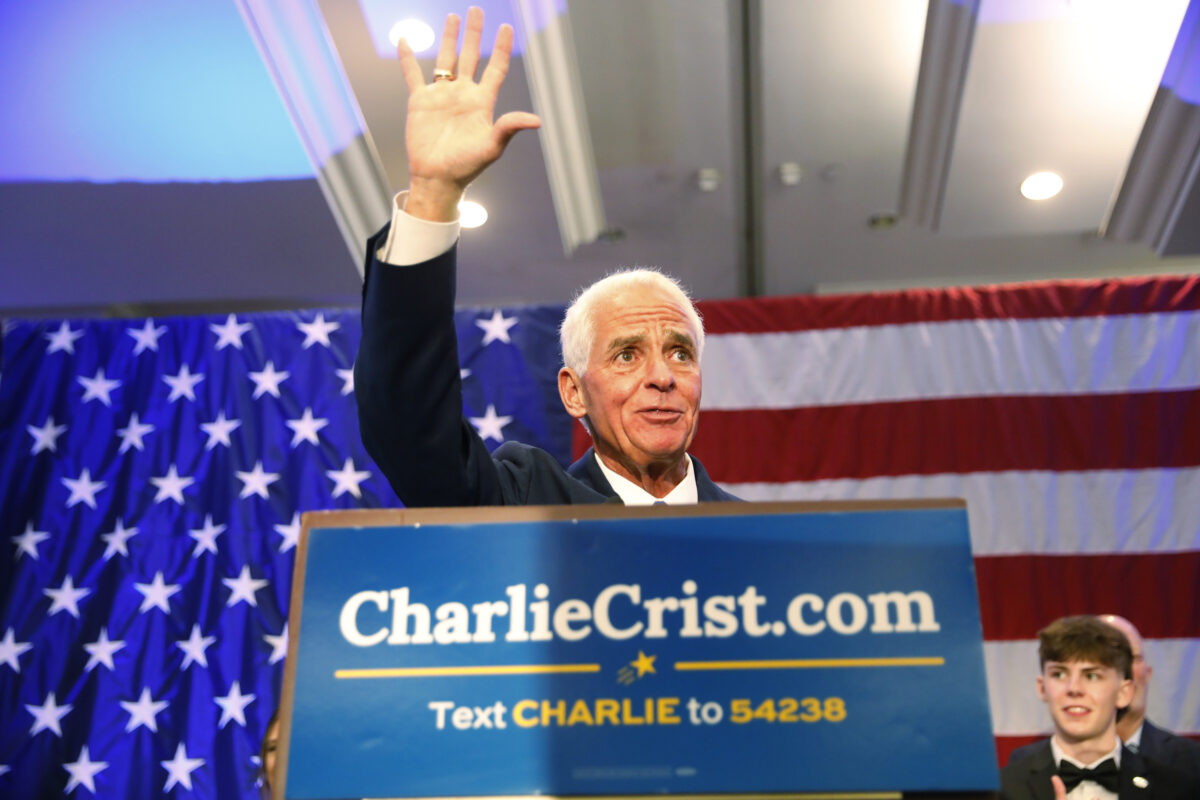 Voters in Florida, New York and Oklahoma headed to the polls on Aug. 23 for their primaries as the transition nationwide to the November 8 general election draws closer.
Here are five key takeaways from the Aug. 23 primaries.
DeSantis, Rubio Learn of Their Democratic Opponents
Charlie Crist, who served as Florida's governor from 2007 to 2011 as a Republican before switching parries, decisively defeated state Agriculture Commissioner Nikki Fried and two other challengers to capture the Democratic gubernatorial nomination
Crist tallied almost 60 percent of the vote with more than 95 percent of the results reported, according to Decision Desk HQ. Fried received 35 percent.
In November, Crist will face DeSantis, three write-in candidates, a Libertarian, and two others with no party affiliation.
Considered a potential 2024 Presidential candidate, DeSantis was unopposed in the Republican primary.
In his victory speech, Crist said of DeSantis that "this guy wants to be president of the United States of America and everybody knows it. However, when we defeat him on 8 November, that show is over."
If he is elected, Crist vows to reverse much of what DeSantis has signed into law
Congresswoman Val Demings, who represents Florida 10th CD, won the U.S. Senate Democratic primary, recording 84 percent of the vote.
The former Orlando police chief will face Republican Sen. Marco Rubio, who was first elected to that seat in 2011.
Incumbent Versus Incumbent
In a Democratic primary between incumbents in New York, Rep. Jerry Nadler (D-N.Y.) defeated Rep. Carolyn Maloney (D-N.Y.) in New York's 12th Congressional District.
Nadler was first elected as a Congressman in New York City's Upper West Side in 1993. He has represented the 10th Congressional District since 2013.
Maloney has represented New York City's Upper East Side since 1993, including its 12th CD since 2013.
Friends and allies, Nadler and Maloney were forced to run against each other  when a court-mandated redistricting process in New York State combined their districts.
Neither lawmaker was willing to run in another part of the city.
Nadler, 75, gained endorsements from The New York Times and Senate Majority Leader Chuck Schumer (D-N.Y.) in the weeks leading to the primary.
He currently chairs the House Judiciary Committee and led both of the Democrats' impeachment efforts against former President Donald Trump.
The first woman to chair the House Oversight and Reform Committee, the 76-year-old Maloney is known for her longtime advocacy for Sept. 11 first responders seeking compensation for diseases they attribute to contamination from the World Trade Center tragedy.
During his victory speech, Nadler said he and Maloney "have spent much of our adult lives working together to better both New York and our nation."
"I speak for everyone in this room tonight when I thank her for her decades of service to our city," he said.
Maloney became the 13th congressional incumbent to lose a reelection bid in the primaries and the sixth to fall to a fellow incumbent after post-2020 Census reapportionment placed them in the same congressional district.
Democrat and Ulster County executive Pat Ryan defeated Republican and Dutchess County executive Marc Molinaro in a special election Tuesday in New York's 19th CD, which covers the Hudson Valley.
Two New York Special Congressional Elections
Democrat and Ulster County executive Pat Ryan defeated Republican and Dutchess County executive Marc Molinaro in a special election Tuesday in New York's 19th CD, which covers the Hudson Valley.
Ryan held 51 percent of the vote when the Associated Press called the race not long after midnight.
President Joe Biden won the swing district by fewer than two percentage points in 2020.
Democrat Antonio Delgado represented the district until he departed to become New York's lieutenant governor in May.
Ryan called his campaign "a referendum" on Roe v. Wade, and his TV spots focused on electing a representative who would support abortion rights. Molinaro centered his campaign around reducing crime and inflation.
Ryan's television ads hammered on the need to elect a representative who would fight for abortion rights in the wake of the Supreme Court's June decision overturning Roe v. Wade, while Molinaro, the Dutchess County executive, centered his campaign on crime and inflation.
Ryan will finish Delgado's term. He and Molinaro will run for full terms in neighboring districts set by New York's new congressional maps.
The current 19th district has voted for the winner in every presidential election since 1996.
Since the 117th Congress convened in January 2021, there have been 15 special elections to replace elected representatives, including nine during the 2022 midterms cycle.
On Aug. 23, there were two special elections for vacant congressional seats in New York held simultaneously with the primaries. Along with CD 19, Steuben County Republican Committee Chairman Joe Sempolinski topped Democrat Max Della Pia, 53 percent to 47 percent in New York's 23rd District.
Sempolinski will serve the remainder of former Rep. Tom Reed's term.
Reed resigned in May to work for a lobbying firm. He declared in early 2021 that he would not seek another term after accusations of sexual misconduct.
Florida Republicans Poised to Gain House Seats
Republican incumbent U.S. Reps Matt Gaetz and Kat Cammack easily won their primaries. In central Florida, three Republicans earned victories and will be favored for open congressional seats as the GOP strives to regain control of the US House.
Backed by former President Donald Trump, Air Force veteran Anna Paulina Luna topped two challengers to prevail in Tampa Bay-area Congressional District 13
Cory Mills, a Trump-appointed Department of Defense (DOD) adviser, overcame seven opponents to win the Republican nomination in suburban Orlando-area CD 7 .
Incumbent Democrats who are not seeking reelection currently occupy both seats. One of them is Crist, who resigned from his CD 13 seat to run for governor.
Lauren Lee, who served as Florida's secretary of state for four years before resigning earlier this year, defeated four challengers to win the Republican primary for the open seat in CD 15, which covers Hillsborough and Polk counties between Tampa and Lakeland and is a new and additional congressional district.
Florida gained a 28th congressional district in the post-2020 Census reapportionment. Inspired by DeSantis, the state's Republican-controlled Legislature adopted new districts that were challenged and upheld in court rulings. Some analysts say those new districts could expand the GOP's congressional delegation majority from its current 16–11 to as dominant as 20–8.
Mills, a constitutional conservative who served with the 82nd Airborne Division in Iraq and Afghanistan, is a foreign policy expert who often appears on Newsmax, Fox News, OANN, and other conservative media outlets.
Three-term Democrat Rep. Stephanie Murphy (D-Fla.) currently serves CD 7. In December, she announced that she was not seeking reelection in a district that is dramatically different than the one she has represented since 2016.
CD 7 featured contenders who were adamantly pro-Trump and campaigned on "America First" platforms.
Mills defeated Anthony Sabatini, a Florida state Rep. who was endorsed by Rep. Marjorie Taylor Greene (R-Ga.), Sen. Rand Paul (R-Ky.), and Gaetz.
Trump-Endorsed Markwayne Mullin Wins Runoff in Oklahoma
In Oklahoma, Trump-endorsed U.S. Rep. Markwayne Mullin (R-Okla.) took another step toward replacing retiring Republican Sen. Jim Inhofe (R-Okla.) by defeating T.W. Shannon in Oklahoma's GOP U.S. Senate election primary runoff.
With 74 percent of the votes tallied, Mullin won with 66 percent compared to 34 percent for Shannon, according to Decision Desk HQ.
In the first round of the primary in late June, Mullin received 43.6 percent of the vote and Shannon finished second at 17.5 percent in a field of 13 candidates. Since neither surpassed 50 percent, a runoff was required to determine the Republican nominee.
Inhofe, 87, took office in 1994 and was elected to a fifth term in 2020 before announcing in February that he will retire, effective Jan. 3, 2023. That prompted the special election.
In November's general election, Mullin will face former Democratic U.S. Rep. Kendra Horn, who was a U.S. representative in Oklahoma's 5th Congressional District from 2019 to 2020.
Republicans are heavily favored to prevail in the general election, which made the GOP primary especially significant. Oklahoma voters have not elected a Democratic U.S. Senator in more than 30 years.
Mullin, 45, is a former professional MMA fighter and entrepreneur who owns a ranch and a plumbing company among other enterprises.
What's Next
Now that the Aug. 23 primaries are completed, 44 states have held their primaries, which have set races that will determine the future of the U.S. Senate, and 421 of the 345 U.S. House races.
Massachusetts, where nine House seats are up for grabs, has its primary on Sept. 6 while Delaware, New Hampshire, and Rhode Island host theirs on Sept. 13.