Florida Democrats Challenging DeSantis Opt for Contrasting Campaign Strategies
Just days before the Democratic gubernatorial primary in Florida, candidate Charlie Crist popped in at a Souls to the Polls event in North Central Florida, thrilling many Democrats in the post-church, Sunday-afternoon crowd.
Though he'll face three other challengers on Aug. 23, the congressman ignored them all in his pre-Primary Day appearance. Instead, under the blistering Florida sun, Crist attacked Republican incumbent Gov. Ron DeSantis, as if his opponents don't exist. It's a tactic he's employed throughout his campaign.
Meanwhile, Crist's leading adversary in the primary continued with a very different strategy. Nikki Fried, the state's commissioner of agriculture and consumer services, relentlessly hammered at both Crist and DeSantis on social media. She often posts dozens of diatribes per day.
As both Fried and Crist vie for their party's nomination in the fall general election, polling suggests Crist has amassed a sizable lead with voters heading into the Tuesday contest. Fried appears to be running second in the field of four Democrat candidates.

Since May 2021, Crist has received more than $7.6 million in donations, and the Friends of Charlie Crist committee has raised more than $6.4 million, candidate financial records filed with the state show. Fried has raised almost $3.5 million.
Contributions to DeSantis and to the Friends of Ron DeSantis committee total more than $140 million, according to Transparency USA, which tracks money in state politics. The incumbent has spent about $13.7 million on a campaign that's so far free of attacks on any of his challengers.
Crist, however, has focused on just one thing as the primary contest creeps closer. Instead of acknowledging how he differs from the other three primary candidates, he calls out what he sees as the failings of DeSantis. His appearance at the Sunday event was no different, as a crowd of mostly black voters gathered to meet local candidates and cast early ballots.
Speaking from a mobile stage, 66-year-old Crist appeared confident and relaxed. He acknowledged local elected officials by their first names, and addressed the crowd of about 250 with an uncharacteristically folksy drawl. He introduced his "new fiancée," a recent transplant from Minneapolis and mother of six, who's 23 years his junior. And he joked that having a large family could help him attain the number of votes he needs to win.
"You ready for a new governor?" Crist asked the crowd gathered near the city's Supervisor of Elections Office in Gainesville. "DeSantis, he's a disaster. When it comes to public education—disaster. When it comes to fighting for African-Americans—disaster. When it comes to fighting for democracy, it's a mess. He's telling local school boards what to do."
As part of a 10-city tour before the primary, Crist chose to stop in the Democrat-controlled county of Alachua.
Crist encouraged the crowd to chant the word "Vote!" and talked about serving in Congress with Georgia lawmaker and civil rights activist John Lewis.
"God rest his soul. I'm sure he's watching over us today. And he used to always tell me, 'Charlie, your right to vote is precious. In fact, it is so precious, it's probably sacred.'"
Crist has suggested throughout his campaign that DeSantis has made it more difficult to vote in Florida. He did not respond to multiple requests from The Epoch Times to specify those concerns.
In April, DeSantis signed legislation into law that increases penalties for violations of elections rules, outlines required maintenance of voter rolls, limits ballot harvesting, prohibits ranked-choice voting, and creates an Office of Election Crimes and Security under the Florida Department of State. Opponents have questioned whether the new law is needed and have suggested it could be used to make it more difficult for some to vote.
Crist has outlined five steps he "would immediately take to make it easier to vote." Measures would include moving primaries from August to spring, declaring Election Day a state holiday, and restoring felons' voting rights after release from incarceration, even if they haven't finished paying court-ordered fines, fees, and restitution.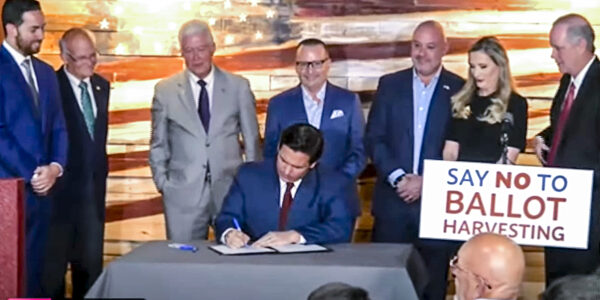 Crist also says he wants to ensure unrestricted access to abortions, and establish an Office for New Floridians to help the 330,000 transplants moving to the state each year.
If elected, Crist has promised to sign an executive order on "Day One" banning discrimination based on "sexual orientation and gender identity."
State law already protects against discrimination by race, religion, sex, age, disability, national origin, or marital status in employment, housing, and public accommodations.
He has promised to work to reduce gun violence by requiring universal background checks for gun buyers and banning "large magazines and assault rifles."
He also has promised to repeal the Parental Rights in Education law signed by DeSantis earlier this year.
The law prohibits classroom teaching on sexual orientation, gender identity, and other sexual topics for third-grade children and younger. It prohibits schools from holding meetings with children that are kept secret from parents, such as those that have been used to facilitate gender-transition plans. And it gives parents a path for suing schools for failing to comply.
The law sparked controversy worldwide after being dubbed with the misleading moniker, "The Don't-Say-Gay Bill."
The bill does not, as opponents claim, prohibit children from sharing in class about their LGBTQ loved ones or confiding in teachers about their questions on sexual topics.
DeSantis also has ignored his opponents in his reelection campaign, so far. He's taking what experts in political advertising call a "high-road" approach, a strategy likely to earn approval from moderate voters and Democrats frustrated by progressive policies, especially in schools, experts say. In his ads and campaigning, DeSantis has pointed to his accomplishments. Any criticism he offers is usually aimed at President Joe Biden, the Democratic Party, and any person or entity pushing progressive policies.
Fried, however, has taken a different strategy. She regularly aims scalding criticism at both Crist and DeSantis. She bills herself as "something new."
In ads and during a recent debate, she has battered Crist by pointing out his flip-flops on issues, such as being "pro-life" and then switching to being "pro-choice." She's also spoken derisively of Crist's political career.
While serving as a Republican governor of Florida, Crist passed up running for a second term to compete in the primary for the U.S. Senate in 2010. Crist switched his party affiliation to Independent during that campaign, when it appeared Marco Rubio was leading for the Republican nomination. Rubio won the general election.
Two years later, Crist changed party affiliation again. As a Democrat, he challenged the state's Republican Gov. Rick Scott, who was running for reelection. Crist lost then, too.
In addition to blasting her primary opponent, Fried, 44, doggedly beats on DeSantis. She frequently blasts him on Twitter and holds pop-up news conferences to criticize the governor.
Fried has expressed continuing outrage since DeSantis signed a law passed by the Republican-led legislature that restricts abortions past about 15 weeks. And she took to the streets with protestors after the June Supreme Court decision to overturn Roe v. Wade. On Aug. 16, she wrote in a post on Twitter, "Women aren't free under DeSantis."
On Sunday, she posted on Twitter about the topic, something she does multiple times on most days.
"Ron has been silent (and Charlie has been flopping). But I'm going to put women's freedom on the ballot (and on TV) in the general. It's how we'll win Florida again," she wrote.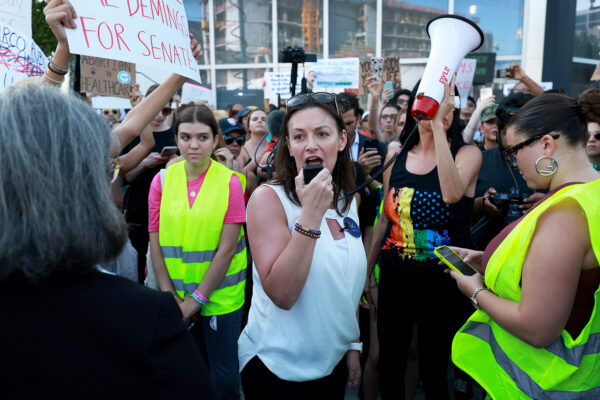 She also posted about Crist, describing him as "anti-choice, pro-NRA, chain gang Charlie."
Crist earned the derisive nickname in the mid-1990s for sponsoring a bill in the Florida Senate to bring back prison work crews of inmates chained together by shackles. During his campaign for governor in this election cycle, he's spoken on a need for more focus on "rehabilitation, forgiveness and restoring and rebuilding."
Fried's website details her promises of action on a long list of issues. If elected governor, she has said she would declare a "housing state of emergency" to "halt rent hikes and designate anything over 10 percent as price gouging." She's promised to "fight to repeal the state law that prohibits local governments from imposing rent control."
She has said she would invest in high-speed rail, expand Medicaid, implement free breakfasts and lunches for all school children, and push for more solar energy, lower insurance costs for homeowners, and "full legalization of marijuana" in Florida.
Crist's campaign website lists dozens of endorsements, mostly from unions, elected officials, and former officeholders from around the state. Fried boasts a substantial, but shorter list of prominent backers.
The winning Democrat will advance to face DeSantis, three write-in candidates, a Libertarian, and two others with no party affiliation (NPA) on Nov. 8.