FTX Asks Politicians to Voluntarily Return Billions in Sam Bankman-Fried Donations Amid Mounting Debts
Failed crypto exchange FTX is asking politicians and charities to return the millions of dollars in donations they received from former CEO Sam Bankman-Fried in order to help pay off its mounting debts.
In a press release on Dec. 19, the company said that it has already been approached by a number of recipients of contributions or other payments that were made at the direction of Bankman-Fried, a prolific political donor.
"These recipients have requested directions for the return of such funds to the FTX Debtors. The FTX Debtors are working with these recipients to secure the prompt return of such funds to the FTX Estates for the benefit of customers and creditors," the company said.
The company then invited all recipients of such payments to contact them to make arrangements to return the payments as it faces crippling debts.
It also warned that those who fail to voluntarily return the money may face legal action, and interest may also be added to the donation.
"To the extent such payments are not returned voluntarily, the FTX Debtors intend to commence actions before the Bankruptcy Court to require the return of such payments, with interest accruing from the date any action is commenced," the statement read.
'Tens of Millions of Dollars in Illegal Campaign Contributions'
Bankman-Fried was one of the largest political donors in the United States, making contributions to both Democratic and Republican candidates and campaign committees as well as multiple charities.
Prosecutors have accused Bankman-Fried of making "tens of millions of dollars in illegal campaign contributions" to both candidates from both parties that were not under his name.
It is estimated that he donated roughly $70 million to both politicians and charities in the 2021–22 election cycle, according to a Financial Times analysis of public records.
Numerous lawmakers who received donations from Bankman-Fried have said they plan to donate the money to charity in the wake of the FTX scandal. The majority of them are House Democrats, the Associated Press reported. 
Last week, three prominent Democratic organizations—the Democratic National Committee (DNC), the Democratic Senatorial Campaign Committee (DSCC), and the Democratic Congressional Campaign Committee (DCCC)—vowed to return donations made by Bankman-Fried after he was charged with multiple counts of fraud.
The DNC said it had received $815,000 in contributions from FTX since 2020, while the DSCC has set aside $103,000 to return and the DCCC has put aside $250,000, according to The Washington Post.
Some Democratic lawmakers have already donated contributions to various charities, including Rep. Hakeem Jeffries, (D-N.Y.)  and Rep. Pete Aguilar, (D-Calif.), according to The Associated Press.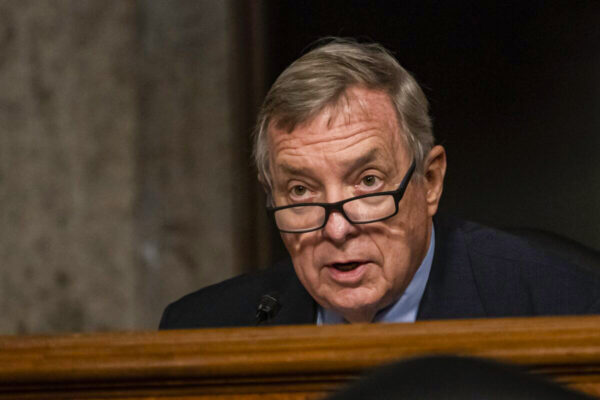 Biden Campaign Received $5.2 Million in FTX Donations
Senate Majority Whip Dick Durbin (D-Ill.) said he will donate his contribution to an "appropriate charity," while Sen. Patty Murray (D-Wash.) has pledged to donate hers to a local Washington state charity, according to the publication. Others, such as Sen. Tina Smith (D-Minn.), have donated contributions to Planned Parenthood.
Bankman-Fried also made the second-largest donation to Joe Biden's presidential campaign, which received around $5.2 million in campaign donations, The Wall Street Journal reported.
At a press briefing on Dec. 13, White House press secretary Karine Jean-Pierre refused to answer when asked when President Biden plans to return the donation, citing the Hatch Act of 1939, which prevents civil service employees in the executive branch of the federal government from engaging in certain forms of political activity.
"I am limited on what I can say. And I just can't talk to political contributions or anything related to that. I cannot speak about it from here," Jean-Pierre said.
However, FTX warned on Dec. 19 that recipients of donations from FTX must not use any of the money to make a donation to a third party, such as charity, instead or return the money back to the failed crypto exchange, noting that this will "not prevent the FTX Debtors from seeking recovery from the recipient or any subsequent transferee."
FTX, formally the world's third-largest cryptocurrency exchange, filed for Chapter 11 bankruptcy on Nov. 11 following a staggering collapse that left millions unable to access their crypto wallets.