Georgia Candidates Switch Sides in Interpreting the Economy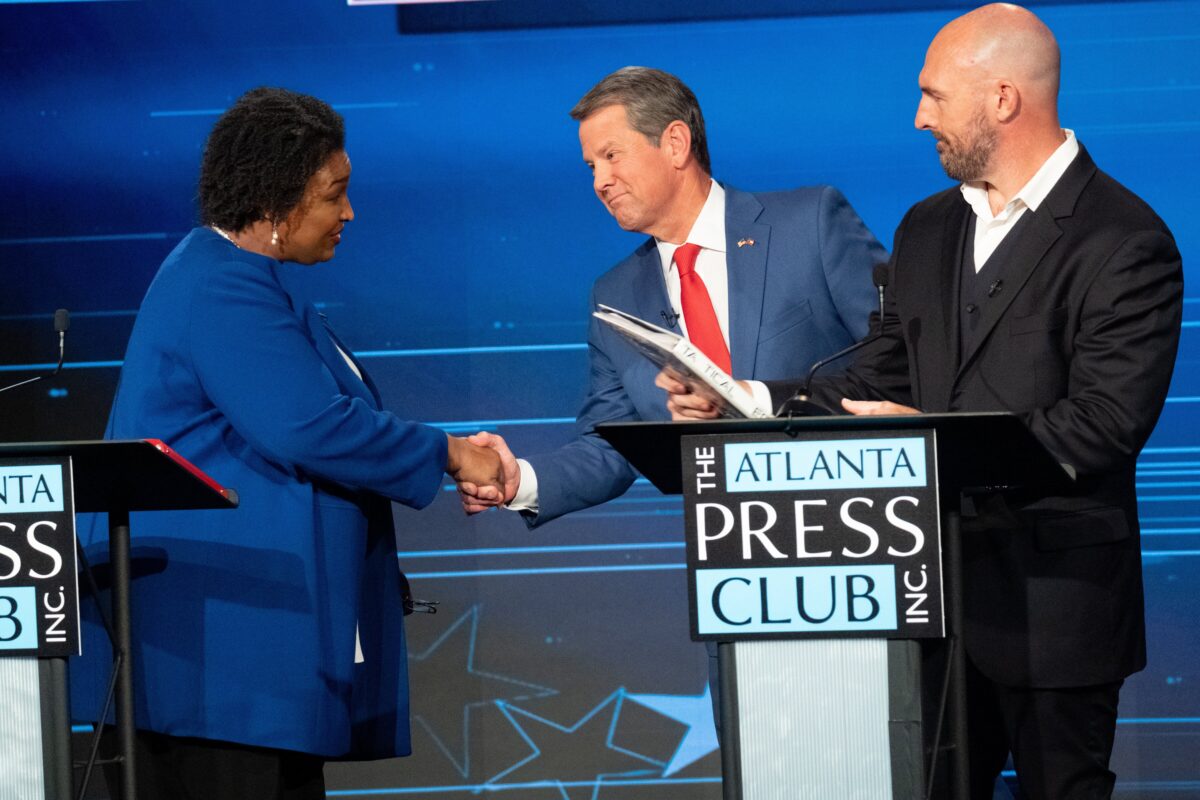 News Analysis
Brian Kemp and Stacey Abrams debated Monday for the only time in their campaign for Georgia governor. They presented starkly contrasting visions not only for the state but of what the state's situation is now, and each represents a deviation from their party's general take on things.
The two, who ran against each other in 2018 in a race Abrams, a Democrat, for a long time refused to concede, don't much like each other, and it showed. Abrams cut the incumbent Republican governor off at one point, Kemp reproached her for doing so, and she then apologized.
Abrams and Kemp clashed on Georgia's economy, among other issues. What makes this race unusual is that Kemp can campaign on a relatively strong state economy, which he can take credit for as a leader nationally in reopening small businesses soon after the COVID-19 lockdown began.
In the debate, he still tagged the Biden administration: "My desire is to continue to help fight 40-year-high inflation and high gas prices and other things that our Georgia families are facing right now, quite honestly, because of bad policies in Washington, D.C., from President Biden and the Democrats who have complete control."
The state has a $6.4 billion surplus, some of it unspent federal COVID relief funds. Abrams has lambasted Kemp for not spending it on issues like health care. Kemp meanwhile reminded voters he authorized a billion-dollar tax rebate, has kept a gas tax moratorium in effect, and is planning both another rebate and a one-time property tax rebate. The latter would help taxpayers cope with rapidly rising real estate prices and corresponding tax assessments.
Kemp said that, had the state not done well economically after reopening the business world as soon as it did, that money would have been spent instead on replacing lost tax revenues.
Most other campaigning Republicans rail against inflation, seeking to tie their Democrat opponents to the Biden administration. Abrams campaigns against Kemp's economic stewardship but wasn't able on Monday to refute, for example, his statement that African American unemployment in Georgia is the lowest in the country.
She isn't taking the stance other Democrats are of standing with President Joe Biden by finding silver linings in economic storm clouds, like troubling inflation and high energy prices. She's kept a distance from Biden—whose running mate she campaigned to be in 2020—not showing up when he made a speech in January about voting in Georgia. Last week, she acknowledged having been in talks with the White House about him campaigning for her in the closing weeks of the election.
Abrams said the state has lagged in supporting minority businesses. Kemp said his small business support during the pandemic helped many such companies, including minority-owned ones, stay open. And he pointed to the state's unemployment rate for African Americans, which he said was the nation's lowest.
Abrams went after Kemp on the issue of China acquiring farmland in Georgia and the security risk it represents. Her initial question was directed to Libertarian Shane Hazel, the third candidate at the Atlanta Press Club debate, but it really targeted Kemp.
"The state of Georgia is watching our farmland be purchased by the Chinese Communist Party," Abrams said. "And while that is not normally a conversation that we have, it is something that we should be concerned about. Agriculture is our number one industry, and Georgia has 13 military installations."
She and fellow Congresswoman Nikema Williams (D-Ga.) accused Kemp's government last week of subsidizing the Chinese purchases. They also criticized his allowing branches of state government to use WeChat, which they said both former President Donald Trump and Biden had deemed a threat to national security.
It was unclear what the state's involvement in Chinese farmland purchases has been under Kemp. The issue has gained some visibility of late, partly because some such companies' land acquisitions are near military bases.
One congressman who has been active on it is Abrams's fellow Georgia Democrat Sanford Bishop, who represents the 2nd Congressional District in southwest Georgia and is chair of the Agriculture Appropriations Subcommittee. But Bishop, whose committee is looking at a bill to bar Chinese-owned companies from buying American farmland, didn't show urgency and meanwhile tried to tone down strong feelings the issue might provoke.
U.S. Department of Agriculture data from December 2020 on foreign-owned farmland doesn't show the problem to be particularly severe in Georgia compared with other states.