GOP Senate Candidate Don Bolduc Attacked Before New Hampshire Debate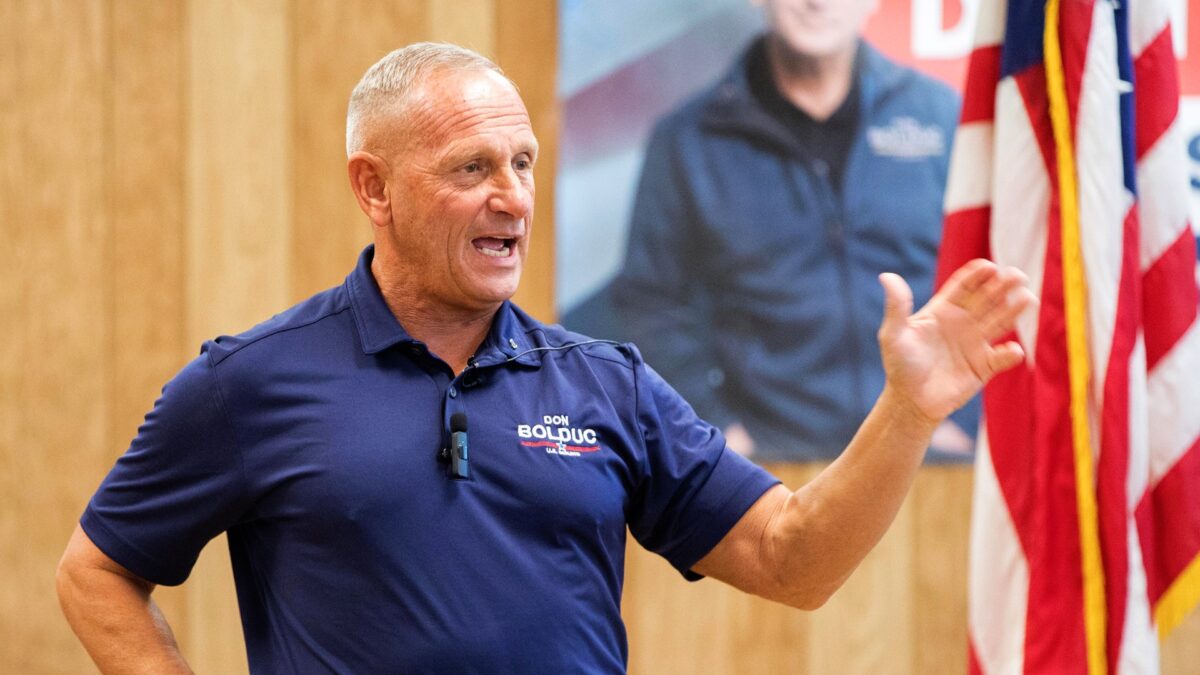 New Hampshire's Republican Senate candidate Donald C. Bolduc was the victim of an attempted assault prior to Wednesday's debate against incumbent Sen. Maggie Hassan (D-N.H.), according to the GOP nominee and campaign officials.
Bolduc, a retired Army brigadier general, mentioned the incident near the end of the Nov. 2 second and final debate prior to the Nov. 8 midterm elections.
"It's a sign of political problems—Republicans and Democrats—that fuel issues with people that get them to the point where they are just so upset at an individual that they strike out at them. Happened to me outside just before I came in," Bolduc said, noting that this kind of behavior is wrong and needs to be stopped.
The Army veteran referred to the attack while responding to a question from a moderator who asked what he would do to prevent incidents of political violence in the United States such as the recent hammer attack against House Speaker Nancy Pelosi's husband Paul.
Angie Wong, a spokeswoman for Bolduc's campaign, denounced the attack on social media, confirming that Bolduc was unharmed and "his attacker arrested."
"We've got to stop the political violence encouraged by hate speeches from our leaders. [Bolduc] was attacked before his debate tonight. Luckily he is ok and his attacker arrested," Wong said on Twitter.
It is unclear if the assailant is a supporter of the Republican nominee's Democrat opponent.
The New Hampshire Goffstown Police Department was unable to comment on the matter Thursday night.
According to Kevin Donohoe, Hassan's campaign communications director, the suspect is a "libertarian party activist" who also targeted volunteers of Hassan's campaign.
"Disgusting behavior. We saw this same libertarian party activist get aggressive with our campaign volunteers at this debate and the last," Donohoe claimed on Twitter.
The Senate race in New Hampshire has tightened considerably in the last month. A recent poll conducted by the Saint Anselm College Survey Center showed Bolduc having a one-point lead as the two vie for a key Senate seat.
'Failed Policies'
During Wednesday's final debate, Bolduc, who served 10 tours in Afghanistan and was awarded two Purple Hearts, framed Hassan as "a career politician" while pointing to record-high inflation under the administration of President Joe Biden, whom he said Hassan "100 percent supports."
"Heating and eating, these are the issues, and she completely avoids that," Bolduc said. "The first time I heard her use the word inflation was tonight; she doesn't ever talk about it."
"She skips all around [inflation] … because she's caused it, all her votes in the Senate have caused this heating and eating issue that we have retirees going back to work," he said. "She's created it with her 100 percent support to Joe Biden's failed policies."
Hassan, meanwhile, agreed inflation is hurting New Hampshire families and is straining small businesses as she touted Democrats' work of passing legislation that will lower costs.
"Look, right now, I have stood up to big pharma and worked to pass legislation that will lower people's prescription drug costs; my opponent says he wouldn't have done that," Hassan said.
Hassan also said she helped to pass the bipartisan infrastructure law Biden signed last year and the $280 billion package aimed at creating more tech jobs by boosting the semiconductor industry and scientific research.
While the economy and rising costs that come with inflation such as energy and food were the main talking points of Wednesday's debate, other takeaways include the border crisis, abortion, and views on alleged fraud in the 2020 presidential election, among several other issues.
Abortion Is 'State Issue'
The verbal crossfire opened with a divergence on abortion rights, which Democrats have bet on as their winning ticket, vowing to enshrine abortion access into federal law should they secure a majority in both chambers.
Bolduc said he views abortion as an issue to be settled at the state level as he "promised all Granite Staters" that he wouldn't "vote for any federal legislation that has to do with abortion."
Hassan, meanwhile, avoided a question by a moderator on whether she'll support abortion up until birth, saying the decision has to be made by a woman and her doctor.
"This is about a fundamental right of a woman to make her own health care decisions," Hassan said, side-stepping the moderator's question while accusing Bolduc of supporting "a nationwide abortion ban."
"He is a yes vote for a nationwide abortion ban and he's trying to conceal it," she claimed, to which Bolduc responded, "That is an absolute lie."
"[Hassan], once again, hasn't even answered the question. That was the finest Washington, D.C. career politician non-answer I've ever heard," Bolduc said. "I believe the federal government should stay out of it, and I believe in the state rights and the state law. And that is the end of the discussion."
From NTD News