GOP Will Score 'Historic Victory' in Midterms: Mike Pence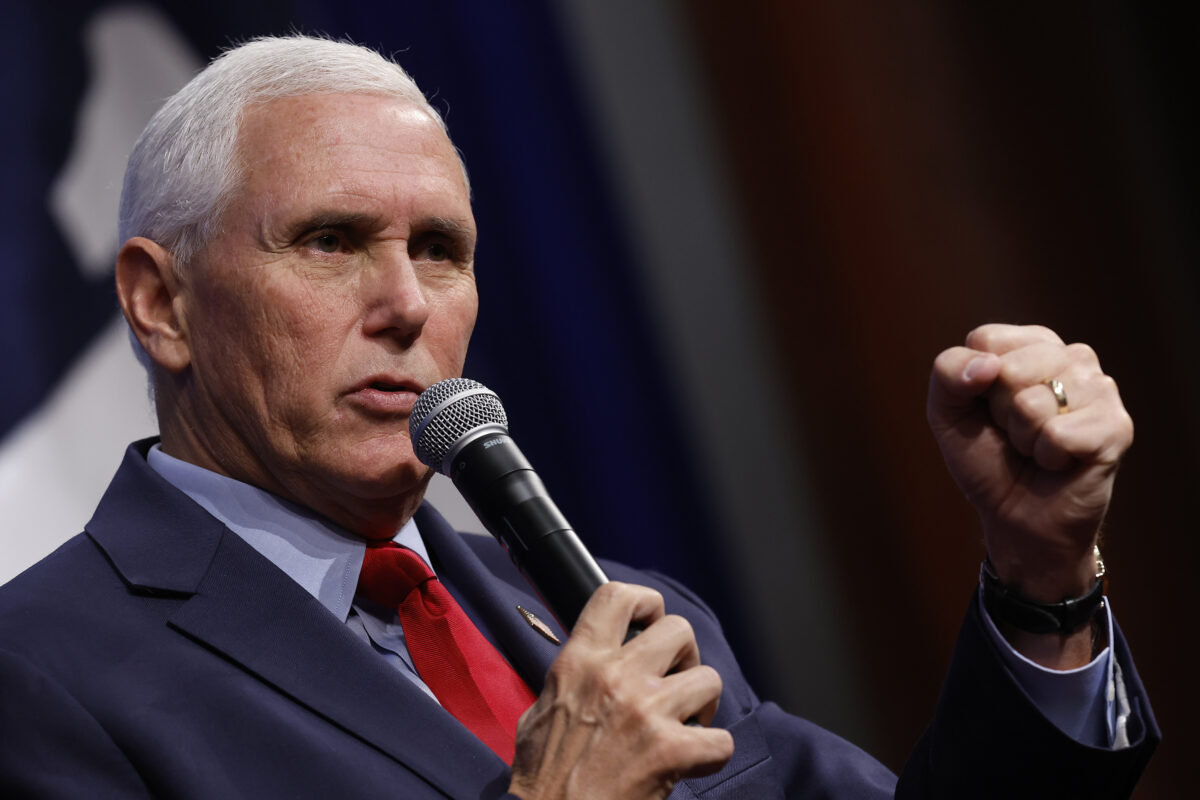 Former Vice President Mike Pence on Oct. 19 said he expects to see historic wins for Republicans in November's midterms.
"I think we are 20 days away from a historic victory for conservative values, for Republican candidates, and that's going to be step one. We win back the Congress. We win statehouses across the country. Two years from now, we'll win back America," he said in an appearance on Fox News' "America Reports."
Odds for a "red wave" in November had appeared narrow for a while, but are now again in Republicans' favor as the elections draw near.
Three weeks out from the midterms, multiple recently released polls now identify inflation and crime as among the top issues. In a Pew Research Center survey, conducted among 5,098 adults that include about 4,000 registered voters, 79 percent said the economy will be very important to their voting decisions, and only 17 percent believe the economy is in good shape. A majority of the Americans surveyed said they were very concerned about the prices of food, consumer goods, energy, and housing.
Facing continued high gas prices at the pump, the White House has announced plans to release another 15 million barrels from the Strategic Petroleum Reserve, the last tranche from the 180 million barrel total release he authorized in March.
The Biden administration has called the move necessary, blaming the Russia–Ukraine war for disrupting global markets. But Republican critics, among them Pence, have questioned Biden's reasoning, decrying the drawdown as antithetical to American interests.
"Gasoline prices are high at the pump today not because of the war in Ukraine but because of Joe Biden's war on energy," Pence said on Wednesday. "I think the reason in 20 days you are going to see the American people take back the House, take back the Senate, take back statehouses around the country is because they know better."
Pence, who is seen as a potential 2024 presidential candidate, expressed the same optimism in a same-day speech at the Heritage Foundation.
"Help is on the way," Pence told the crowd. "We are 20 days away from the beginning of the great American comeback."
He was asked later in a Wednesday evening event at Georgetown University whether he would vote for former President Donald Trump if the latter becomes the Republican presidential nominee.
"Well, there might be somebody else I'd prefer more," he said, drawing laughter from the crowd. He said that his chief focus for the next 20 days will be the midterm elections, but "after that, we'll be thinking about the future—ours and the nation's."
"I'll keep you posted," he added.