Graham's Abortion Ban Puts GOP Senate Candidates in Tight Spot, Drives Democrat Hopes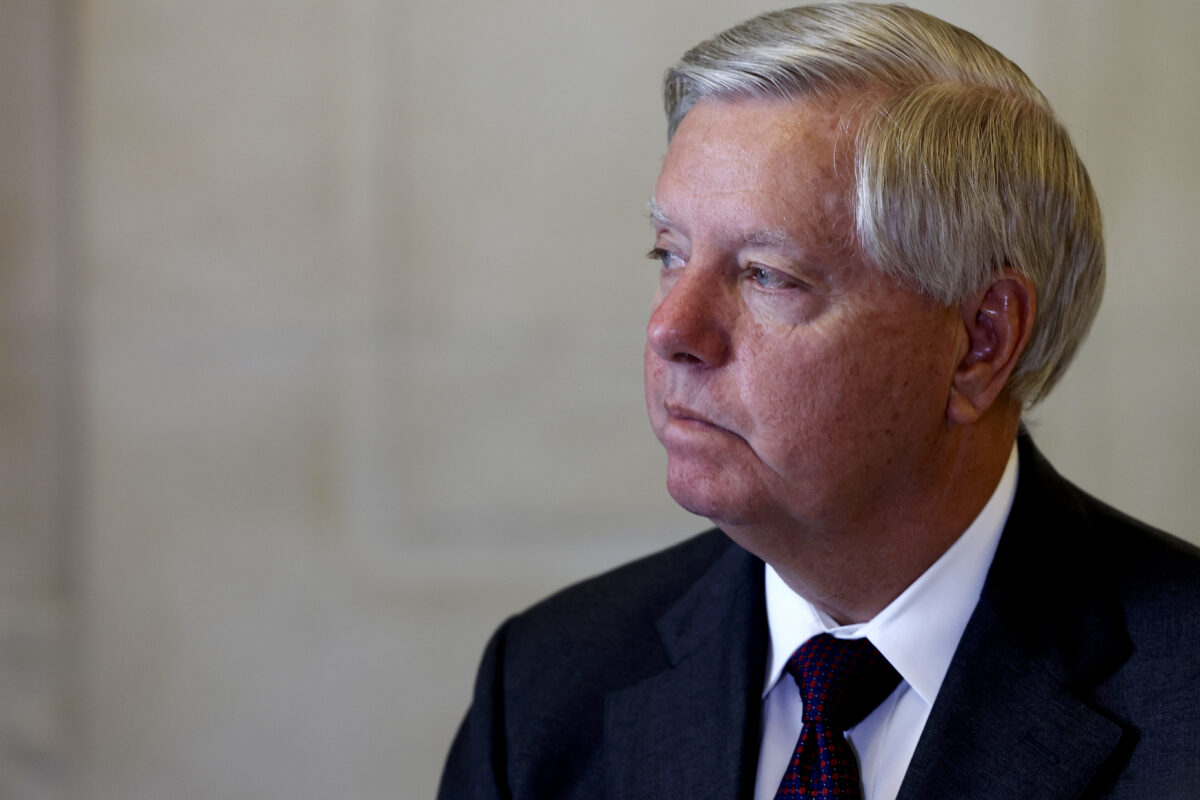 Sen. Lindsey Graham's (R-S.C.) recently-unveiled 15-week abortion ban is causing headaches for GOP Senate nominees in tight races and driving Democrats' hopes of regaining momentum only weeks ahead of the 2022 midterms.
Graham on Sept. 13 unveiled the bill, dubbed the Protecting Pain-Capable Unborn Children from Late-Term Abortions Act. The legislation is similar to another bill introduced in the Senate by Graham last year but it would change the prohibition from the previous bill's 20-week ban to a reduced 15-week ban.
During a press conference on the bill, Graham argued that the legislation, which would target physicians providing banned abortions rather than women seeking them, is necessary to place the United States in line with most of the rest of the developed world. In Europe, Graham noted, 47 of the continent's 50 countries ban abortion after 12 to 15 weeks of gestation.
Under the terms of the bill, physicians providing banned abortions after the legal threshold would be on the hook for a federal criminal charge carrying a fine and up to five years in federal prison.
However, the bill would permit exceptions in cases where physicians determine the mother's life is in danger or for babies who are the product of rape or incest.
For Democrats, the bill renewed some hope of regaining momentum ahead of a race that observers have long predicted would see Democrats lose the House and only narrowly hold the Senate, if at all.
Months after the Supreme Court made its decision in Dobbs v. Jackson Women's Health Organization to return the power to regulate abortion to the states, Democrats' efforts to use the issue to rile up their pro-abortion base were slipping as issues like inflation, rising crime, and border security took the forefront.
Now, some observers—including conservatives and members of Graham's own party—are worried that his introduction of the bill now will do little else but invigorate Democrats' base at a time when Senate GOP candidates are walking a tough balance to retake the upper chamber next year.
Democrats Try to Cash In
Following the announcement of the bill, Democrats went on the offensive, hoping to use the issue to drive turnout among their strongly pro-choice base.
During a Sept. 14 press conference, Speaker of the House Nancy Pelosi (D-Calif.) said as much, opining that the bill would help drive women voters to the polls in November.
"They know they're digging a hole," Pelosi added during a Sept. 14 press conference, saying that the bill would be bad for the GOP's electoral prospects. "Women are not happy about this."
Charles Booker, the Democrats' nominee for Senate against Sen. Rand Paul (R-Ky.) in the longtime red stronghold of Kentucky, took the opportunity to try to ramp up support in a race expected to go in Paul's favor.
"As Kentucky's next Senator, I will never vote for Lindsey Graham's 15-week nationwide abortion ban," Booker wrote on Twitter.
In another post, Booker wrote: "Rand Paul and Lindsey Graham want the Government to control your body. I want to codify your human rights into federal law."
Sen. Catherine Cortez Masto (D-Nev.), who is running a comparably more difficult race in the Silver State against her GOP rival, also commented on the bill, portraying it as trampling on the rights of states to make their own laws regarding abortion.
"I joined my colleagues today in speaking out against Republicans' national abortion ban, which would override Nevada's protections for women," Cortez Masto wrote in a Sept. 14 tweet. "This bill would overrule laws in states like mine that have protected a woman's right to choose—and that's unacceptable."
Sen. Maggie Hassan (D-N.H.), who also finds herself on the defensive after wining her last race by only 0.16 percent to the GOP incumbent, also weighed in.
"Republicans' nationwide abortion ban would make it a crime for doctors to provide critical reproductive care for women, no matter where they live," Hassan wrote on Twitter. "A woman and her doctor should make these decisions—not the government."
Lt. Gov. John Fetterman of Pennsylvania, who is challenging Republican Dr. Mehmet Oz in one of the most closely-watched Senate races of the cycle, acknowledged after Graham unveiled the bill that it could serve to aid Democrats' electoral prospects, but not before blasting the legislation on Twitter.
"My opponent literally believes abortion is 'murder' Dr. Oz has made it *very* clear that he wants to take away women's reproductive freedom," Fetterman wrote in a Sept. 13 post. "With the GOP introducing a national abortion ban, it's now more important than ever that we stop him in November."
Later, the Philadelphia Inquirer reports, during an address at Montgomery County Community College, Fetterman opined that the added momentum among pro-abortion women voters could turn the tide in the close Senate race.
"Women are the reason we can win," Fetterman said. "Let me say that again: Women are the reason we win. Don't piss women off."
Another Democrat in a tight Senate race, Tim Ryan of Ohio, said on Twitter, "This week, Lindsey Graham introduced plans for a national abortion ban."
Ryan added, "If the GOP retakes the Senate, it's all but guaranteed."
The post, which directed users to a donation page for Ryan, is not technically accurate, as a simple GOP majority in the Senate would be very unlikely to be able to pass any such bill. Still, the attachment of a donation page to his post on this issue reveals a larger trend as Democrats look to cash in on the proposal as the last lap of midterm season approaches.
Sen. Raphael Warnock (D-Ga.), a pastor who has been more tight-lipped about the most contentious social issues, commented as well, but his comment about his Republican opponent, Herschel Walker, was notably more reserved than some of his colleagues.
"Herschel Walker thinks it's a problem our country doesn't have a national abortion ban," Warnock said simply on Twitter.
A Campaign Headache for Republicans
For Republicans, who are hoping to take back the Senate after a two year stint in the minority, Graham's proposal has been a campaign headache as nominees seek to balance the wishes of their Republican base with the political realities of a rapidly-approaching midterm battle where they'll have to face a more moderate electorate.
Republicans have been muted on the bill, which they see as untimely ahead of the tight midterm battle.
Conservative commentator and Turning Point USA founder Charlie Kirk derided the bill as the right one at the wrong time, and suggested that it was intentional "election interference" on Graham's part.
"I would love a total abortion ban—15 weeks is not enough," Kirk said. "But I'm also not dumb; 25 days out from ballots going out the Democrats are applauding, thank you Lindsey Graham."
Senate Minority Leader Mitch McConnell (R-Ky.) said as much the day that Graham unveiled the bill, suggesting that Republican senators aren't keen to take up the issue.
In the same comments, McConnell suggested that GOP nominees try to take the best approach for the electorate of their states.
"I think every Republican senator running this year in these contested races has an answer as to how they feel about the issue and it may be different in different states," McConnell said, adding, "So I leave it up to our candidates who are quite capable of handling this issue to determine for them what their response is."
This has largely been the approach taken by Republicans in tight Senate battles.
Don Bolduc, who won the GOP nomination for Senate in New Hampshire the day Graham unveiled the bill, immediately found himself having to distance himself as he prepares for one of the tightest electoral battles of the season against incumbent Hassan.
"It doesn't make sense," Bolduc told Fox News, explaining that he thinks the issue ought to be handled at the state rather than at the federal level. "Women on both sides of the issue will get a better voice at the state level."
Other Republicans in tight battles expressed support for the bill in and of itself, but suggested that less strict bills or bills at the state level may be more politically practical.
"Of course, I support Lindsey Graham's 15-week bill, and I hope it passes," Blake Masters, the Republican nominee for Senate in Arizona, said of the legislation. "If it doesn't, I suggest and will introduce a third-trimester standalone bill. Certainly we can all agree that in America, we shouldn't tolerate late-term abortion like China and North Korea do."
Walker, the GOP nominee in the closely-watched Senate battle to take Sen. Raphael Warnock's (D-Ga.) seat, was similarly ambivalent, opining that the issue should be a state-level one while affirming his support for the effects the bill would have.
"I am a proud pro-life Christian, and I will always stand up for our unborn children," Walker said in a statement to Politico. "I believe the issue should be decided at the state level, but I WOULD support this policy."
But in other races, where the GOP nominee is facing a more uphill battle, the response has been more hostile.
"A Republican ban is as reckless and tone deaf as is Joe Biden and Chuck Schumer's hostility to considering any compromise on late-term abortion, parental notification, or conscience protections for religious hospitals," said Joe O'Dea, who is running a difficult race against incumbent Sen. Michael Bennet (D-Colo.) in a state that has increasingly become reliably blue.
O'Dea said that rather than a ban, Congress ought to pass a bill "protecting a woman's right to choose early in pregnancy" and placing "sensible limits on non-medically necessary late-term abortion."
Other Republicans, including Sen. Ron Johnson (R-Wis.), "Hillbilly Elegy" author J.D. Vance in Ohio, Adam Laxalt in Nevada, and Dr. Mehmet Oz in Pennsylvania have been tight-lipped on the issue, with a handful indicating that they share sentiments that the issue ought to be left to the states.