Hassan and Bolduc Face Off in New Hampshire–Finally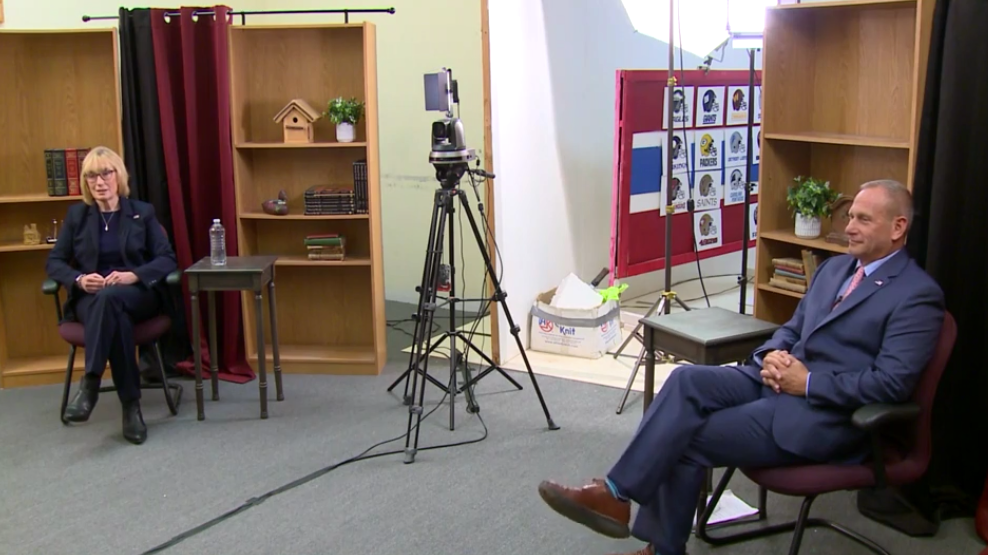 U.S. Sen. Maggie Hassan (D-N.H.) participated in the first debate with Republican contender Don Bolduc on Tuesday in what is one of the most watched races in America.
Until the face-off, Hassan had refused repeated requests by Bolduc to debate him.
It is unclear what prompted the New Hampshire Democrat to finally agree. Days earlier The Epoch Times reported that Hassan had backed out of a debate at the Nashua Chamber of Commerce that had been scheduled weeks ago.
The debate was conducted in a studio-like setting in Conway, New Hampshire, and live streamed on the internet. It was hosted by the Mt. Washington Valley Economic Council, which has been hosting candidate debates for 20 years.
Hassan and Bolduc sat in chairs in relatively close proximity in a small room and answered questions posed by moderator George Epstein, a local businessman. Hassan remained low key and reserved during the one-hour event while Bolduc at times was impassioned and confrontational as he hammered away at Hassan's status as a "career politician."
The topics covered included immigration, abortion, high gas prices, and the economy. Epstein posed party-based questions to the candidates, asking Hassan if she felt President Joe Biden was mentally fit to continue to lead the country.
"Yes, I have spent ample time with the President to know he is quick and sharp and capable of the job," Hassan responded. Biden, who turns 80 on Nov. 20, has appeared confused and incoherent at times during press conferences and other public events.
On the subject of the integrity of U.S. Supreme Court justices, Epstein commented that it seems America's highest court was making party-line decisions and asked the candidates whether Republican-nominated justices who vowed to "respect precedence" should be impeached for overturning Roe v. Wade.
Bolduc defended the decision, emphasizing that the Supreme Court's sole charge is to make decisions based on the U.S. Constitution and that the Roe v. Wade ruling has been misrepresented as overturning abortion rights.
"No one has overturned abortion rights. It only moved it down to the state level," said Bolduc, "the Senator should know this."
Hassan accused Bolduc of being a beneficiary of Republicans who are using "dark money" to influence Supreme Court decisions as well as elections, referencing $60 million in PAC monies linked to U.S. Senate Republican Leader Mitch McConnell.
"The U.S. Supreme Court has become more and more political as a result of significant dark money over the past three decades with a concerted effort to put in conservatives with a particular point of view," said Hassan. She said finance campaign reform would be a major step forward in separating politics from the courts.
In what has become a touchy issue for some hard-right supporters of Bolduc, Epstein brought up the retired Army Brigadier General's flip from his once unwavering position that the 2020 Presidential election was stolen to his post primary declaration that Biden is the legitimate president.
Hassan seized the moment to repeat her campaign charge against Bolduc, that he is an election denier, and wondering whether he would potentially seek to undermine November election results if they don't come out in his favor.
Bolduc said little on the issue, instead calling on the need to stop government spending and using "the people's money" to feed special interests and lobbyists.
He pointed out that Hassan is misleading voters, telling the American public one thing, but voting another way. He pointed to her support of Biden's policy against tapping into domestic oil reserves to ease prices at the pump, while saying she sympathizes with the struggles currently inflationary times are causing families.
"This is a career politician at work. Twisting things," he said.
On a lighter note, each candidate was asked about their favorite Thanksgiving food. Both said they loved sweet potatoes. They were also asked what their favorite TV shows were when they were kids. Hassan said hers was "The Man from U.N.C.L.E" and Bolduc named "Hogan's Heroes."
The race is being closely watched nationally as a Bolduc win could lead to a major political shift in U.S. Congress and consequently affect the possible outcomes of proposed federal legislation and amendments to existing federal laws.
Following the debate, both candidates posted press releases on their campaign websites congratulating themselves for their performances.