In Debate, DeSantis Ducks Crist's Claims About 2024 Presidential Ambitions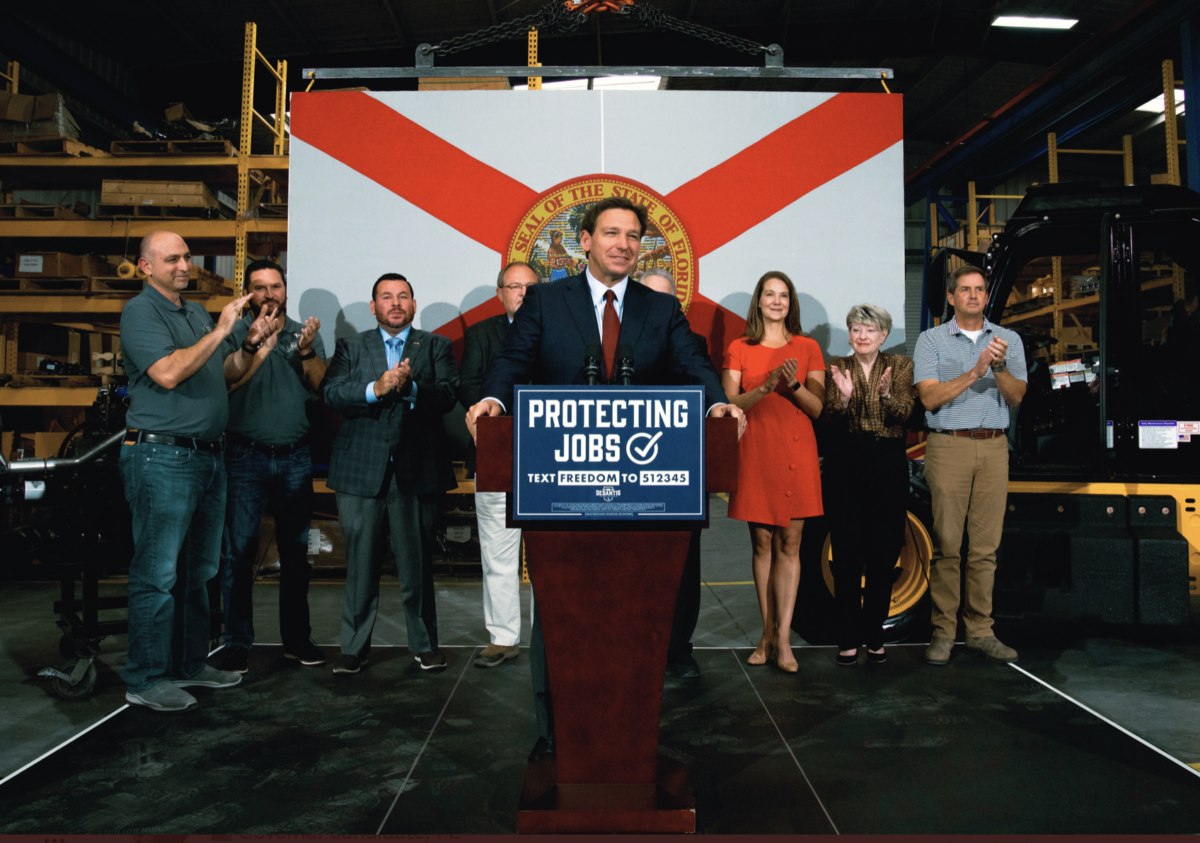 If reelected on Nov. 8, Republican Gov. Ron DeSantis said he'll fix Florida's property insurance crisis, make teacher salary hikes a permanent component of the education budget, eliminate sales taxes on "baby items" and pet food, and lobby lawmakers to amend a state statute that requires death sentences for convicted murders be handed down only by unanimous jury decision.
But one thing DeSantis did not do during his first and only gubernatorial debate with challenger Rep. Charlie Crist (D-Fla.) in Fort Pierce's Sunshine Theater on Aug. 24 was commit to serving all four years of a second term in Tallahassee.
Throughout the 13-question, one-hour debate, Crist—a three-term Congressional representative who served as Florida's Republican governor in 2007-11 before changing parties in 2012—persistently claimed DeSantis will run for president in 2024.
At one point, after DeSantis repeatedly tied him to President Joe Biden's policies, Crist said, "Ron, you talk about Joe Biden a lot. I understand. You think you're going be running against him. I can see how you might get confused." 
He then asked DeSantis to "look in the eyes of the people of the state of Florida" and tell them, "If reelected, will you remain for the full term? It's not a tough question."
DeSantis had a snappy reply: "The only worn-out old donkey I'm looking to put out to pasture is Charlie Crist."
While questions related to specific topics, the candidates rarely stayed within the lines of the queries, straying into "culture war" and federal issues, such as critical race theory, "gender transitioning," and immigration.
The 1,200-seat Sunshine Theater, which will be 100 years old in 2023 and is the largest such venue between Miami and Jacksonville, was about two-thirds full. The audience—often raucous—was invited by the campaigns. Few from the general public were in the theater.
With a massive war chest of more than $177 million—approximately $150 million more than Crist—and leading by 8-to-12 percentage points in various polls, DeSantis appears to be comfortably cruising to reelection after edging former Tallahassee Mayor Andrew Gilliam by less than 34,000 votes in 2018.
Crist, a former state attorney general, needed a strong performance in his head-to-head clash with the favored incumbent during the debate, staged on the same day early in-person voting in the state began. More than 1.161 million Floridians have already voted in the Nov. 8 election via vote-by-mail ballots as of Oct. 23.
Crist ripped DeSantis for playing "culture war" politics to raise his national profile for a 2024 presidential run while the state's 6.2 million property owners were seeing astronomical property insurance increases and allowing Florida's Sadowski Affordable Housing Trust Fund to be underfunded while affordable and workforce housing projects languished.
"Gov. DeSantis has taken his eyes off the ball. He is running for president," he said, telling those in the 1,200-seat theater and watching the debate hosted by WPEC-CBS12 on television that he represents a "stark contrast" to the governor.
"His focus is not on Florida, not on you," Crist said. "You deserve a governor who will have your back, and I always have, and I always will."
Among those contrasts, Crist said, he is "somebody who believes in a woman's right to choose" regarding access to abortion, while DeSantis is "someone who signed a bill that would restrict that right" even in cases of rape and incest.
DeSantis said he was "proud" to sign a bill banning the procedure after 15 weeks, claiming, "Charlie Crist supports sex-selective abortions" and "supports taxpayer-funded abortion to the moment of birth."
The governor touted his record in Tallahassee, citing the "largest budget surplus in state history," 2.5 percent state unemployment rate, tax reform that produced "the biggest tax cut in Florida history," school choice expansion, and significant improvements in reading and math.
He said during his second term he would continue to "protect parents' rights," raise teachers' salaries, and badger the federal government to meet its commitments in the "historical restoration of the Everglades."
DeSantis offered contrasts of his own between himself and his challenger, including their performances during the "once-in-a-century pandemic" in 2020.
"I lifted you up when some, like Charlie Crist, wanted to lock you up," he said, citing a July 2020 letter from the Congressman urging him to follow CDC guidelines in closing "non-essential" businesses and schools.
"That would have destroyed the state of Florida, would have thrown millions of Floridians into turmoil. I worked like heck to make sure we had kids in school five days a week," DeSantis said. "I rejected Charlie Crist's letter."
Crist said DeSantis' "arrogance" is responsible for about 40,000 of the 82,000 Floridians whose deaths were attributed to COVID-19, noting that 6 million state residents were infected.
"I would have listened to scientists, unlike the governor. You can keep things open" without putting people at risk, he said, claiming if Florida had followed CDC guidelines, "40,000 people should still be alive—enough to fill Tropicana Field in St. Petersburg."
After a partial lockdown during the early months of the pandemic, DeSantis reversed course and resisted federal guidance. The decision paid off as Florida's infection and mortality rates were lower than in some states which adopted strict lockdown policies.
Crist tried to turn the tables on DeSantis by blaming the governor and his policies for aggravating inflation in the state and for rising crime rates.
Citing a recent Forbes magazine analysis, he said, "Florida is the most expensive state in the country to live in" because of property insurance, health insurance, and utility rates.
"When I was governor, (utility rates) went down. Property insurance has doubled—doubled, Ron—that is not good for the people in the state," Crist said, describing an upcoming October "gas tax holiday just before Election Day" as "political" gamesmanship.
DeSantis countered by laying blame on the federal policies of the Biden administration.
"Charlie Crist votes with Joe Biden 100 percent of the time," DeSantis said, claiming it is Democratic policies that are "driving up the cost of everything" and fostering a 40-year high in inflation. Blaming him as governor "is wrong," DeSantis said.
Crist, touting his "tough on crime record" as attorney general and governor, noted, "Crime is up under Gov. DeSantis. The crime was down when I was your governor."
DeSantis scoffed, claiming Crist "used to be tough on crime six political parties ago."
The candidates found a sliver of common ground in support of the death penalty, expressing anger that a jury did not sentence Parkland shooter Nicholas Cruz to death.
"I served as governor, signed death warrants. Gov. DeSantis has as well. This is one thing we actually totally agree on," Crist said. "I believe that young man should have gotten the death penalty. You have to do what is right. It is a tough thing sometimes."
Cruz "deserves the ultimate punishment," but "one juror held out" and, by state law, a death penalty must be unanimous," DeSantis said, vowing to spearhead a legislative initiative to amend that state law.
Crist described DeSantis as "disenfranchised from the truth" and divisive.
"Ron is all about cultural wars. I am a uniter, you love to divide our state—black vs. white, gay vs. straight, young vs. old," he said. "He won't even tell you he will serve four years if reelected. I mean, come on. Florida deserves better than that. You deserve better than that."
Crist is the "divider," DeSantis said, noting. "The day after Charlie Crist won his primary, he said anyone who supports the governor, 'You have hate in your heart and I don't want your vote.'"
The governor, more than 20 years younger than his challenger, questioned Crist's work ethic. 
A U.S. House representative is paid $174,000 a year, DeSantis said. Crist "only showed up 14 days" in Congress last year, he claimed, adding, "That's the kind of effort this guy puts out in doing his job."