Iowa Congressional Race Could Flip Vulnerable Democrat's Seat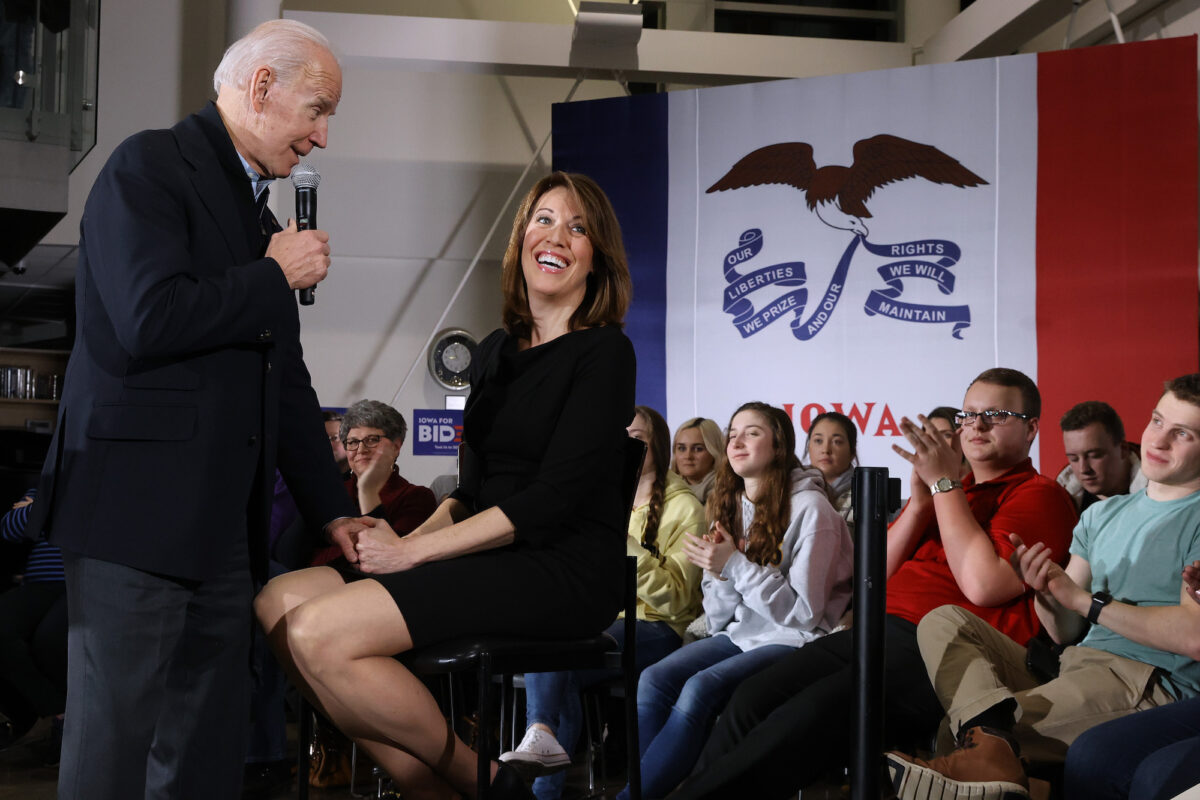 As Republicans strive to regain control of the U.S. House, Iowa's lone congressional Democrat is facing a strong challenge for her seat in the state's third congressional district.
Rep. Cindy Axne advanced to the general election without competition in the June 7 primary while state Sen. Zach Nunn easily won the Republican nomination.
A week before the primary, all three major independent observers rated the general election as a toss-up. When Nunn prevailed in the Republican primary, Cook Political Report and Sabato's Crystal Ball adjusted their forecasts to "lean Republican." Inside Elections continues to rank the race as a toss-up.
Republicans believe they can flip Iowa's only blue district, which is now rated R+2 by FiveThirtyEight after redistricting.
In 2018, Axne defeated two-term incumbent Republican David Young, 49 percent to 47.5 percent. She edged Young again in 2010, 48.9 percent to 47.6 percent.
The new 3rd Congressional District includes nine counties that tend to vote Republican and supported President Donald Trump in 2020.
A state senator, former state representative, and combat aviator in the U.S. Air Force, Nunn easily won the third district Republican primary with 66.5 percent of the vote. Nicole Hasso finished second with 19.6 percent.
Axne is supported by House Speaker Nancy Pelosi (D-Calif.) and Rep. Adam Schiff (D-Calif.), who campaigned with Axne on July 9.
Nunn received the coveted Trump endorsement on July 6.
"Zach Nunn is a conservative warrior running to represent Iowa's 3rd congressional district!" Trump wrote in a statement through his Save America PAC. "A combat veteran, Zach knows how to strengthen our military, defend our country, and care for our brave veterans.
"In Congress, Zach will tirelessly work to support our great farmers, cut taxes, and protect our Second Amendment," Trump added. "His opponent, Cindy Axne, a puppet of Nancy Pelosi, has been a disaster and disgrace for the people of Iowa."
Former U.N. Ambassador and South Carolina governor, Nikki Haley, and Sen. Tom Cotton (R-Ark.) are backing Nunn and recently campaigned with him in Iowa.
With Roe v. Wade overturned by the Supreme Court, abortion is expected to be a prominent issue in congressional races nationwide.
Axne has encouraged Iowans to vote blue in November.
"To make sure that we protect women's rights to choose we've got to ensure that we elect Democrats up and down the ticket in Iowa in November," Axne said in a statement.
Nunn told supporters at a campaign stop that "in Congress, I will strongly oppose radical policies Cindy Axne supports, like taxpayer-funded late-term abortion."
Earlier this month, Axne joined a roundtable discussion on access to abortion at Planned Parenthood in Des Moines. The event was not an official campaign event; it was a planned discussion with local leaders from the state legislature and different organizations who want to preserve access to abortion.
At the meeting, Axne told reporters that Roe v. Wade should be codified, a stance that President Joe Biden has promoted.
"Now we do need a strategy to address this issue and yes we are working actively on how we can get this done," Axne said. "I think that the best way is to get rid of the filibuster so that this can be codified. I think that it is the fastest and probably the only way we are going to get it done at a federal level."
Iowa's Republican Gov. Kim Reynolds would like the Iowa Supreme Court to rehear a case regarding legislation that requires a 24-hour waiting period between the first doctor's appointment and when a woman has an abortion.
Reynolds, who is seeking reelection, also would like the district court to lift an injunction on a 2019 law that would prevent abortions after the sixth week of pregnancy, which is typically when a fetal heartbeat is detected.
"I have never supported her policies or the Republican legislature when it comes to women's reproductive freedom, and I still don't support those policies," Axne said about Reynolds. "I don't support the six weeks. I don't support having to wait. This is not her choice. This is a women's health issue."
The same day Axne met at Planned Parenthood, Cotton joined Nunn on the campaign trail.
"She voted for the radical pro-abortion bill that would use your tax dollars to fund an abortion up to the moment of birth," Cotton said of Axne. "That would take away the rights for parents to be notified if their teenage daughter gets an abortion. Kids cant even get a title loan without their parents being notified, but Cindy Axne voted for that radical legislation."
Abortion is just one of many hot-button issues that will impact mid-term elections.
A poll released by The Associated Press-NORC Center for Public Affairs Research in June showed that 40 percent of respondents think the increase in gas prices is the nation's top concern, an increase of 26 percent since December 2021. The survey also found that 33 percent of respondents think that gas and energy prices are the number one issue.
Gun issues were the highest concern for 30 percent of the poll's respondents while 16 percent listed abortion as the most prominent issue.
In a June interview with an Iowa TV station, Axne said that Republicans are running on "narratives" they believe will "scare people," and that Biden and congressional Democrats are not to blame for inflation.
"Well, the unfortunate thing is that the Republicans don't have anything good to run on. So what they're running on are narratives that they believe will scare people," Axne said. "Some of it's incredibly misleading, and certainly some of it isn't even the president's fault or anything in Congress."
According to the Bureau of Labor Statistics, inflation is causing the average American to pay $5,200 more this year for the same goods they purchased in 2021.
Democrats have expressed concern that Biden's low approval rating and skyrocketing inflation will hurt incumbents in November. Axne is the second-most vulnerable Democrat in this election cycle, according to Roll Call's rankings.
"I'm glad the race ratings are taking into account what I hear around the district every day," Nunn said in a statement. "Iowans are tired of out-of-control prices at the pump and the grocery store Farmers are struggling from inflation. Our neighborhoods are seeing increasing crime. Iowans have had enough.
"Cindy Axne rubber stamps President Biden's agenda that has done nothing but make things worse for Iowa families," Nunn added. "We need new leadership in DC that will put IA-03 first. In Congress, I will never stop fighting for Iowa families.
Axne has touted her ability to reach across the aisle and her ranking as the most bipartisan member of Iowa's congressional delegation by the Lugar Center and Georgetown University's McCourt School of Public Policy for a second consecutive year.
"I was also named the 20th most bipartisan member of the 435 voting members in the U.S. House of Representatives, putting me in the 96th percentile of all members," Axne pointed out in an article she wrote about the recognition.
The Lugar/McCourt Bipartisan Index measures how often a member of Congress introduces bills that attract co-sponsors from the other party, and how often they co-sponsor a bill introduced from the opposite party.
"Since coming to Congress, I've been laser-focused on cutting through bureaucratic red tape, lowering costs, and expanding opportunities for Iowans," Axne said.
Nunn, 43, flew more than 700 combat hours in the Middle East after 9/11 before becoming an intelligence squadron commander for the Iowa Air National Guard and a small business owner. He has served as a state senator since 2019 and was a state representative from 2014 to 2018.
Nunn was named one of the National Republican Congressional Committee's "Young Guns," which identifies the party's top U.S. House recruits for 2022.
"I feel strongly that things like the 40-year-high inflation are the direct result of mass overspending by the federal government," Nunn told the Ottumwa Courier. "Here in Iowa, we balanced our budget every year and we return the surplus back to the taxpayers. If you do that, they'll invest that locally, not shotgun blast 'Blue State' projects."
Republican voters in Iowa appear to be engaged in the upcoming mid-term elections.
According to voter data from the Iowa Secretary of State, there are around 20,000 more Republican voters in July 2022 compared to July 2021. Democrats have lost around 15,000 voters in the same period.
Currently, there are 681,871 registered Republicans in Iowa and 597,720 registered Democrats. Independent and third-party voters comprise 570,364 registered voters.
Republicans have an 84,000-voter edge over Democrats in Iowa.