'It Has to Be Him': Anticipation for Trump 2024 Run Builds up at Pennsylvania Rally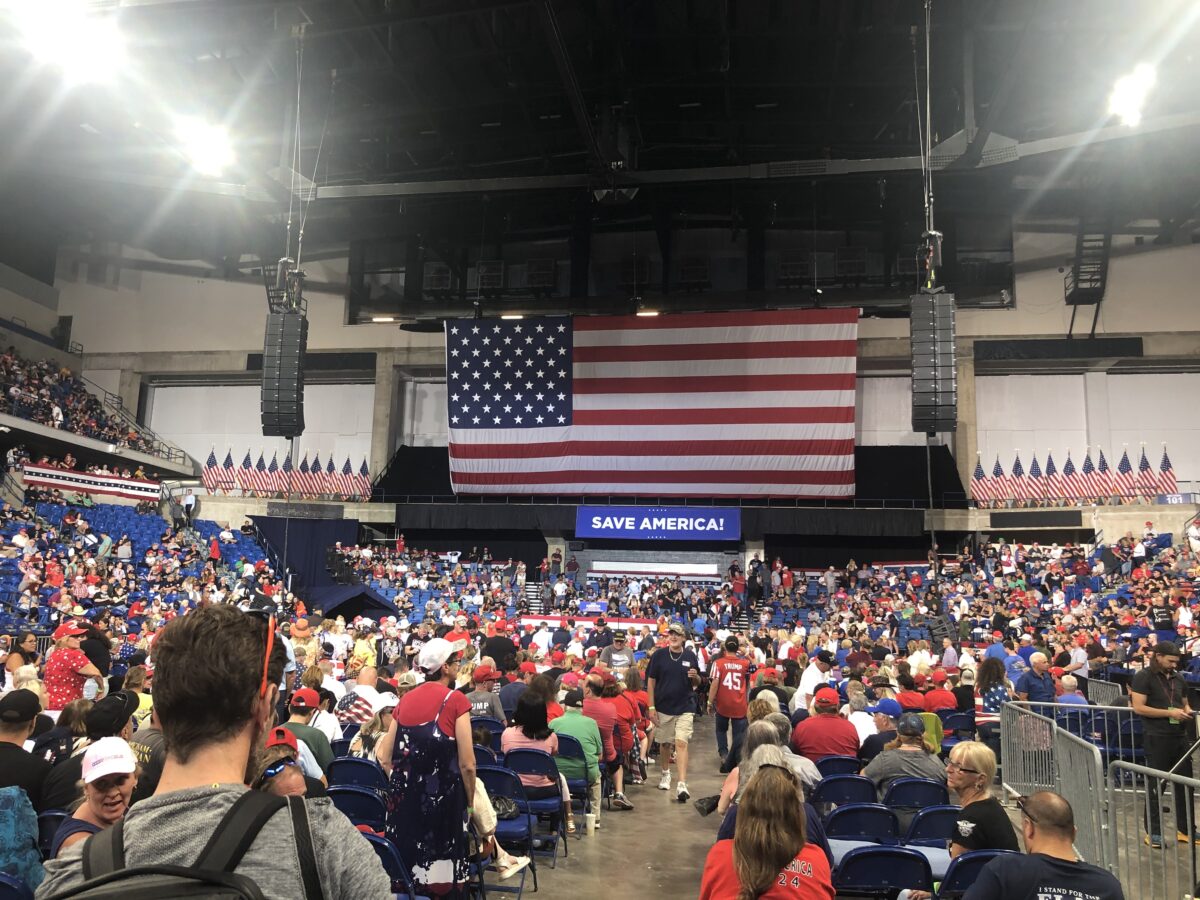 WILKES-BARRE, Pa.—An energized crowd packed the 10,000-seat Mohegan Sun Arena on Saturday night as former President Donald Trump arrived in the battleground state to rally for Republican candidates and his supporters, who hope to see him in the White House again in 2024.
The event, billed as a "Save America Rally," featured Mehmet Oz, a candidate for the U.S. Senate; Jim Bognet, a candidate for Congress in Northeastern Pennsylvania; and Doug Mastriano, a candidate for the Keystone State's gubernatorial race. But it was Trump, in his very first public appearance since the FBI raided his Mar-a-Lago home, who stole the show.
"The FBI and the Justice Department have become vicious monsters controlled by radical-left scoundrels, lawyers, and the media, who tell them what to do … and when to do it," Trump told his audience. "They're trying to silence me and, more importantly, they are trying to silence you."
"But we will not be silenced, right?" He asked, to which the crowd responded with cheers and chanting of "USA! USA!" that lasted over half a minute.
Life Under Biden
More than two years after he left the White House, Trump still enjoys the popularity he had in 2016 and 2020. A MAGA hat-wearing, "Trump 2024" banner-flying crowd outside started to build up outside the Arena on Saturday morning, many among them there for their first-ever MAGA (Make America Great Again) rally.
Several first-time Trump rallygoers told The Epoch Times that the last two years under President Joe Biden have been rough.
Mike Mangrell of Pennsylvania said high gas prices hurt his auto shop business, since customers cut other expenses when they have to spend "extra hundreds of dollars at the pump."
"It's hurtful to businesses. It's hurtful to average people," he said. "I don't think that would ever, ever happen [under Trump]."
Another man from Dallas, Pennsylvania, who preferred to not be named, said the rising energy costs harmed his farming business.
"There's a lot of farmers who are supposed to grow their crops, but the price of fertilizers is $1,500 a ton," he told the Epoch Times. "That's a lot of people's livelihood."
The price of nitrogen fertilizer, produced from natural gas, went from around $500 per ton in late 2019 to over $1,600 per ton this April, according to the Agricultural Marketing Service.
"They have to pass the prices on to somebody, you know," he said. "People are complaining about the price of chicken, the price of beef, in the store. But somebody has to grow all that stuff. Somebody has to feed those cows and feed those chickens, plant the corn and the grain using these fertilizers."
Wrong Direction
During his brief remark on Saturday night, Oz asked the audience whether they think the country is "headed in the right direction."
"If your friends say 'Yes,' take away their car keys. They should not be driving in that condition," he said. "If the answer is 'No,' we've got a big problem. This country has dramatically turned in the wrong direction."
Charlie Wu of New Jersey agreed. He has been voting Republican since his naturalization as a U.S. citizen and is a member of a Chinese American group that has campaigned for Trump during the past two presidential elections.
A witness of communist dictator Mao Zedong's brutal Cultural Revolution, Wu said the leftist ideology currently being promoted in America's classrooms—which he finds akin to Chinese communist propaganda he grew up with—is driving the nation into the same kind of madness that overran and consumed China some 60 years ago.
"What is happening now will have a long-term effect on the country" Wu told The Epoch Times. "The results will be the same [as that of China]: the destruction of our tradition."
Unifying or Divisive?
Saturday's event came almost back-to-back with President Joe Biden's controversial speech in Philadelphia, in which he claimed the nation was under the threat of what he called "extreme MAGA ideology."
"Donald Trump and the MAGA Republicans represent an extremism that threatens the very foundations of our republic," Biden declared on Sept. 1 as he stood in front of an Independence Hall bizarrely illuminated in blood red and flanked by uniformed Marines. The image drew comparisons across the media landscape with various dictators including Joseph Stalin and Adolf Hitler. He backpedaled the following day, saying that he doesn't "consider any Trump supporter to be a threat to the country."
Biden's message didn't resonate well Trump supporters, who told The Epoch Times that they found the speech highly offensive, if not outright dangerous.
"It's absolutely disgraceful," a Pennsylvania man who preferred to not be named. He said his girlfriend lost her clinic job at the University of Pennsylvania for not complying with the COVID-19 vaccination mandate. He said he could no longer work as a senior fitness instructor for the same reason.
"Look at people around you. Are you gonna call these peaceful people extremists?" he said. "[Biden] said he would unify America, and he is doing the exact opposite."
'It has to be Trump'
When asked who they think should run as the Republican candidate for president in 2024, many rally attendees told The Epoch Times that they exclusively want Trump.
Edward Borek of Pennsylvania, a veteran in his eighties, said he has been open to this question and has spent a lot of time learning about those on the growing list of potential Republican 2024 hopefuls. "I think it has to be him," he said, referring to Trump.
"I can't see any other candidates right now who can come on up, push him aside, and lead the movement," said Borek. "You're not gonna get somebody else."
"Absolutely Trump," Mike Mangrell said. "I want him back to finish what he started, to drain the swamp, fix the crime, and build the wall."
While Trump, who remains the frontrunner of the 2024 Republican primary in almost all polls, continued to stay mum on Saturday regarding whether he would run, he did leave a bit of what many of his supporters would call a hint of a third presidential run.
"We're going to take back America. We'll take back America," Trump said. "And in 2024, most importantly, we are going to take back our magnificent White House."
"The MAGA movement is the greatest in the history of our country," he said earlier in his speech. "In any event, we have no choice. We are trying to save our country because such bad things are happening to our beautiful, beloved America. We will make America great again. I will never turn my back on you."