J.D. Vance to Appear With Ron DeSantis at Turning Point Action Rally in Ohio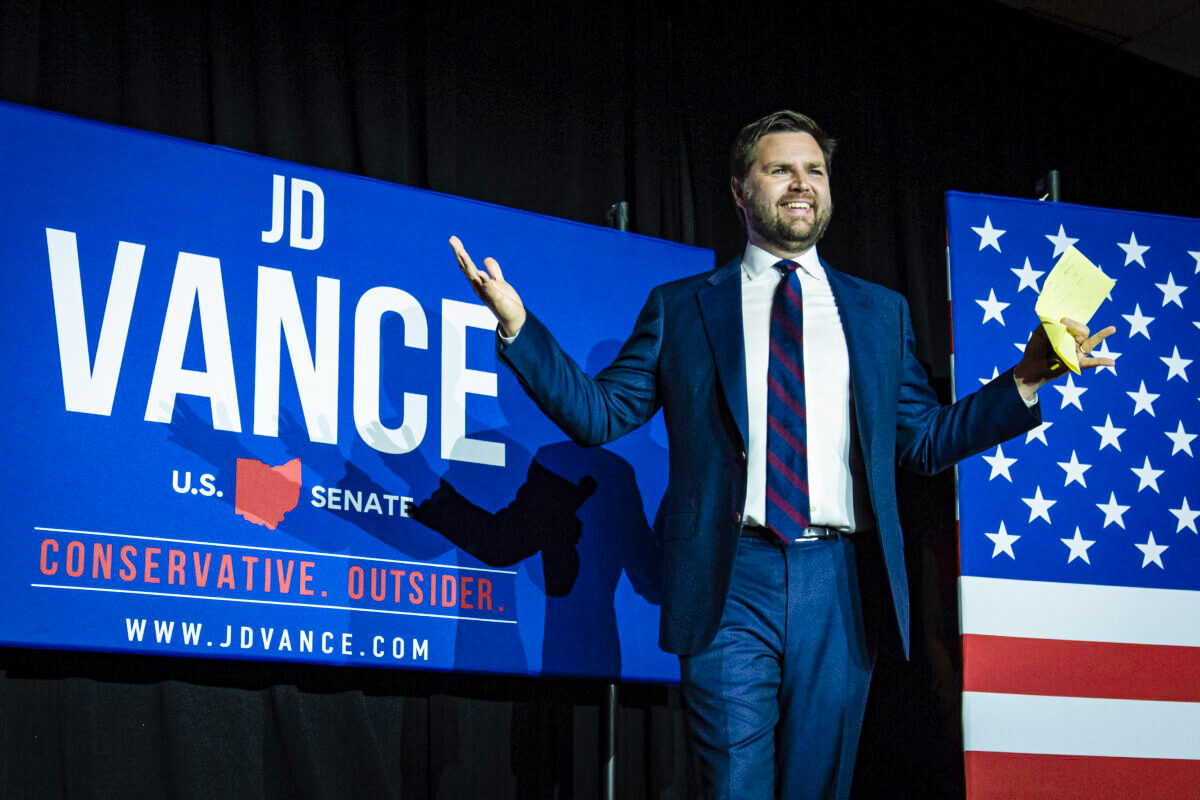 A day after an Emerson College poll showed J.D. Vance with a three-percentage point lead over Rep. Tim Ryan in the Ohio U.S. Senate race to replace retiring Republican Sen. Rob Portman, the Donald Trump-endorsed candidate will join Florida Gov. Ron DeSantis on Aug. 19 at a rally in suburban Youngstown.
The event, titled "Unite and Win," is one of the multiple appearances DeSantis is making on behalf of conservative Republican candidates and Turning Point Action.
Last week in Arizona, DeSantis stumped for Kari Lake, who won the Arizona GOP gubernatorial primary, and Blake Masters, the Republican nominee for U.S. Senate who will face Democratic Sen. Mark Kelly in November.
Before arriving in the Youngstown area for the evening event, DeSantis is scheduled to join Pennsylvania GOP gubernatorial nominee Doug Mastriano in Pittsburgh at 4:30 p.m. on Aug. 19.
"Gov. DeSantis is America's governor and one of the most popular leaders in the country," said Turning Point Action founder Charlie Kirk. "He has become the model for a new conservative movement that is willing to stand on principle and to actually fight on behalf of the values of his voters."
Ohio is a state that Donald Trump won by eight percentage points in the 2016 and 2020 presidential elections. Though Ohio has a Republican super-majority in the state legislature, and 12 of the 16 U.S. representatives are Republican, Democrat Sherrod Brown serves as the state's other U.S. senator.
A former Ohio state senator, Ryan was first elected to the U.S. House in 2003. He mounted an unsuccessful presidential campaign in 2019 before he was elected to his 10th Congressional term.
Ryan decisively won the Democratic U.S. Senate primary in May.
Vance, the "Hillbilly Elegy" author and venture capitalist who was endorsed by Trump last April, won the Republican primary in a crowded field that featured six opponents.
Ryan, on his website and in his campaign appearances, calls himself a 'post-partisan populist' who has crossover appeal. Congressional voting records indicate that he has voted with President Joe Biden 100 percent of the time, according to FiveThirtyEight.
"Let's be honest, Tim Ryan is running as a Trump Democrat," Vance said during his primary victory speech on May 3. "He consistently votes with Joe Biden."
Vance and Ryan have different viewpoints on most major issues, including the Inflation Reduction Act, which Biden signed into law on Aug. 16.
The legislation earmarks $369 billion for climate change efforts, including renewable energy and electric vehicles. It also expands the IRS, but does little to immediately address inflation.
The federal plan will spend $10 billion in tax credits for clean technology manufacturing investments, including facilities that make electric vehicles, and $30 billion in tax credits that incentivize U.S. manufacturers to create solar panels and wind turbines.
The bill will "make historic investments in domestic energy production and manufacturing that will set our nation on the path to dominate the clean energy industry—all while not raising a penny in taxes on middle-class Americans," Ryan said in a statement.
Vance believes that the Inflation Reduction Act will benefit China, which mines the raw materials used for making solar panels.
He says the U.S. government should focus on natural gas instead.
"The Chinese have the dirtiest economy in the world right now," Vance said at a recent campaign stop at a natural gas production location in Ohio. "If you want to make our environment cleaner, the way to do it is to invest in Ohio natural gas."
According to legislative language in the bill, consumer credits will include $7,500 for the purchase of a new electric vehicle and $4,000 for a used electric vehicle. For consumer credits, it  specifically states that the EVs must be assembled in America.
Around 70 percent of the electric vehicles that are currently produced would not be eligible for the tax credit, multiple U.S. auto manufacturing groups have said.
Qualifications for tax credits include a price cap of $55,000 for electric cars and $80,000 for electric trucks, vans, and SUVs. The pool could further decrease because of eligibility requirements that elevate standards for the contents of batteries, which must be manufactured with minerals from North America or via countries that have free-trade agreements.
"So the question is what will happen? Well, we know what will happen. Because we've seen this with other 'Buy American' requirements," Vance said. "The IRS will issue carve-outs for Chinese manufactured vehicles, and that's where the money's ultimately going to go. You cannot guarantee this money goes to Ohioans or to Americans. That's the problem with the legislation."
On Aug. 18, the first Emerson College poll of the Vance-Ryan race showed Vance with 45 percent and Ryan with 42 percent. Among those surveyed, four percent plan to vote for another person, and 10 percent are undecided.
The margin of error is plus or minus 3.2 percentage points.
Ryan had a higher favorability rating than Vance in the poll—54 percent to 50 percent.
When asked, regardless of whom they support, which candidate they expect to win, 52 percent of the likely voters favored Vance, compared with 48 percent for Ryan.
"A gender divide exists in the race for U.S. Senate. Women voters support Ryan over Vance, and male voters support Vance over Ryan," said Spencer Kimball, Executive Director of Emerson College polling. "That said, male voters break at a more significant 20-point margin for Vance, whereas women voters break for Ryan by a 15-point margin.
"Both Vance and Ryan have strong bases of support, and the race tightens to a one-point lead for Vance among the very motivated and very likely voters in Ohio, whereas Vance leads by a larger margin among somewhat likely and somewhat motivated voters," Kimball added.
The Cook Political Report ranks the race as "Lean Republican" while Inside Elections calls it "Solid Republican" and Sabato's Crystal Ball rates it as "Likely Republican."