Lifting China Tariffs to Tame Inflation Is 'Foolish' Move, Says Trump's Trade Czar Lighthizer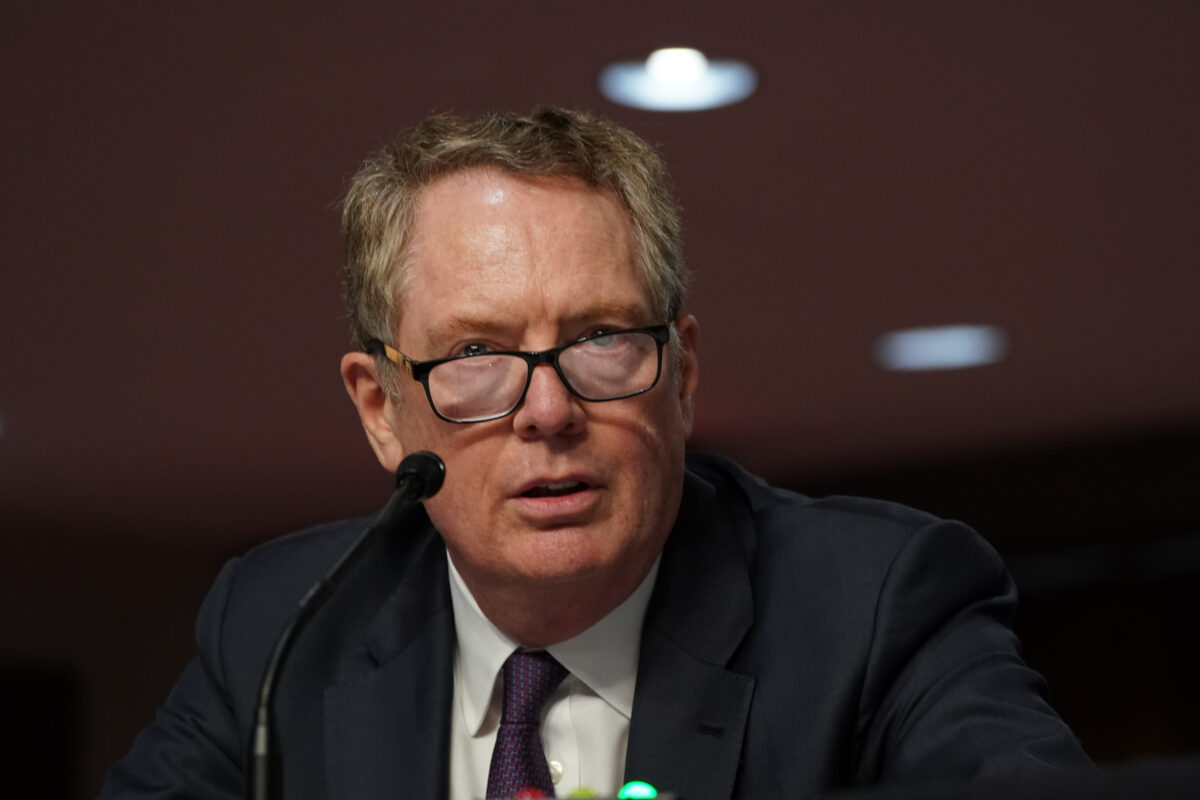 WASHINGTON—Former U.S. Trade Representative Robert Lighthizer opposes a possible White House plan to repeal some Trump administration tariffs on Chinese goods, arguing that it would have no impact on inflation.
Biden administration officials are still contemplating whether to remove some of the tariffs on more than $300 billion of Chinese goods put in place under President Donald Trump. Some believe that reducing tariffs may help in curbing 40-year high inflation.
In an interview with The Epoch Times on July 26, Lighthizer, the architect of Trump's China trade policies, described the inflation argument as "complete nonsense" and "foolish."
"We have inflation because of too much government spending; very, very bad energy policy; and bad regulatory policy," he said.
Lighthizer urged the U.S. government to maintain the tariffs on Chinese goods until it addresses Beijing's harmful trade practices and to impose additional levies instead of removing them.
"We should have more tariffs. We should be having less trade with China," he said.
Treasury Secretary Janet Yellen has been a strong advocate of reducing tariffs on Chinese goods, arguing that they impose additional hardship on consumers and businesses without resolving any China-related issues.
President Joe Biden is expected to speak with Chinese leader Xi Jinping on July 28 and tariffs may be brought up during the call. However, there's increasing disagreement among the Biden administration officials as to whether reducing tariffs is a wise move.
According to Lighthizer, after the Trump administration imposed tariffs on certain Chinese goods in 2018, they had no impact on inflation.
"Indeed, the consumer price index went from 2.0 to 1.8 percent. So, they actually went in the other direction," he said.
Lighthizer also pointed out that tariffs haven't targeted key products such as fuel or food. According to him, only 2 percent of the goods listed in the consumer price index are imported from China.
"So there's just literally no argument for it at all. It's complete nonsense. And even the administration admits now that would have little or no effect [on inflation]. That's not even a debate anymore," he said. "I think there were people that wanted to help China for their own reasons, so they were using it as an excuse. And it was so foolish and so bogus, that argument just blew up."
Trump enacted the tariffs, as part of his administration's efforts to combat the Chinese regime's unfair trade practices that have cost the U.S. economy billions of dollars.
White House National Economic Council Director Brian Deese told reporters on July 26 that the president would "make a determination" on removing tariffs when asked what effect it would have on the U.S. economy.
"There are a number of different analyses of that question," Deese said. "You can rest assured that we are looking into and looking underneath and around all of them, and we'll come back to that issue when the President has more to say."
The Trump administration imposed up to 25 percent tariffs on hundreds of billions of dollars worth of Chinese imports in 2018 after an investigation concluded that Beijing has engaged in excessive government subsidies, intellectual property theft, and other unfair trade practices. The Chinese regime responded by imposing levies on U.S. imports worth tens of billions of dollars.
Dorothy Li contributed to this report.