Manchin Calls on US to Bolster Energy Sector After OPEC+ Slashes Production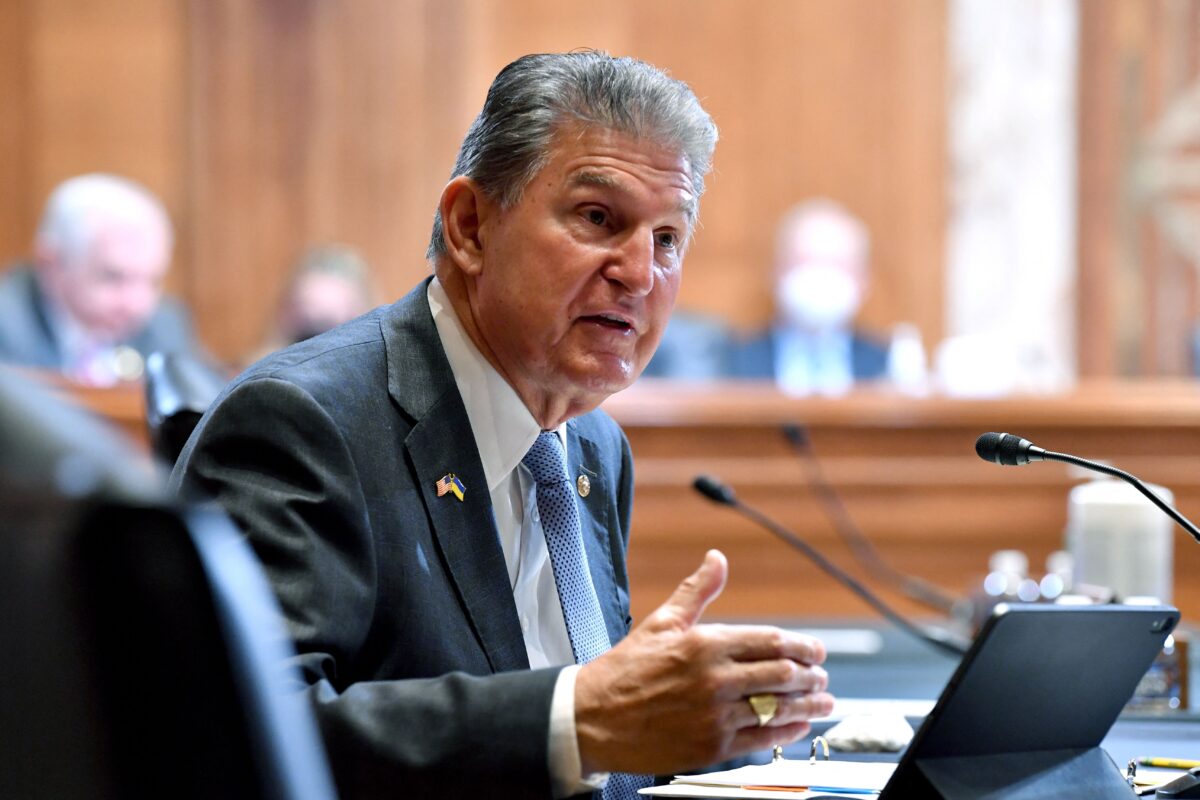 Sen. Joe Manchin (D-W.Va.) is repeating his calls for the United States to increase its energy production after the Organization of Petroleum Exporting Countries plus Russia (OPEC+) made a decision to reduce its own output.
Since President Joe Biden took office in January 2021, the cost of gasoline and other energy sources to consumers has seen a substantial uptick.
Republicans have placed the blame for rising costs squarely on Biden's "anti-American" domestic energy policies.
While in office, Biden made extensive changes to the energy policies of President Donald Trump, who led America to become energy independent for the first time in decades. Biden, who promised during his campaign to "transition away from the fossil fuel industry," wasted no time in halting construction on the Keystone XL pipeline and placing a moratorium on leasing federal lands to natural gas and oil companies.
In an effort to get prices under control, Biden in November 2021 made the decision to withdraw millions of barrels of oil from the Strategic Petroleum Reserve, an emergency energy reserve intended for use during wartime or global calamities.
Extenuating the effects of Biden's climate and energy policies is collusion by OPEC+ and the Russian invasion of Ukraine, both of which have led to further rising costs.
'Blessed With Abundance'
Republicans have long been vocal in their criticism of these policies, and Republicans have made energy costs a key campaigning point. In the past, Manchin has made clear that he largely agrees with Republicans on the issue, and has long called on the White House to change course.
Now, Manchin is repeating these calls in light of a decision by OPEC+ to substantially reduce production.
On the morning of Oct. 5, OPEC+ announced that it would be cutting its oil production by two million barrels a day—a slice in production that will have tangible consequences for American consumers.
In its statement announcing the sharp downtick in production, OPEC+ cited the "uncertainty that surrounds the global economic and oil market outlooks." The announcement marks the largest cut in oil production by OPEC+ since the beginning of the COVID-19 pandemic.
The Biden administration immediately made a statement on the announcement, expressing disappointment and calling the change "shortsighted" in view of the ongoing energy crisis in Europe and the diplomatic crisis over the Russian invasion of Ukraine.
Manchin took a different tack, reiterating his support for ramping up U.S. energy production.
"Today's announcement from OPEC+ confirms why the United States must be energy independent and energy secure so we cannot be intimidated by foreign adversaries," Manchin told Fox News.
"We have been blessed with an abundance of domestic energy resources, which we can produce cleaner than elsewhere in the world, and with that we have the ability to ensure energy independence and security for ourselves and our allies."
Permitting Reform
Manchin then called for Congress to again take up fossil fuel permitting reform as part of the effort to ramp up the U.S. energy sector.
Currently, permitting new fossil fuel ventures is a years-long process. Manchin has called for reforming this process now as U.S. consumers continue to face high gas prices and as Europe braces for a veritable energy crisis this winter. Reforms pushed by Manchin would substantially reduce how long it takes to get new fossil fuel ventures certified and in operation.
Last month, Manchin made a push to include these reforms in the must-pass stopgap spending bill.
In order to win Manchin's crucial support for the $700 billion Inflation Reduction Act earlier this year, Senate Majority Leader Chuck Schumer (D-N.Y.) promised that permitting reform would be brought to a vote.
Though the deal was contentious among Democrats—it was decried in a heated floor speech by Sen. Bernie Sanders (I-Vt.) and openly opposed by dozens of House progressives—it was ultimately Republicans who tanked the measure.
Republicans, anxious not to enable the deal, refused to support the stopgap bill if it included permitting reform. The minority party was successful, and the stopgap spending bill was passed without permitting reforms.
Speaking in light of the OPEC+ decision, Manchin renewed his calls for upping U.S. oil and energy production.
"This announcement should serve to further motivate my colleagues in Congress to come to the table to pass comprehensive, bipartisan permitting reform to lessen our dependence on these foreign nations," Manchin told Fox News.
In the past, Manchin has joined Republicans in calling for Biden to restart construction of the Keystone XL pipeline and to end his moratorium on federal oil and natural gas leases.
As Democrats prepare for a tough midterm battle, where observers expect Democrats to lose at least one chamber of Congress, the OPEC+ announcement could be bad news.
Over the past few months gas prices—one of the biggest indicators of voting by moderates—have begun to drop from their zenith earlier this year.
But less OPEC+ oil, at a time when the United States is also working substantially fewer of its own reserves than in the past, will almost certainly mean higher prices at the pump. Higher prices, in turn, could mean worse results for Democrats. It remains to be seen how Democrats and the administration will respond to the move as the home stretch of the midterm season gets underway.