Maryland Incumbent to Get Biden Boost Friday in Key House Race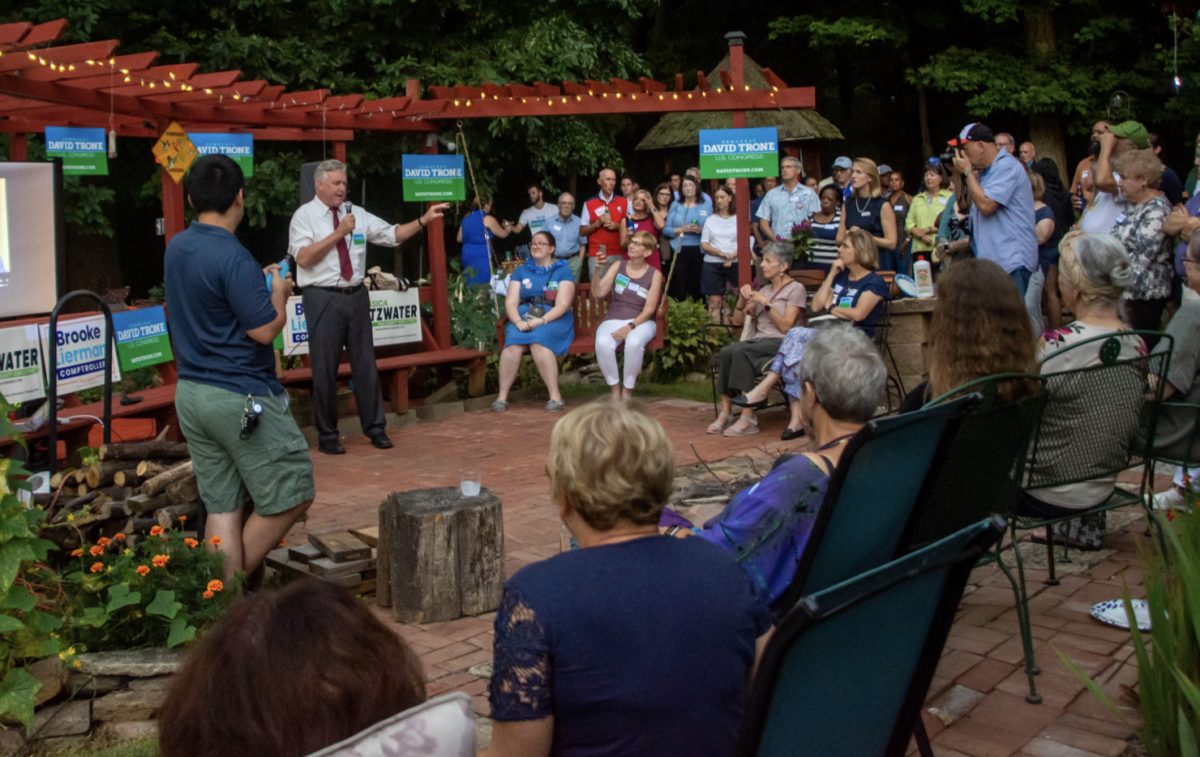 President Joe Biden will spearhead a campaign rally for Maryland Democratic candidates in the state's most competitive congressional district on Oct. 7, the White House announced this week.
Few details regarding the Friday rally planned for Hagerstown, Maryland, were included with the announcement, other than the president would discuss the economy in support of Democratic candidates.
Most notable among those party hopefuls is two-term incumbent Rep. David Trone (D-Md.) who is facing a stiff challenge from 12-year Republican state Del. Neil Parrott, R-Hagerstown, in Congressional District 6 (CD 6)—which includes Hagerstown—in what analysts project to be Maryland's most competitive Nov. 8 congressional race.
Court-ordered post-2020 Census redistricting has provided Republicans with what they believe is an opportunity to win in CD 6 and snare a House seat in deep blue Maryland, where seven of the state's eight congressional districts are represented by Democrats.
Trone, co-founder of Total Wine & More, a 210-store retail chain, first won the seat in 2018. He defeated Parrott by more than 20 percentage points in his 2020 reelection in "solid" Democratic CD 6.
But in 2022, Parrott has a much better shot at unseating Trone in their rematch after a state judge rejected CD 6 maps drawn by the Democrat-controlled state legislature and shifted deep blue areas in Montgomery County out of the district.
CD 6 now spans much of the state's western panhandle framed by Pennsylvania, Ohio, and West Virginia, and features a significantly higher density of Republican voters.
The Maryland contest is among a handful of midterm mid-Atlantic congressional elections being closely watched by analysts. How early results unfold on Nov. 8 in CD 6, New York's Hudson Valley, central New Jersey, and Virginia's tidewater area, could be "bellwether" trend-setters for the rest of Election Day. 
According to analysts and forecasters, however, Trone still remains the favorite in the new CD 6 to prevail over Parrott, who has been endorsed by former President Donald Trump. 
Even after revamping, the Cook Political Report on Sept. 1 revised its "Lean Democratic" CD 6 rating to "Likely Democratic," an indication that Trone's emphasis on protecting access to abortion has resonance in the district. 
Larry J. Sabato's Crystal Ball rates CD 6 as "Lean Democratic," while Inside Elections with Nathan L. Gonzales classifies it as "Likely Democratic."
Parrott, 51, a Maryland State Highway Administration traffic engineer and former Frederick Deputy Director of Engineering, is a Tea Party activist elected to the General Assembly in 2010 where he says he's built a track record of initiating and supporting "good government policy."
He has hammered away at Biden and Trone over economic uncertainty, inflation, crime, immigration, and "woke" policies that he claims have degraded everything from education to women's sports to national defense.
"A vote for Neil Parrott is a vote for your pocket book and for reducing the debt so we can leave America in a better place for the next generation," he says in campaign literature. "A vote for me is a vote for supporting law enforcement. Let's give them the resources they need to do their jobs well and keep us safe."
Parrott is also making hay over the fact that Trone doesn't live in CD 6 but in Potomac, which is in CD 8. "It seems like common sense that your Congressman should live in the district they represent," he said in an Oct. 2 statement.
Trone touts his support for the Inflation Reduction Act and American Rescue Plan as key in stimulating the economy and corralling gas and grocery costs. The bill also addressed an issue that is a priority for constituents, he said.
"I voted for the #InflationReductionAct because I'm saying 'enough' to the pharmaceutical industry's predatory pricing," Trone said in an Oct. 6 Twitter post. "There have been nearly 2,000 prescription drug price hikes in 2022 alone. This new law will lower prescription drug costs for folks—and it's about time!"
Trone's progressive platform pledges support for access to abortion, LGBT rights, gun control,  Medicaid expansion, immigration, and criminal justice reform. 
His campaign has branded Parrott as a "far-right extremist" and election denier who is "anti-abortion in all cases" and would repeal the Affordable Care Act. 
Parrott, who does not shy away from opposing abortion, maintains that regulating the procedure is a state issue with no role for Congress and has not highlighted election integrity—or Trump's endorsement—in his general election campaign.
Trone's campaign has uncovered a 2005 letter Parrott penned in the Hagerstown Herald-Mail that outlined a bill he would propose to brand people who tested positive for HIV with a tattoo, which he said was more "compassionate" than making them wear an 'H' on clothing.
"If Neil Parrott had his way, every HIV-positive American would have to be tattooed, including all 3.7 million infants and children," a narrator says in an ad now playing on Maryland television stations. "Parrott wrote an op-ed actually proposing to force HIV-positive men, women, and children to be tattooed—or withhold their medication. Yeah, crazy. In fact, the only thing crazier would be sending Neil Parrott to Congress."
According to his campaign's June 29 Federal Elections Commission (FEC) filing, Trone has raised $12.78 million, spent $2.16 million, and had a whopping $10.76 million in cash on hand. He has kicked in $10 million of his own money into the campaign kitty.
Parrott's campaign reporting raising $328,000 up to July 1. The next FEC filing deadline is Oct. 15.
Despite the huge fundraising advantage and benefits of incumbency, Parrott maintains the voters he meets door-knocking aren't sold on Trone, who he says will need all the help he can get to retain his seat.
"President Biden is coming to the 6th district of MD because Democrats think @davidjtrone might lose this election," Parrott said in an Oct. 6 Twitter post. "They're right to be concerned, the people of MD-6 are tired of paying more for everything because of Dems trillion dollar spending sprees."