Massachusetts Republican Gubernatorial Winner Geoff Diehl Vows to Beat Contender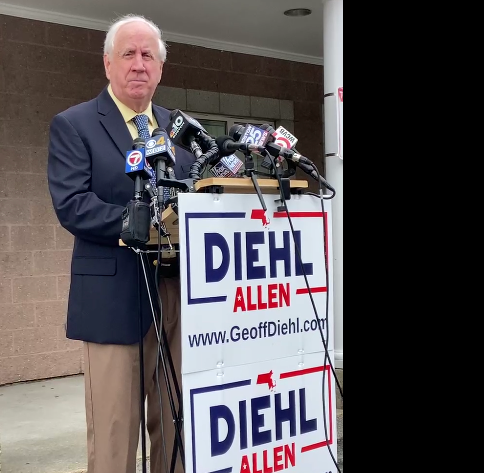 In celebrating his victory as a common sense conservative in his bid for the Republican nomination for Massachusetts governor, Geoff Diehl wasted no time in laying out his priorities to beat Democratic contender Maura Healey.
His list of things to do includes implementing a plan that would allow parents to use the tax support they pay to go to a local public school of their choice or credit for homeschooling.
Diehl also vowed he would rehire state workers—including 75 state police officers fired for refusing to comply with COVID vaccine mandates—and restore the constitutional rights of health care workers who were also fired for rejecting the vaccine.
That is something that surely resonates with his running mate Leah Allen, a registered nurse who was fired when she opted against taking the vaccine while pregnant. Allen also won her primary for lieutenant governor.
"Nobody should have to choose between their livelihoods versus their health care choices," Diehl said at a press conference he held at the Elk Lodge in West Roxbury on Sept. 7.
On hand was Massachusetts Republican Party chairman Jim Lyons who hailed Diehl's win over moderate Republican Chris Doughty as "a testament to what the grassroots the Republican party has become."
He honed on the successful referendum efforts, both he and Diehl were involved in, to put a new law passed by Massachusetts Democrats granting driver's licenses to illegal aliens, to the vote of the people in the general election.
While the organizers only needed 40,000 to get on the ballot, they collected 100,000 signatures, Lyons announced.
"Can you imagine what Beacon Hill would be like with one-party rule," said Lyons in implying outgoing Gov. Charlie Baker's status as a Republican.
"We already have a radical out-of-control legislature now."
While most conservatives lobbied for a Diehl win over Doughty, many Republicans considered allies of Diehl's, denounced the Trump-supported candidate as "too conservative" or "too extreme" and threw their support behind Doughty.
"If Geoff Diehl wins, I think it will be an easy win for Maura Healey," Boston political TV analyst Alison King said following Healey's victory speech on election night.
The New York Times was quick to run an editorial following Diehl's win criticizing Massachusetts Republicans for picking a candidate that can't beat Healey.
It was the same charge popular ultra-conservative radio talk show host Howie Carr made in his 11th-hour endorsement of Doughty, who he rarely misses an opportunity to trash on his show.
Healey, who currently serves as Massachusetts attorney general and is openly gay, has called for more drag queen events in schools and has been vocally in support of abortion rights.
As he consistently did throughout his campaign, Diehl continued to take more aim at Healey for her liberal views.
In his victory speech following his primary win, the former state Senator ridiculed Healey for her catering to the "alphabet soup" of a radical LGBT agenda instead of "the ABCs and 123s" of school academics.
"Maura Healey believes in a different education—W-O-K-E," said Diehl.
Diehl also reminded Massachusetts voters of Healey's comment during the riots and violence that broke out across America following the death of George Floyd.
"Yes, America is burning. But that's how forests grow," she said.
While Diehl said Healey regretted making the comment, Diehl said she never apologized for it.
Should Healey beat Diehl in the general election, she would be the first elected female governor in Massachusetts. Republican Jane Swift served as interim governor from 2001 to 2003. She was lieutenant governor when she assumed the top job after Gov. Paul Cellucci left the post to serve as U.S. ambassador to Canada.
The state's last Democratic governor was Duval Patrick, who served from 2007 to 2015. Patrick opted against running for a third term. He was replaced by current Republican Gov. Charlie Baker who narrowly defeated Democratic nominee Martha Coakley. In 2018, he trounced Democrat Jay Gonzalez by a 2–1 margin.
Like Patrick, Baker decided not to seek a third term.