McConnell Suggests He's Unwilling to Consider Graham's 15-Week Abortion Ban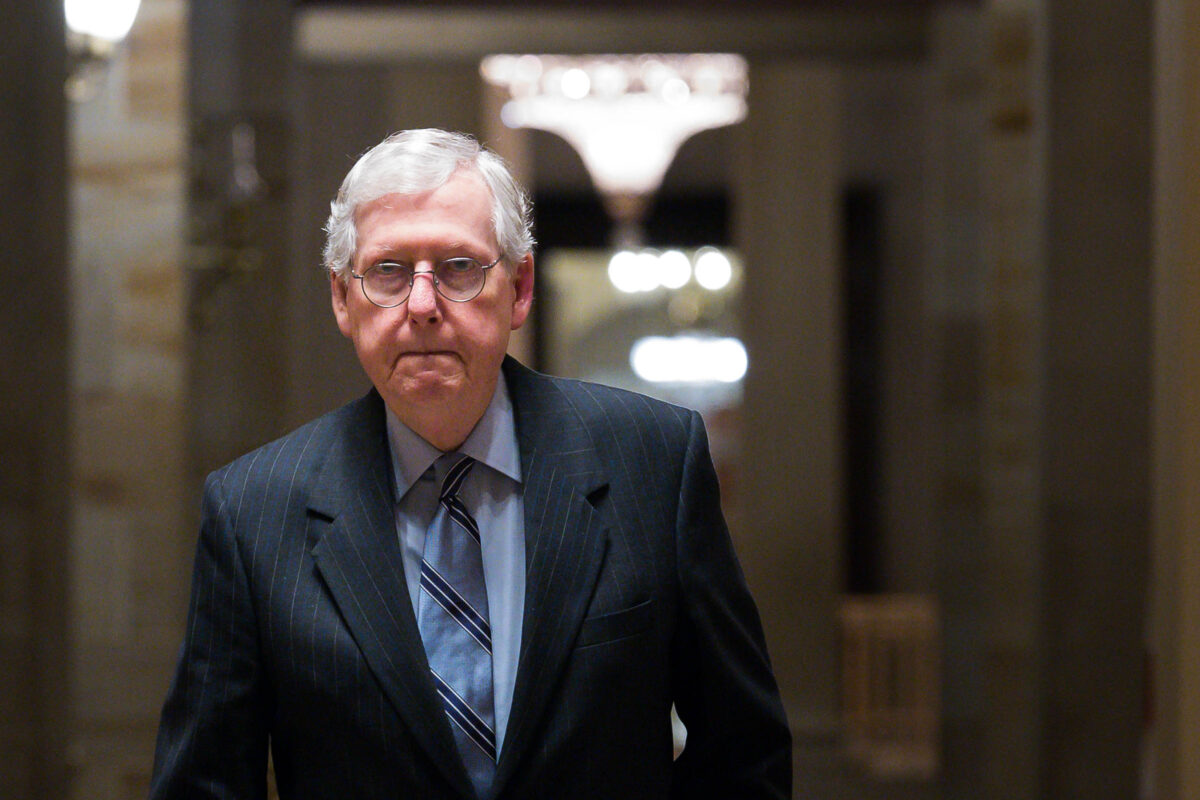 Senate Minority Leader Mitch McConnell (R-Ky.) on Monday suggested that Senate Republicans aren't anxious to consider Sen. Lindsey Graham's 15-week national abortion ban even if the party takes the majority next year.
The bill, unveiled by Graham earlier the same day and dubbed the Protecting Pain-Capable Unborn Children from Late-Term Abortions Act, would impose criminal penalties on physicians who carry out an abortion after the 15-week mark, when research suggests the unborn infant can feel pain and distress.
The legislation seeks to balance pro-life policy goals with some exceptions and exemptions, targeting doctors who would perform illegal abortions rather than women who seek them out.
For instance, the bill establishes a new federal criminal offense for performing or attempting to perform an abortion if it is probable that the infant is at least 15 weeks old, roughly the point at which unborn children are capable of feeling pain and distress, though scientists remain divided on when exactly an infant can feel pain.
Doctors and other health professionals who violate the 15-week rule would be on the hook for a fine and as much as a five-year stint in federal prison.
The legislation would allow some exemptions. Specifically, a doctor under the bill is permitted to perform an abortion if the procedure is deemed medically necessary to save the life of the pregnant woman or if the pregnancy is the result of rape or incest. The text lays out certain procedures and standards physicians must follow if they are relying on one of these exemptions to perform a late-term abortion.
The bill would not target, either civilly or criminally, pregnant women who seek out an illegal abortion if the bill passed.
But McConnell, following the announcement of the bill, suggested that it's not high on his list of priorities if he becomes Senate majority leader next year, saying many Republicans would prefer to leave the issue up to the states.
"With regard to his bill, you'll have to ask him about it. In terms of scheduling, I think most of the members of my conference prefer that this be dealt with at the state level," McConnell told reporters, hinting that the push was Graham's own initiative and not a GOP leadership-backed one.
Graham acknowledged as much, saying he did not consult with the minority leader before unveiling the legislation.
Still, when Graham introduced a substantially similar bill last year, the Pain-Capable Unborn Child Protection Act, McConnell affixed his name to the bill along with 44 other Republicans. The comment suggests a switch as McConnell prepares for the possibility of becoming the leader of a restored GOP Senate majority next year.
McConnell reiterated past comments that Republicans should instead focus on President Joe Biden's handling of the economy, which has seen rapid consumer price and energy cost increases for average American families.
'There Aren't Sixty Votes': McConnell
As far as electioneering, McConnell said that each Republican Senate nominee should approach the issue as they see fit.
"I think every Republican senator running this year in these contested races has an answer as to how they feel about the issue and it may be different in different states," McConnell said, adding, "So I leave it up to our candidates who are quite capable of handling this issue to determine for them what their response is."
For instance, Sen. Lisa Murkowski (R-Alaska)—who is currently involved in a tight race with Kelly Tshibaka, a challenger endorsed by President Donald Trump—has on various occasions reiterated her support for the Supreme Court's 1973 ruling in Roe v. Wade. Murkowski was one of only a small handful of Republicans who did not join Graham in endorsing the pain-capable abortion ban early last year.
Though not up for reelection this year, Sen. Susan Collins (R-Maine) has also expressed ambiguous sentiments towards the ruling in Roe v. Wade, and also did not join Graham's effort last year.
In this climate, a federal abortion ban is highly unlikely to make any substantial progress through the Senate even with a substantial GOP majority. Under the most optimistic predictions, a Republican supermajority—likely a requirement since Democrats would almost certainly be unanimously opposed to such a bill—is astronomically unlikely, and without the support of every single Republican even a GOP supermajority would face long odds of passing such a bill.
Even if they overcame this hurdle, a Republican Senate will still have to square up against a Democrat-controlled White House during the next session of Congress, and Biden, who announced opposition to Graham's bill today, would be sure to veto any such legislation.
In past comments made before the long-anticipated decision overturning Roe v. Wade, McConnell said as much, citing the failure of other abortion bills to overcome the 60-vote filibuster threshold.
"Historically, there have been abortion votes on the floor of the Senate," McConnell said then. 'None of them have achieved 60 votes.
"I think it's safe to say there aren't 60 votes there at the federal level, no matter who happens to be in the majority, no matter who happens to be in the White House."