Midterm Elections Updates: Arizona Board Says It Will Follow Law in Partial Hand Count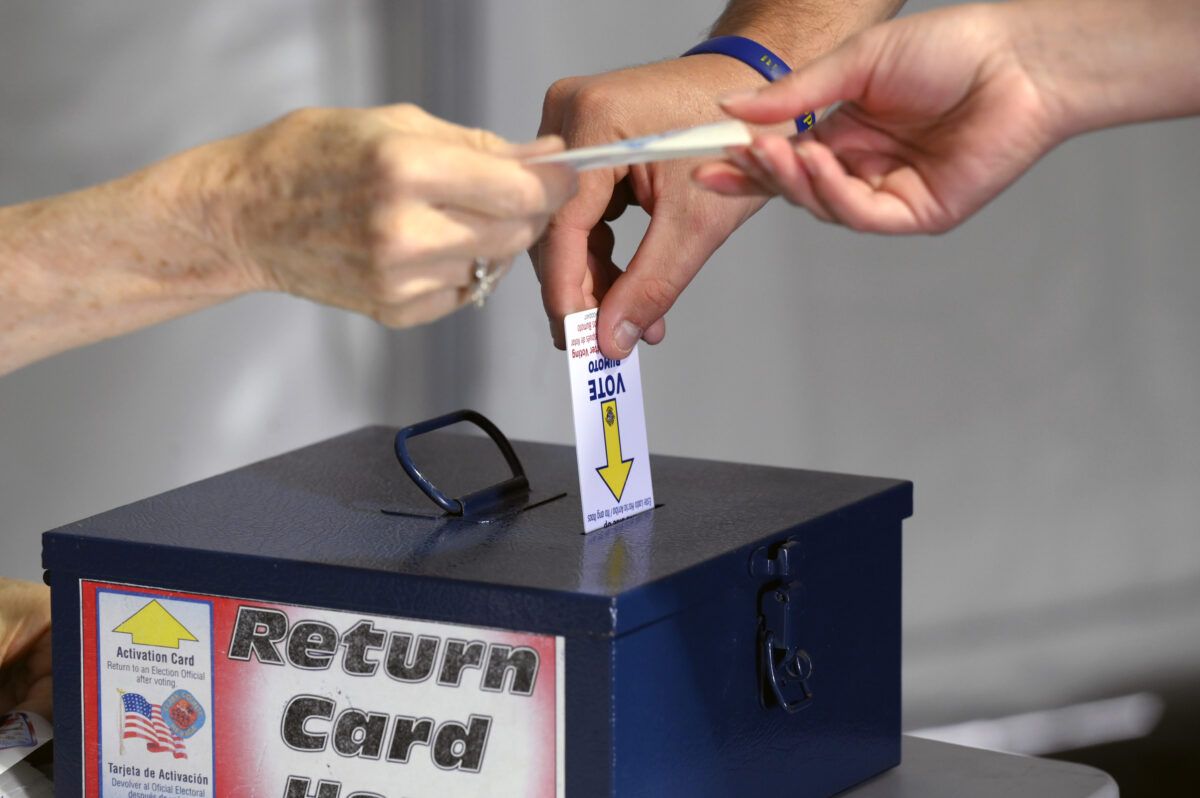 The latest on the midterm elections.
____
Arizona Board Says It Will Follow Law in Partial Hand Count
The Republicans on a rural Arizona county board that wanted to conduct a full hand count in the upcoming midterm vote have clarified they will follow Arizona state law allowing only partial hand counts following a harshly worded letter from the state's election director who threatened legal action.
"The Board wishes to follow all applicable requirements in statutes and the Elections Procedure Manual when conducting its expanded precinct hand count audit," reads the Wednesday letter signed by Cochise County Supervisors Peggy Judd and Tom Crosby. The third supervisor, Democrat Ann English, had voted against a full hand count and did not sign.
"That will mean that there will not be a full count of every item on every ballot," said the letter that the two board members sent to Secretary of State Katie Hobbs and State Elections Director Kori Lorick after an emergency meeting Wednesday afternoon.
____
Hand Count of Ballots in Nevada County Draws Court Challenge
An unprecedented hand count of mail-in votes began for a second day in a rural Nevada county Thursday, while opponents asked the state Supreme Court to issue an immediate order to stop the process.
The American Civil Liberties Union of Nevada filed an emergency request for action shortly after 7 a.m., just one hour before Nye County officials resumed a count that on Wednesday tallied about 900 of 1,950 mail-in votes that the county had received.
A 20-page court filing accused Nye County of violating Supreme Court rules, set last Friday, that require the count to be conducted in a way that prevents public release of early results before many voters have a chance to vote by mail, in-person early, or at the polls on Nov. 8.
Nye County spokesman Arnold Knightly said he could not comment on the ACLU filing, but said the county would respond to the state high court.
____
Judge Considers Stopping Phoenix Ballot Drop Box Watchers
A federal judge in Arizona said he hopes to decide by Friday whether to order members of a group to stop monitoring outdoor ballot drop boxes in the Phoenix area.
The groups Arizona Alliance for Retired Americans and Voto Latino asked U.S. District Judge Michael Liburdi during a Wednesday hearing to prevent members of Clean Elections USA from gathering within sight of drop boxes in Maricopa County, the state's most populous, and from following voters and taking photos and videos of them and their cars.
The attorney for Clean Elections USA said that such a broad restraining order would be unconstitutional.
Liburdi said he hoped to issue a decision by Friday but could continue to weigh the matter into the weekend.
The League of Women Voters filed a similar suit Tuesday in federal court in Arizona, alleging that Clean Elections USA is intimidating voters.
That suit also alleges that the groups Lions of Liberty and the Yavapai County Preparedness Team have undertaken their own effort to watch ballot boxes and film voters in Arizona's Yavapai County.
___
Kansas Lawmakers' Power Back on Ballot
Kansas voters are being asked to reduce the authority of the governor and other state officials and give legislators a bigger say in how the state regulates businesses, protects the environment, and preserves residents' health.
A proposed amendment to the Kansas Constitution on the Nov. 8 ballot would make it easier for the Republican-controlled Legislature to overturn regulations written by state agencies and boards—those under the control of the governor but also others in the executive branch of state government. At issue are rules as varied as which shots are required for children attending school and how often hotels must clean guest rooms.
Business groups and advocates of smaller government view the measure as reining in unelected bureaucrats. But in the fall campaign's final weeks, abortion rights advocates have begun warning that it is another attempted power grab by far-right legislators.
The November vote comes three months after voters overwhelmingly rejected a proposed amendment to eliminate state constitutional protections for abortion and give lawmakers authority to more tightly regulate or ban the procedure. Those who oppose the regulation amendment have repurposed the "vote no" yard signs from the abortion vote for their fall campaign.
____
Maryland Kicks Off Early In-Person Voting
Maryland kicks off a week-long period of early in-person early voting on Thursday.
Voters can go to an early voting center in their county to vote for the 2022 Gubernatorial general elections between 7:00 a.m. to 8:00 p.m. local time from Oct. 27 to Nov. 3, the Old Line State Board of Elections says.
____
Mail-In Ballot Total Skyrockets to 10 Million Across US Ahead of 2022 Midterms: Research
More than 10 million people have cast mail-in ballots ahead of the November 2022 midterms, according to an election monitoring project.
Another 5 million or so have voted early and in person, research from the U.S. Elections Project shows as of Thursday. This week, a number of states opened early in-person voting, including Texas.
The project is managed by University of Florida professor Michael McDonald and it tracks early voting activity among states that have reported data so far. Texas, California, Florida, and Georgia have reported more than 1.5 million in-person and mail-in votes as of Thursday afternoon, the project numbers show.
Read the full article here
____
Liz Cheney Endorses Democrat in Contested House Race
Rep. Liz Cheney (R-Wyo.) on Oct. 27 endorsed Rep. Elissa Slotkin (D-Mich.), Cheney's first endorsement of a Democrat.
Cheney has been anathema among Republicans during the 117th Congress for her role on the Jan. 6 Committee, which other Republicans have described as little more than a "partisan witch hunt" directed against former President Donald Trump and his allies.
"I'm proud to endorse Elissa Slotkin. Serving together on the Armed Services Committee, I have come to know Elissa as a good and honorable public servant who works hard for the people she represents, wants what's best for the country, and is in this for the right reasons," said Cheney.
She added, "While Elissa and I have our policy disagreements, at a time when our nation is facing threats at home and abroad, we need serious, responsible, substantive members like Elissa in Congress. I encourage all voters in the 7th district—Republicans, Democrats, and Independents—to support her in this election."
Read the full article here
____
Police Make Arrest in Connection to Burglary at Arizona Gubernatorial Candidate's Campaign Office
Phoenix police have made an arrest in connection with a burglary at the campaign headquarters for Katie Hobbs, the Democratic nominee for governor.
Police did not release the person's name or say whether they believe the crime was politically motivated. Sgt. Phil Krynsky said more information would be released later Thursday.
"Earlier this week, a break-in occurred at our campaign headquarters," Nicole DeMont, Hobbs's campaign manager, wrote in a statement. "We continue to cooperate with law enforcement as they investigate, and we are thankful to the men and women of the Phoenix Police Department for their work to keep us safe."
Read the full article here
____
Air Force Admits Fault for Releasing Records on Republican Candidate's Sexual Assault
The U.S. Air Force (USAF) has accepted responsibility for a leak that revealed that GOP congressional candidate Jennifer-Ruth Green survived a sexual assault during her time in the military.
Initially, the USAF denied responsibility for the leak.
However, a spokesperson for the branch later told The Epoch Times that the leak, while unauthorized, was the result of a misstep in how Green's documents were handled.
"Based on the preliminary findings of an investigation, it appears information from Jennifer-Ruth Green's service record was released to a third party by a junior individual who didn't follow proper procedures and obtain required consent," USAF Chief of Media Operations Ann Stefanek said in an email.
Read the full article here
____
Wisconsin Judge Hands Win to Republicans Over Mail-In Ballot Lawsuit
A judge in Wisconsin on Wednesday rejected a request to allow election officials to count mail-in ballots with incomplete addresses on them.
Dane County Circuit Judge Nia Trammell refused a request from the League of Women Voters, a group that sought a temporary injunction and argued it "would upend the status quo and not preserve it," "frustrate the electoral process by causing confusion," and said her court doesn't want to "add to the confusion" by issuing a temporary injunction with just two weeks to go before the 2022 midterms, reported The Associated Press.
"I believe that voters catching snippets of the court's decision from local media or by word of mouth could reasonably conclude that markings made by their witnesses on the witness certification portion of the absentee ballot would suffice in any shape or form," Trammell said, according to the Wisconsin State Journal. "A higher court could potentially disagree, and if that is the case, then there is a risk that such voters' absentee ballots would not be counted in the upcoming election."
Read the full article here
____
Sen. Graham Pushes Back Against Allegations Targeting Herschel Walker: 'Kavanaugh Storyline'
Sen. Lindsey Graham (R-S.C.) pushed back on allegations against Republican Georgia Senate candidate Herschel Walker, saying that the timing is suspicious and that it reminds him of claims made against then-Supreme Court nominee Brett Kavanaugh.
Self-described activist feminist lawyer Gloria Allred said Wednesday in a news conference that an unnamed woman claimed she had an affair against Walker in the late 1980s and early 1990s and that Walker, a former NFL and college football star running back, paid for her abortion. After the claims, Walker categorically denied them.
"Well, I'm gonna just say right now guys, I'm done with this foolishness," Walker said after the news conference. "I've already told people this is a lie and I'm not going to entertain, to continue to carry a lie along."
Later, Graham, the ranking Republican on the Senate Judiciary Committee, also questioned the timing of Allred's claims.
Read the full article here
____
Peltola Faces Palin, Begich, Bye in Alaska House Debate
Alaska U.S. Rep. Mary Peltola in a televised debate Wednesday called partisanship a threat to the country as the Democrat sought to make the case for reelection to the seat she's held since September against challengers including Republican Sarah Palin.
Peltola beat Palin and Republican Nick Begich in a ranked-choice August special election to fill the remainder of the late Republican Rep. Don Young's term. Those three, along with Libertarian Chris Bye, are running in the Nov. 8 election for a full, two-year term, starting in January. That election also will be ranked choice. All four candidates participated in the debate.
Palin and Peltola have been cordial to one other; Peltola's time in the state House overlapped with Palin's time as governor, and the two had kind words for each other Wednesday night. But Palin has railed against Alaska's ranked-choice voting system, approved by voters in 2020 as part of an elections overhaul. Palin, in an opinion piece published by the Anchorage Daily News this week, said the system, used for the first time in the special election won by Peltola, had "produced the travesty of sending a Democrat to Congress to represent Alaska, one of the reddest states in the country."
Palin has joined Begich in urging voters to "rank the red," or the Republican candidates.
The ranked vote system was not among the topics raised during the debate, which touched on issues such as inflation concerns, suicides among military veterans, and the pandemic.
____
Biden to Claim Republicans Will Boost Inflation
President Joe Biden will once again contrast his economic plan with Republicans' on Thursday in a last-ditch effort to convince voters Democrats are better equipped to battle high inflation and grow the economy, less than two weeks from midterm elections.
Biden will visit Syracuse, New York, where Micron Technology plans to invest up to $100 billion in computer chip manufacturing, part of tens of billions in new factory spending announced after Biden signed the CHIPS Act subsidizing the industry in August.
In Syracuse, Biden will lay out his efforts to rebuild the American middle class and bring manufacturing jobs back to upstate New York, and contrast them with what he has called Republicans' "mega MAGA trickle-down agenda."
Senior administration officials said Wednesday he will say the Republican economic plans will benefit the super wealthy and increase inflation. Earlier this week, Biden warned Republicans would cause "chaos" in the world's largest economy.
Some Republicans have pledged to use the debt ceiling to force cuts to federal spending, extend President Donald Trump's tax cuts, repeal provisions in the recently passed Inflation Reduction Act, and block Biden's student debt relief plan.
____
Herschel Walker Faces Fresh Claim of Paying for Abortion
Republican U.S. Senate candidate Herschel Walker, who has said he opposes abortion with no exceptions, faced fresh allegations on Wednesday from a second woman who said he pressured her to have an abortion and paid for the procedure after a six-year relationship with him.
Walker, who hopes to unseat Democratic incumbent Senator Raphael Warnock of Georgia in a Nov. 8 election that could determine which party controls the Senate, has already denied allegations from another woman who claims he paid for her to have an abortion in 2009 and that she later gave birth to one of his children.
Neither woman has revealed her identity publicly. The first to come forward provided supporting documents to the Daily Beast, an online media outlet, including a check.
"I'm done with this foolishness. I've already told people this is a lie," Walker said when asked about the claim, according to a video posted by Atlanta media. He has called the first woman's assertions a "flat-out lie."
____
Trump to Hold Rallies in 4 States Ahead of Midterms
Former President Donald Trump is set to go on a rally blitz for candidates he has endorsed in at least four battleground states during the final days before the Nov. 8 midterm elections.
Trump is scheduled to hold rallies in Iowa, Pennsylvania, Florida, and Ohio in the span of five days until the eve of the elections, according to separate press releases issued through the Save America political action committee on Oct. 26.
The first stop is Sioux City, Iowa, on Nov. 3, when Trump is scheduled to "advance the MAGA agenda," referring to his campaign slogan, Make America Great Again, by campaigning for Republicans including Iowa Gov. Kim Reynolds and Sen. Chuck Grassley (R-Iowa), both seeking reelection to their current positions.
Read the full article here
____
Early Voting and Mail Ballot Turnout Trends Point to 2020 Replay
Nationwide early voting and vote-by-mail turnout trends for the 2022 midterm election reflect a pattern similar to the pandemic-skewered 2020 election.
As a result, it may take several days after polls close on Nov. 8 for results to be confirmed in several key battleground states, including Pennsylvania, Wisconsin, and Michigan.
In-person early voting periods and vote-by-mail have grown increasingly popular over the last two decades. They became mainstream during the 2020 election when more than 101 million Americans cast early in-person votes or vote-by-mail ballots.
Read the full article here
____
Fetterman Team Claims Closed Captioning 'Full of Errors,' Debate Host Responds
U.S. Senate candidate John Fetterman's campaign alleged that the closed captioning system used to assist the Pennsylvania Democrat candidate against the first—and only—debate against Republican Dr. Mehmet Oz was full of errors and delayed.
Earlier this year, Fetterman, the Pennsylvania lieutenant governor, suffered a stroke and has struggled with his speech and communication, triggering concerns that he is unfit to serve in the Senate. The campaigns of both Oz, a longtime TV doctor, and Fetterman agreed to allow him to use closed captioning for the debate.
Following the debate, Fetterman spokesman Joe Calvello told reporters that the campaign believed Fetterman performed well despite what he said were errors in the closed captioning.
Read the full article here
Jack Phillips, John Haughey, Frank Fang, Joseph Lord, Lorenz Duchamps, The Associated Press, and Reuters contributed to this report.