Missouri Sheriffs Resisting FBI's Concealed Carry Weapon Audit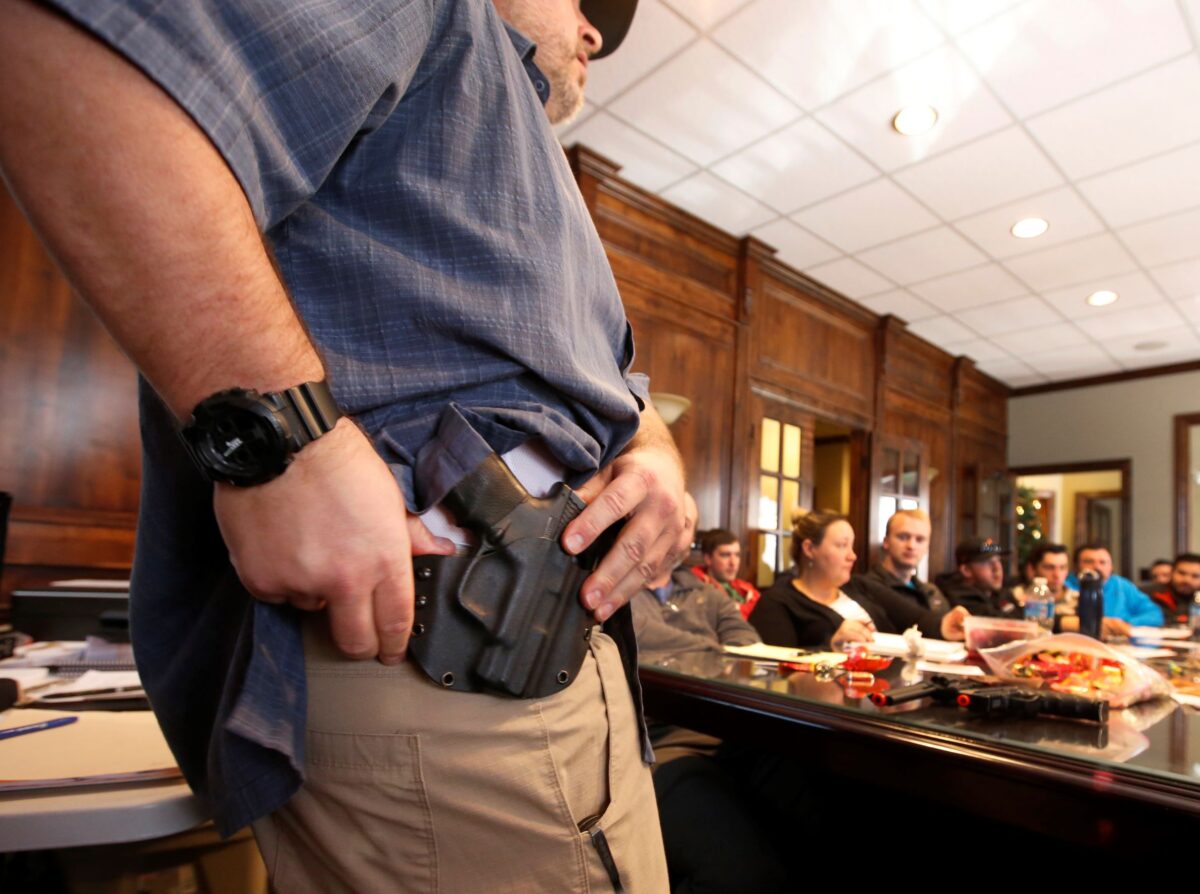 The Federal Bureau of Investigations (FBI) has so far randomly audited 24 sheriff's offices in Missouri in search of concealed carry weapon (CCW) details, but they all refused to comply, according to law enforcement authorities.
"None released anything pertaining to CCWs themselves, but some did partially comply by answering procedural questions on issuing CCWs," said Moniteau County's Sheriff Tony Wheatley.
"They answered two of those standard questions but nothing, as far as I know, was given from any sheriff pertaining to any CCW files."
As previously reported in The Epoch Times, the FBI informed several Missouri County sheriffs that they would be showing up during August for onsite reviews of CCW permits.
Wheatley is among the sheriffs who received an email from Missouri's Attorney General Eric Schmitt's office on Aug. 9 in which he reminded law enforcement officers not to comply.
"We're the highest ranking freely elected law enforcement of the state and it's up to us to stand up for the rights of Missouri citizens," Wheatley told the Epoch Times.
"The federal government, they overstep some, and it's our job to put them in check and stand up for what we know is right."
Scotland County's Sheriff Brian Whitney is also vowing to follow Schmitt's direction in not complying with the FBI.
"We received a letter by email on Aug. 8 from general counsel in the attorney general's office that advised us to not comply with any audit," Whitney said. "I would be committing a crime if I complied."
So far, neither the Scotland County Sheriff's Office nor the Moniteau County Sheriff's Office have been approached by the FBI about an audit.
"The audits are ongoing," Wheatley added. "They could still knock on my door, but it won't do them a whole lot of good."
Schmitt's email this week was a follow up to a July 13 letter in which he told FBI director Christopher Wray that obtaining information about CCW permit holders is illegal statewide.
Under the Revised Statues of Missouri Law 571.101.9(2), sharing protected information retained in the concealed carry permit system with the federal government is prohibited.
"Any person who violates the provisions of this subdivision by disclosing protected information shall be guilty of a class A misdemeanor," the subsection states.
Schmitt was a state Senator when the law was approved.
"I proudly voted for it," he wrote to Wray. "In the Heartland, we elect our county sheriffs who are members of our communities. The same cannot be said for your out-of-touch FBI.
"You may wonder why there is such strong suspicion of federal agents here in the Show Me state. Simply put Missourians are hardworking, law-abiding citizens who don't need a national nanny state keeping tabs on us.
"But more than that, over the last couple of years, we've seen story after story of incompetence and corruption at the highest levels of the FBI.
"Our trust in your agency is at an all-time low."
But not all Missourians are in agreement with Schmitt's position to directly oppose the FBI.
"It's unfortunate that we, as a country, have become so divided that we can't even get cooperation between local law enforcement and the FBI," said John Wood, a former attorney for the congressional committee investigating the Jan. 6, 2021, pro-Trump rally at the U.S. Capitol.
"It's also unfortunate that law enforcement issues have become politicized when they really shouldn't, and we need to rise above politics and work together."
Both Wood and Schmitt are gunning to replace U.S. Sen. Roy Blunt in the November mid-term elections. Wood is running as an Independent while Schmitt secured the Republican primary on Aug. 2.
"Federal law enforcement are rogue entities now," said attorney Mark McCloskey, who was among the Republican Senate candidates that Schmitt defeated in the GOP primary.
"They are no different than the KGB or STASI. They're just the political enforcement arm of the Democrat party and the powers that be."
Schmitt's email to sheriffs statewide was sent a day after the unprecedented search of former president Donald Trump's Florida residence in Mar-a-Lago by FBI agents.
"What the federal government is attempting to do in Missouri with CCW audits is completely inappropriate, particularly in light of what the FBI and the DOJ did down in Mar-a-Lago this week," McCloskey told The Epoch Times.
McCloskey and his wife, Patricia, were charged two years ago in the wake of the 2020 George Floyd protests for brandishing guns in front of their St. Louis home while Black Lives Matter demonstrators marched towards former Mayor Lyda Krewson's home nearby.
The McCloskeys have been waiting since May 4 for 22nd Judicial Circuit Court Judge Joan Moriarty to rule on a motion to return their assault rifle and semi-automatic pistol.
"I think his [Schmitt] letter to the sheriffs is entirely appropriate," McCloskey added.
In an Aug. 8 tweet, Schmitt said that if elected he would take a wrecking ball to 'this overtly political DOJ and the administrative state.'
In response, Wood—who is a former United States attorney for the Western District of Missouri serving as the chief federal law enforcement official in Kansas City, St. Joseph, Columbia, Jefferson City, Springfield, and Joplin—accused Schmitt of political posturing.
"Schmitt claims to support law enforcement, but apparently his loyalty to Donald Trump is stronger than his commitment to law and order," Wood said.
Neither the FBI nor the Missouri Sheriffs' Association responded to requests for comment.