New York AG's New Lawsuit Against Trump Is Part of an Effort to Boost Her Own Prospects, Experts Say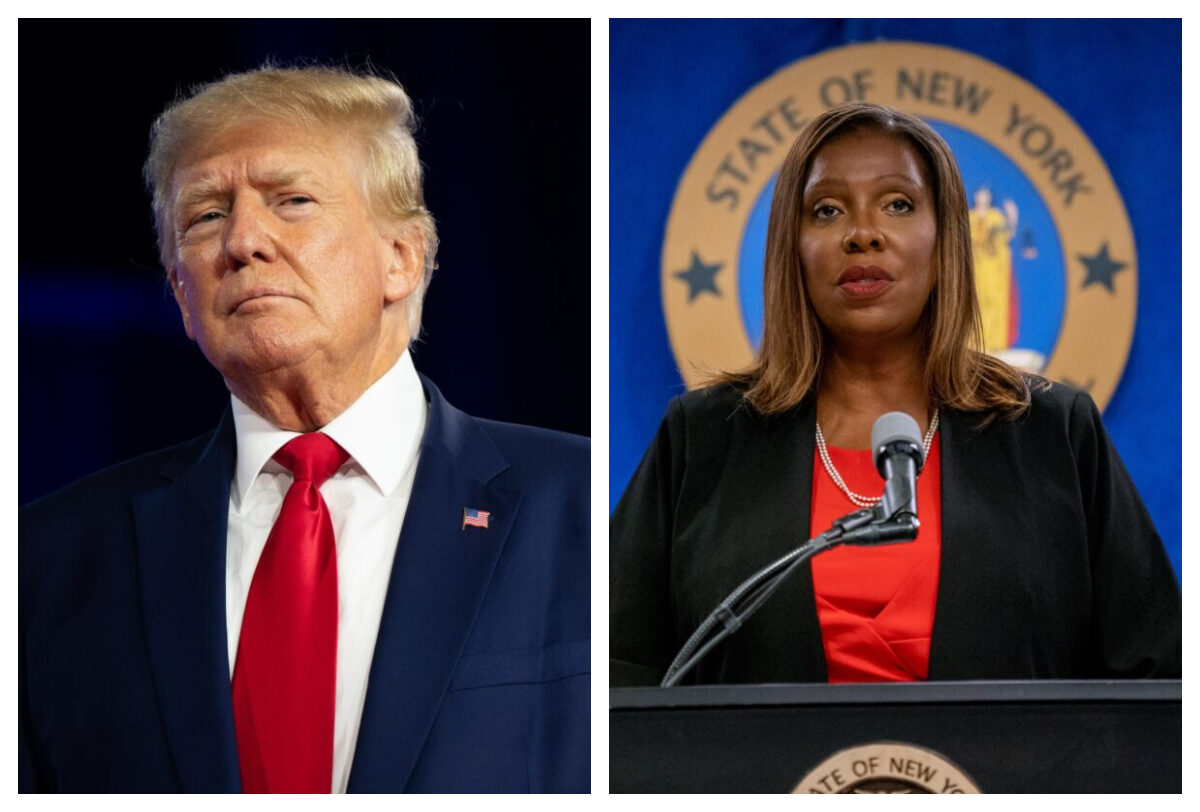 News Analysis
New York Attorney General Letitia James carries significant political liability from her abortive run for governor last year and has targeted former President Donald Trump and his relatives with a slew of fresh civil charges in an effort to bolster her reelection prospects in a deep blue state, legal experts and political strategists say.
Frustration with crime in New York City runs high, as it does in many other parts of the country, and capitalizing on liberal Democrats' dislike of the former president is, in part, a diversionary tactic and a ploy to recoup some popularity and prestige, the experts argue.
On Sept. 21, Attorney General James filed a lawsuit against Trump and three of his adult children, alleging that they had engaged in financial fraud by exaggerating the value of certain of their assets over the course of more than ten years. The alleged motive for the fraud was to get on better terms with banks and insurance providers. Besides barring Donald, Ivanka, and Eric Trump from serving as directors of companies registered in New York State or doing real estate deals, the suit aims to recover $250 million that James contends Trump and his relatives made illicitly.
The latest legal moves against the former president and his family, following closely on the heels of the FBI's Aug. 8 raid on Trump's Mar-a-Lago home, quickly prompted a number of hyperbolic statements from pundits hostile to Trump and the brand of Republicanism that they believe he represents.
On Sept. 26, Michael Tomasky, an influential commentator and author who serves as editor of The New Republic and editor-in-chief of Democracy, published a lengthy opinion piece in The New Republic in which he repeatedly used expletives in reference to the former president and relished what Tomasky sees as the likely consequences of Trump's latest legal woes.
Tomasky elaborated on the scenarios he believes might result from James's charges against Trump and family as well as the Mar-a-Lago raid. In the first scenario, Tomasky suggested, Trump might sell or give away to a hostile foreign power some or all of the top-secret documents that he had allegedly brought from the White House to Mar-a-Lago upon leaving office.
The second scenario Tomasky envisioned is one where Trump will incite his supporters with a view to stirring up mass civil unrest.
Weighing the Charges' Appropriateness
While Tomasky's comments on the investigation and its potential consequences may be emblematic of some pundits' tendency to rejoice over Trump's troubles, commentators with a more explicit focus on law and legal precedent have raised concerns.
As attorney general, James has a legal and moral responsibility to enforce the law in a politically neutral manner and to avoid the temptation to settle scores with former officials with whom she has longstanding political differences.
On Sept. 22, noted legal expert Alan Dershowitz told Newsmax that he saw a marked conflict of interest in the desire of James, who had campaigned for office in 2018 on a promise to prosecute then-President Trump, to try now to make good on that unfulfilled pledge.
"You can't have prosecutors even civilly prosecuting a defendant if they made a campaign promise that they have to fulfill. They are not neutral and objective," Dershowitz said.
Mark Graber, a law professor at the University of Maryland, believes that the evidence does suggest that there may be irregularities in the financial reporting of the former president and the others charged in James's lawsuit. In the current highly-politicized climate, Graber sees it as virtually inevitable that some will perceive a conflict of interest in such a situation.
"I think that in this day and age, any time the indictments were brought down would have some people thinking, 'This is suspicious.' For better or worse, the indictment of a person like Trump will always appear to many to be political, and to many others, getting his just desserts," Graber told The Epoch Times.
After New York Gov. Andrew Cuomo resigned in the course of a sensational sexual harassment scandal, largely as a consequence of an investigation and detailed indictment that James herself oversaw, the attorney general announced in October 2021 that she would run for the governorship. But James announced on Dec. 9, 2021, that she was dropping out of the race, amid polls showing her lagging by a double-digit margin behind then-Lieutenant Governor Kathy Hochul, who went on to win the race.
Graber does not think that, as James seeks another term as attorney general, she is now seeking to recoup lost political capital with a high-profile prosecution of the former president.
"Any prosecutor might be concerned about their reelection prospects. It has been known to happen. No reason for thinking James is more or less concerned than any other prosecutor," James said.
But Michael Alcazar, a professor at John Jay College of Criminal Justice and former New York City detective, believes that James harbors ambitions that may extend far beyond winning another term as attorney general, and sees a strong political motive at work.
"Letitita James's lawsuit against Trump seems like a smear campaign. I believe the New York Attorney General loves the attention that she's getting from this lawsuit. All eyes on her! If successful, it could propel her career or potential run for other offices (such as governor)," Alcazar told The Epoch Times.
A Partisan Motive?
James may also have an interest in promoting the perception that the former president is too burdened with legal and financial woes to make an effective candidate in 2024, Alcazar suggested.
"This civil lawsuit, and other lawsuits levied against Trump, will keep him in the headlines during his probable second presidential run. It would seem this is her goal, to cast Trump in an unfavorable light," Alcazar said.
But Alcazar is skeptical about the wisdom and likely success of this tactic.
"I don't think this will affect Trump's potential run. Conversely, I believe his supporters will come together and support Trump because they view this as a political attack, and a speed bump on the way to the presidency," stated Alcazar.
"Some Trump supporters view this as a bullying technique. They see her as the bad guy grasping at straws to forward her agenda," he added.
In agreement with this analysis is John Feehery, a strategist, commentator, and former press secretary to Rep. Dennis Hastert (R-Ill.).
"James is facing a tough reelection—and rightly so, she is a political hack—and she is misusing the legal powers of her office to further her political career," Feehery told The Epoch Times.
Feehery does not believe that the latest round of legal complications facing Trump will have the effect of pushing him to the sidelines to the benefit of other possible contenders for the GOP nomination in 2024, such as Florida Gov. Ron DeSantis.
"I'm not sure how this helps DeSantis, other than further creating bad noise about Trump. I think this attack is so nakedly partisan, it might help Trump," Feehery said.
The Epoch Times has reached out to James's office for comment.