New Yorkers Hit the Polls Aug. 23 for 'Primary Part 2'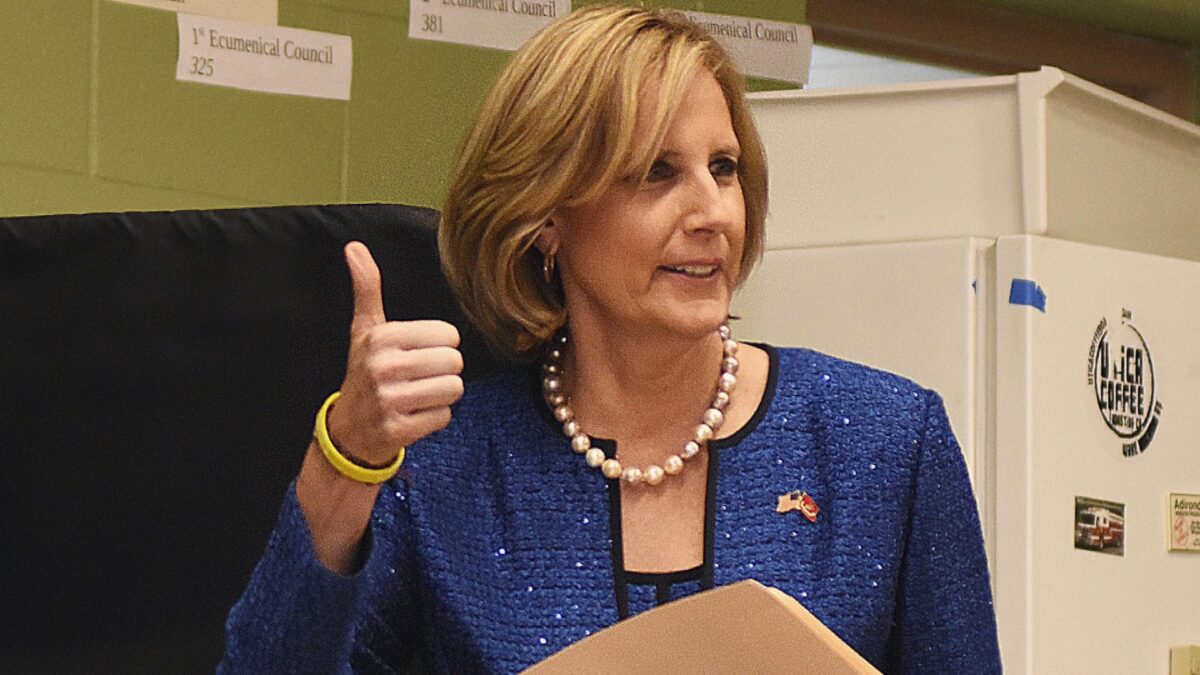 From Buffalo's suburbs on Lake Erie to the eastern tip of Long Island, New Yorkers are casting ballots on Aug. 23 in primaries for 63 state senate and 26 U.S. House seats.
It is the second round of inner-party preliminary elections to set slates for November general elections in New York, where proposed state senate and congressional district maps had to be redrawn under court order by a special master.
Unlike many of the preceding primaries across 42 states, New York's Aug. 23 primaries are not expected to spur large turnouts. Late August is when many take late-summer vacations before schools reopen in early September.
Going into the 2020 Census, New York had 27 congressional seats with 18 occupied by Democrats. 
But the state lost its 27th congressional seat in post-Census reapportionment and the 26-district map adopted by the state's Democrat-controlled General Assembly was rejected as gerrymandering in court rulings. 
The maps crafted by a special master now provide Republicans with a legitimate shot at winning up to 13 seats, retired SUNY New Paltz political science professor Gerald Benjamin told The Epoch Times on Aug. 17.
Because the maps weren't approved until May, New York's 2022 primaries were split. Party contests for statewide positions, such as governor, were staged June 28 with congressional and state senate primaries set for Aug. 23.
To further compound the complexity of what are normally sleepy, low-turnout summer primaries, New York's Aug. 23 ballot in two congressional districts will also feature special elections to fill vacant U.S. House seats.
Special Elections
Special elections in Congressional District 19 (CD 19) and CD 23 are among prominent races on New York's Aug. 23 ballot, with one drawing intense interest nationwide.
The CD 19 special election to fill the seat vacated by Rep. Antonio Delgado (D-N.Y.), who resigned in May to become lieutenant governor, pits Dutchess County Executive Marc Molinaro, New York's Republican 2018 gubernatorial nominee, against Democrat Ulster County Executive Pat Ryan.
More than $3.2 million has been spent collectively by both campaigns to win a four-month stint in Congress representing a lame-duck district because it is the first election for a competitive seat since the U.S. Supreme Court overturned Roe v. Wade in June.
Regardless of who wins the CD 19 special election, both candidates are virtually assured of advancing to the general election and to be November favorites—Molinaro overwhelmingly so—in "new" districts.
In addition to CD 19's special election, Molinaro is running unopposed in CD 19's Republican primary and Ryan is facing two underdog rivals in CD 18's Democratic primary. 
Ryan is projected to face state Assemblyman Colin Schmitt (R-New Windsor) in November's CD 18 general election. Schmitt is not being tested in a GOP primary.
While the CD 19 special election is drawing national interest, and big money, the special election in CD 23 to assume the seat vacated by Rep. Tom Reed's (R-N.Y.) May resignation is between two placeholders not seeking election in November.
The special election is but a sideshow to CD 23's contentious GOP primary between former state Republican Committee chair Nick Langworthy and real estate developer Carl Paladino, a colorful and controversial former gubernatorial candidate.
The CD 23 Republican primary is among notable preliminary contests between party rivals on New York's Aug. 23 ballot.
Notable Primaries
— CD 17 Democratic primary: Five-term incumbent Rep. Sean Patrick Maloney (D-N.Y.) is facing progressive state Sen. Alessandra Biaggi (D-Bronx) in a contentious contest between the "establishment" centrists and the party's liberal left wing.
What makes this race between party rivals particularly bitter is Maloney won five elections in CD 18—a purple district regarded as a November "tossup"—but is running for a sixth term in neighboring CD 17, another competitive Hudson Valley district but more favorable for Democrats.
In doing so, Maloney, who chairs the Democratic Congressional Campaign Committee, forced Rep. Mondaire Jones (D-N.Y.), a progressive who is CD 17's actual sitting incumbent, to seek reelection in deep-blue Manhattan's CD 10, where he faces a stiff primary battle.
— CD 17 Republican primary: State Assemblyman Mike Lawler (R-Pearl River), a former New York Republican Party executive director, is the frontrunner among five Republicans vying for the party nod to take on the Maloney-Biaggi winner in November.
The CD 17 GOP primary winner joins Molinaro in CD 19 and state Assemblyman Colin Schmitt (R-New Windsor) in CD 18 — he faces no Aug. 23 primary test—as a strong slate of Republican candidates in three battleground Hudson Valley districts where November races are rated as "tossups."
— CD 12 Democratic primary: This incumbent-vs-incumbent primary clash fostered by post-2020 Census reapportionment pits two long-standing liberal lions against each other in a refashioned uber-blue Manhattan district.
Rep. Jerrold Nadler (D-N.Y.), who has long represented the Upper West Side in CD 10, is facing off against Rep. Carolyn Maloney (D-N.Y.), who dominated the district when it was exclusively an Upper East Side seat.
The race, which has garnered $8.207 million in campaign spending, also features a viable third candidate, Suraj Patel, who at 38 has already challenged Maloney twice, losing by just 4 percentage points in the CD 12 Democratic 2020 primary.
Either Maloney or Nadler, or both in the event of a Patel upset, will join 12 other congressional incumbents to lose a reelection bid in the 2022 primaries and be at least the sixth to fall to a fellow incumbent after post-2020 Census reapportionment placed them in the same congressional district.
— CD 10 Democratic primary: Nadler the incumbent is seeking reelection in CD 12, leaving the seat in this deep blue district encompassing parts of Brooklyn and Lower Manhattan open to the winner of a crowded Democratic primary.
Among leading candidates is Rep. Mondaire Jones (D-N.Y.), the actual sitting CD 17 incumbent who shifted into CD 10 when Rep. Sean Patrick Maloney (D-N.Y.) sought reelection in CD 17 rather than CD 18, which he has represented for a decade.
Other CD 17 Democratic hopefuls include former Rep. Elizabeth Holtzman (D-N.Y.), once the youngest woman elected to the House who, at 81, would be the oldest non-incumbent elected to Congress; Daniel Goldman, an impeachment investigator in former President Donald Trump's trial who has pumped $4 million of his own money into the race; New York City Councilwoman Carlina Rivera; and state Assemblywoman Yuh-Line Niou (D—Manhattan).
— CD 1 Republican primary: Incumbent Republican Rep. Lee Zeldin's gubernatorial bid has created an open seat in this district on the eastern tip of Long Island in Suffolk County, 
Frontrunners are Association for Digital Asset Markets Chief Executive Michelle Bond and Navy veteran Nick LaLota, a former Amityville Board of Trustees member who currently serves as Suffolk County Legislature Chief of Staff.
The winner of the CD 1 GOP primary will meet Democratic Suffolk County Legislator Bridget Fleming in November. A former prosecutor and Southampton Town councilwoman, Fleming, who is being tested in a primary, is expected to run a competitive campaign in the purple district.
— CD 22 Republican primary: Rep. Claudia Tenney (R-N.Y.) won this district in 2020 against Democrat Anthony Brindisi in a race so close, that a winner wasn't declared until February 2021.
But like Maloney in CD 17 and Nadler in CD 10, Tenney is running as an incumbent, just not in her current district but in CD 24, where incumbent Republican Rep. John Katko (R-N.Y.) is retiring.
Tenney has been endorsed by Trump in her CD 24 GOP primary battle.
The two leading contenders in the CD 22 Republican primary to succeed Tenney and defeat the Democratic contender in the Republican-leaning district in November are Cazenovia businessman Steve Wells and Brandon Williams, a California tech entrepreneur who owns a Sennett farm.
Wells, a co-chair of Katko's election finance committee, is endorsed by Trump ally Rep. Elise Stefanik (R-N.Y.) while Williams is backed by the Onondaga, Madison, and Oneida county conservative parties.
The Wells-Williams winner will face the survivor of a scrum in CD 22's Democratic primary between Francis Conole, Sarah Klee Hood, Chol Majok, and Sam Roberts.
— CD 23 Republican primary: The heated battle between Langworthy and Paladino is, along with the CD 12 Democratic clash between incumbents Maloney and Nadler, garnering the most attention in New York's Aug. 23 primaries.
Paladino, a Buffalo-area developer known for years for making remarks regarded as racist, sexist and homophobic—he once said in a televised interview that Adolf Hitler is "the kind of leader we need today"—claims he is the true 'America First' conservative in the race and is supported by Trump. Who he says is a personal friend.
The former president, at least through the night before the Aug. 23 election, however, has not issued an endorsement in the race.
Langworthy also claims to be a strong conservative and on board with Trump's 'American First' policy objectives but is campaigning as a rational alternative to Paladino, who he says could not only cost Republicans the CD 23 seat in a general election but be a liability to Zeldin's gubernatorial campaign.