No Comment on Taiwan During Pelosi Meetings With South Korea Leadership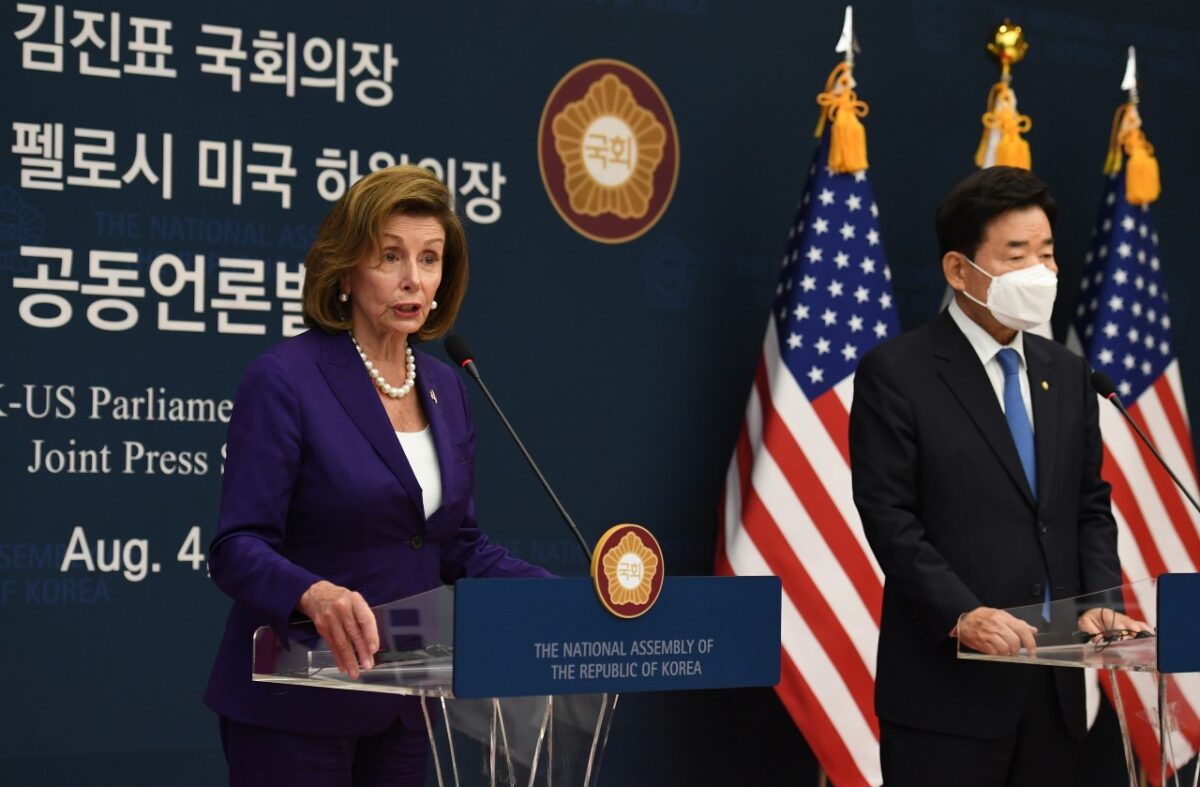 U.S. House Speaker Nancy Pelosi met with political leadership in South Korea Thursday as part of her ongoing tour of Asia. Neither Pelosi's delegation nor Korean leadership commented on current heightened tensions with communist China over the issue of Taiwan.
Pelosi met in person with South Korean National Assembly Speaker Kim Jin Pyo and other senior members of the South Korean Parliament, after which she held a phone conference with President Yoon Suk Yeol, who was on vacation.
The two sides discussed the U.S.-Korea alliance, foreign policy, and other issues, but did not broach the issue of Taiwan.
The United States and South Korea have maintained a firm alliance since the Korean War in the 1950s, which was the last time U.S. forces fought communist China. Yoon took office in May with a vow to boost South Korea's military alliance with the United States against North Korea.
The issue of China is now a touchy subject for South Korea, however, as the nations are key trading partners. South Korea has struggled to strike a balance between its relations with the United States and China as the Sino-American rivalry has deepened over the past several years.
Taiwan Resolute Against CCP Aggression
South Koreans have questioned Yoon's failure to meet Pelosi in person, as Pelosi is touring Asia and meeting leaders from Singapore, Malaysia, and Japan.
The speaker's stop in South Korea, however, follows her highly-publicized visit to Taiwan earlier in the week, which Chinese Communist Party (CCP) leaders used as a pretext to launch an aggressive and retaliatory series of economic, cyber, and military operations.
In the days since, the CCP has launched several cyber attacks against Taiwan, announced hundreds of import bans, and effectively blockaded the island with unprecedented military drills.
The most escalatory action thus far, however, was the CCP's decision to launch several missiles over Taiwan and into Japan's exclusive economic zone (EEZ), an area 200 nautical miles (230 miles) from the country's coast.
"To have five Chinese missiles fall within Japan's EEZ like this is a first," said Japanese defense minister Nobuo Kishi.
"We have protested strongly through diplomatic channels."
The CCP maintains a so-called One China principle, which states that Taiwan is a breakaway province that must be reunited with the mainland. The regime hasn't ruled out the use of force to achieve this goal. Taiwan has been self-governing since 1949 and has never been controlled by the CCP, however. And Taiwan's democratic government and thriving market economy ensure that it maintains healthy trade relations with many global powers.
U.S. relations with Taiwan and China are governed by a series of treaties and diplomatic cables stretching back to the 1970s. Notably, the United States adheres to a One China policy, which provides an acknowledgment, but not endorsement, of the CCP's One China principle. The policy also mandates extensive unofficial ties with Taiwan. The Taiwan Relations Act of 1979 further mandates that the United States will provide the arms to Taiwan necessary for its self-defense.
At the heart of the ongoing tensions between the CCP and the United States is their long-standing agreement that neither side will attempt to unilaterally change this status quo through force or coercion.
CCP authorities maintain that Pelosi's visit was intended to unilaterally change that status quo, while U.S. officials say the same of China's increased military and economic aggression in the region.
"Today the world faces a choice between democracy and autocracy," Pelosi said in a short speech during a meeting with Taiwanese President Tsai Ing-wen on Wednesday. "America's determination to preserve democracy, here in Taiwan and around the world, remains ironclad."
"Our visit reiterates that America stands with Taiwan: a robust, vibrant democracy and our important partner in the Indo-Pacific," Pelosi added in a tweet following the trip.
Taiwan's Defense Ministry called the Chinese drills "unreasonable actions in an attempt to change the status quo, destroy the peace and stability of the region."