Oklahoma's GOP Senate Primary Runoff Likely to Determine Inhofe's Successor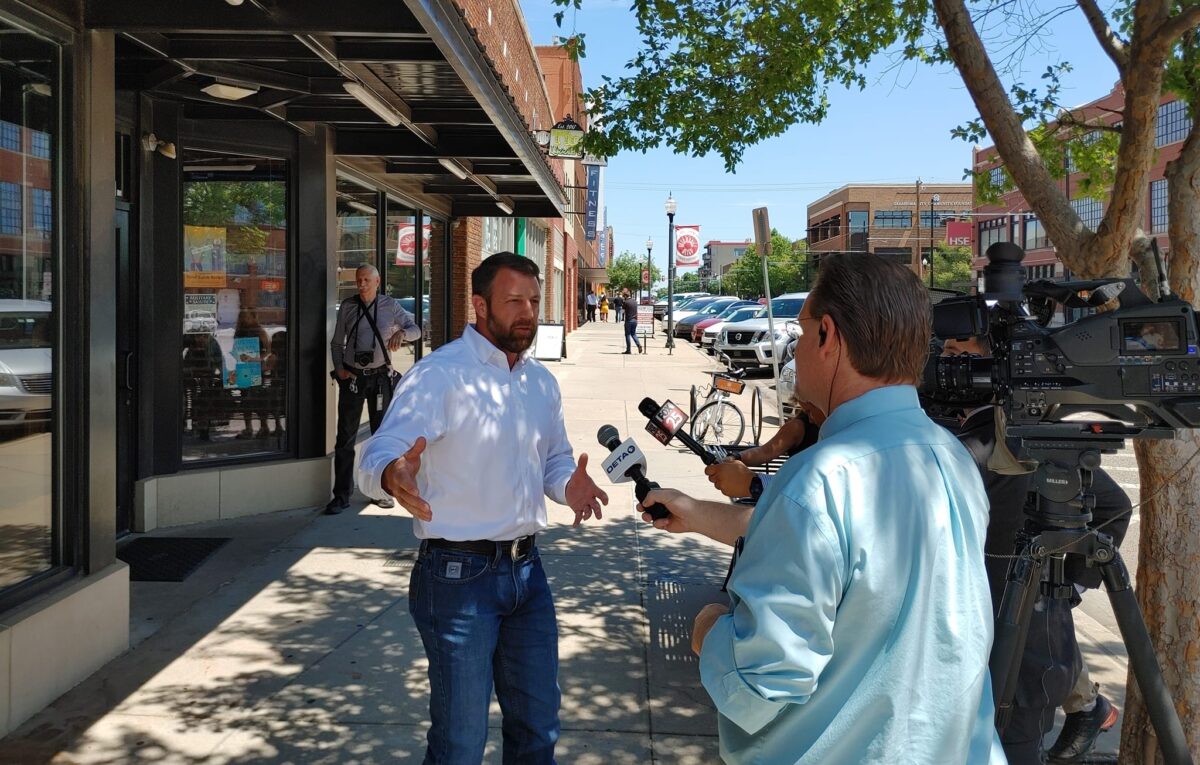 After advancing to a runoff by defeating 11 opponents in Oklahoma's U.S. Senate special GOP election primary on June 28, U.S. Rep. Markwayne Mullin and former Oklahoma Speaker of the House T.W. Shannon will learn if they win the Republican nomination within hours.
Oklahoma voters head to the polls on Aug. 23 for the GOP primary runoff in the race to replace Republican Sen. Jim Inhofe.
Inhofe, 87, took office in 1994 and was elected to a fifth term in 2020 before announcing in February that he will retire, effective Jan. 3, 2023.
On June 28, Mullin received 43.6 percent of the vote and Shannon finished second at 17.5 percent in a field of 13 candidates. Since neither surpassed 50 percent, a runoff was required to determine the Republican nominee.
The winner of the primary runoff will be favored to prevail in November's general election against former Democratic U.S. Rep. Kendra Horn, who was a U.S. representative in Oklahoma's 5th Congressional District from 2019 to 2020.
Libertarian Robert Murphy and independent candidate Ray Woods are also on the general election ballot.
Oklahoma voters have not sent a Democratic senator to Washington in more than 30 years.
Endorsed by former President Donald Trump and Oklahoma Republican Governor Kevin Stitt, Mullin, 45, is a former professional MMA fighter and entrepreneur who owns a ranch and a plumbing company among other enterprises.
He has represented Oklahoma's 2nd Congressional District since 2013 and is completing his 10th term.
Earlier in his career, Shannon was a staffer for former Republican U.S. Rep. J.C. Watts and current Rep. Tom Cole (R-Okla.).
The 44-year-old served eight years in Oklahoma's state house and was named the youngest Speaker of the House in Oklahoma history
At the age of 36, Shannon stepped away from politics, finished his law degree at Oklahoma City University, and became CEO of Chickasaw Community Bank in Oklahoma City.
Both candidates are running on a pro-Trump, America First platform; and they agree that there was fraud in the 2020 presidential election.
Oklahoma is a state where almost 10 percent of the population has Native American heritage. Mullin is a Cherokee citizen and Shannon is a member of the Chickasaw Nation.
Mullin has generated around $3.6 million for his campaign. That figure is almost three times more than Shannon's $1.3 million.
Both candidates are outspoken about the United States' current dependence on foreign oil, the southern border crisis, pro-life measures, and gun ownership rights among other issues.
Shannon, who is black, released an anti-abortion ad in which he called Planned Parenthood the "true face of white supremacy."
He also posted on Twitter that "Black babies have been targeted by the abortion lobby and the Dems since day one. Don't you dare say 'Black Lives Matter' til you admit that black babies matter."
Mullin launched an ad showing two of his children and a montage of University of Pennsylvania transgender swimmer Lia Thomas accompanied by a voice that says, "Democrats can't even tell us what a woman is."
A recent poll conducted between Aug. 11 and Aug. 15 by Oklahoma City-based Amber Integrated showed Mullin with 46 percent support among Republican voters surveyed compared to 27 percent for Shannon, while 20 percent of the respondents are undecided.
The poll included 684 Republicans likely to vote in the Aug. 23 runoff and featured a 3.8 percent margin of error.
"Former President Trump's endorsement has likely allowed Congressman Mullin to shore up his lead in the race," Amber Integrated pollster Jackson Lisle said in a statement. "Sixty-three percent of likely Republican voters are inclined to support a candidate who is endorsed by Trump."
Mullin, who has said that there are "enough natural resources in Oklahoma and Texas to power the entire country," told Newsmax last week that Republicans will "immediately begin to undo" President Joe Biden's recently passed Inflation Reduction Act if they regain the majority in the House and Senate in November.
"Democrats continue to lie to the American people, calling it something like the Inflation Reduction Act. That's kind of like the same thing when they said 'affordable health care," Mullin said. "They're really good about naming things and disguising it, and then they also said they're not going to tax anybody [with an annual income] below $400,000.
"We know this is a tax on everybody because when you tax industry, that tax gets passed on to everybody because it gets factored in the cost of products," Mullin said. "But that's the bad news. Here's the good news. They brought this in through reconciliation, and anything that goes in through reconciliation can also come out the same way.
"So, when we take back the House and the Senate in November and we get sworn in in January, we can immediately begin to undo this with the same vote threshold of 51," Mullin added.
Mullin and Shannon have said they are not career politicians, but instead are "citizen candidates."
"I ran for Congress the first time because I was fed up with how much it was costing our company to comply with simple state and federal regulations," Mullin told The Epoch Times. "A bunch of bureaucrats who have never created a job in their life try to tell us how to run our businesses."
Mullin said he entered the Senate race to combat Biden's flurry of executive orders.
"In the lower chamber, we really deal with the legislative side of things. The Senate helps determine how federal agencies affect us," Mullin told The Epoch Times. "Bureaucrats are making it almost impossible to create jobs they want to be created because of regulations from agency officials. Heads of agencies are confirmed by the Senate. That is where the fight is."
Shannon responded by pointing out that Mullin's tenure in Washington does not make him a "citizen candidate."
"There are some clear contrasts between me and my opponent. It's really our record, and the good news is that we both have a record," Shannon told Oklahoma City's KOCO News. "My opponent, he has his record that he has to stand on and defend of being in the swamp for the last 10 years, so that's the real difference."
Shannon believes that his story resonates with Oklahomans and gives people hope for the future.
"America is home of systemic opportunity, not systemic racism," Shannon told The Epoch Times. "The far-left narrative says that, unless you're from a specific zip code and of a specific heritage, then America doesn't work for you. I'm proof that narrative is a lie.
"I was elected to the state legislature when I was 33 years old and then became the state's youngest Speaker of the House. Now I'm the CEO of a bank," Shannon added. "That only happens in America."
Also on Aug. 23, Democrats Jason Bollinger and Madison Horn are on the ballot in the primary runoff for Oklahoma's other U.S. Senate seat.
The winner will face incumbent Republican Sen. James Lankford, who took office in 2015 after serving two terms as a U.S. representative for Oklahoma's 5th congressional district.
Oklahoma's 2nd Congressional District Republican primary runoff to replace Mullin could be as close as the June 28 primary when no candidate reached 15 percent.
When the results for June's primary were announced, former state Rep. Avery Frix finished atop a field of 14 candidates with 14.7 percent of the vote followed by former state Sen. Josh Brecheen's 13.8 percent.
The race was so tight that Muskogee chief of police Johnny Teehee (13 percent), former Oklahoma state representative and former chairman of the Oklahoma Republican Party John Bennett (11.3 percent), and Quapaw Nation secretary-treasurer Guy Barker (11 percent) were hopeful until the race was called.
According to a joint poll conducted by TV news affiliates in Oklahoma City and Tulsa last Friday, Frix has a 6-point edge over Brecheen, though 42 percent of Republican voters said they are undecided.
The survey, which was conducted between Aug. 11 and Aug. 17 among likely runoff voters, reported that 27.2 percent of the undecided voters are favoring Frix while 21.1 percent are leaning toward Brecheen.
Oklahoma's 2nd district includes most of eastern Oklahoma from Texas to Kansas.