On Health of the US Economy, Republicans and Democrats See Things Differently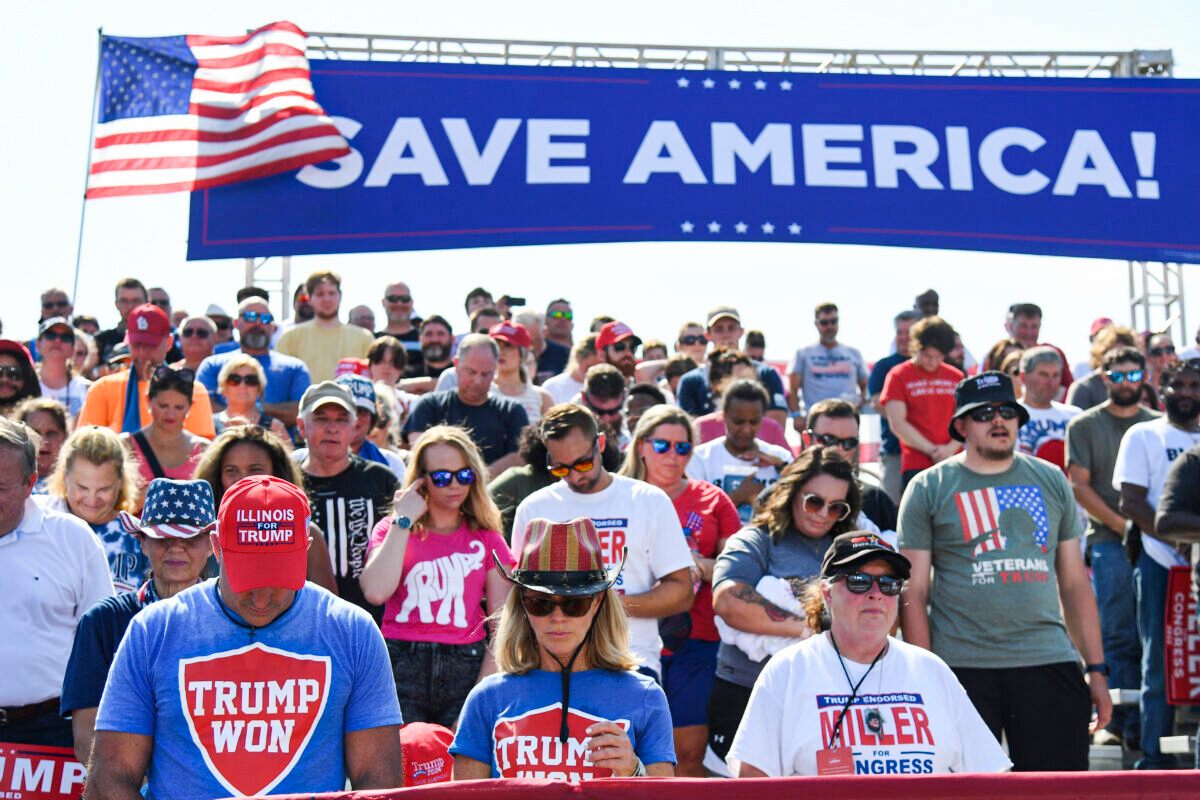 A majority of people who voted for former President Donald Trump admit that America is in a recession, while only a minority of Biden supporters agreed, according to a recent poll by The Economist and YouGov.
In response to a question about whether the United States is in a recession, 82 percent of respondents who voted for Trump in the 2020 election said that yes, the country is in a recession. Just 38 percent of respondents who voted for President Joe Biden agreed, while 40 percent said no and another 22 percent said they were not sure.
Broken down by party, 76 percent of Republicans agreed that the United States is in a recession, with 9 percent dismissing the idea and 15 percent being unsure. Among Democrats, 44 percent said yes, 35 percent said no, and 21 percent said they were unsure.
The poll was conducted among 1,500 adult U.S. citizens from Aug. 20 to Aug. 23 (pdf).
In terms of ideology, 79 percent of respondents who identified as conservatives said the United States is currently in an economic recession, along with 54 percent of moderates and 41 percent of liberals.
While 52 percent of Trump voters said they believed the prices of goods and services they buy is the best indicator of a recession, only 34 percent of Biden voters agreed.
Forty percent of Trump voters said they they think a recession in the next 12 months is "somewhat likely," with Biden voters closely following at 39 percent.
However, 15 percent of Trump voters believe it is "very likely" that the United States will be in an economic recession in the next 12 months, triple the 5 percent of Biden voters who hold such a view. Another 31 percent of Biden voters said a recession in the next 12 months is "not very likely," compared to just 13 percent of Trump voters.
Recession Predictions
The poll comes as several experts are raising alarm bells about the country entering a recession.
"We will have a recession because we've had five months of zero M2 growth, money supply growth, and the Fed isn't even looking at it," Steve Hanke, a professor of applied economics at Johns Hopkins University, told CNBC. "We're going to have one whopper of a recession in 2023."
M2—which includes cash, savings deposits, checking deposits, and money market securities—is seen as an indicator of future inflation and total money supply. Hanke pointed out that the money supply has stagnated in recent months, thus potentially leading to an economic slowdown.
In another interview with CNBC, Stephen Roach, a former Federal Reserve economist, predicted a recession as the "lagged impacts" of the Federal Reserve monetary tightening begins to kick in. "They haven't kicked in at all right now," he said while adding that the United States will need a "miracle" to avoid a recession.
The United States already posted its second consecutive quarter of negative economic growth in 2022, which is the generally accepted definition of a recession.
Gross domestic product fell by 1.6 percent in the first quarter and another 0.9 percent in the second quarter.