Oz and Fetterman: Pennsylvania Senate Race Tight Despite Differences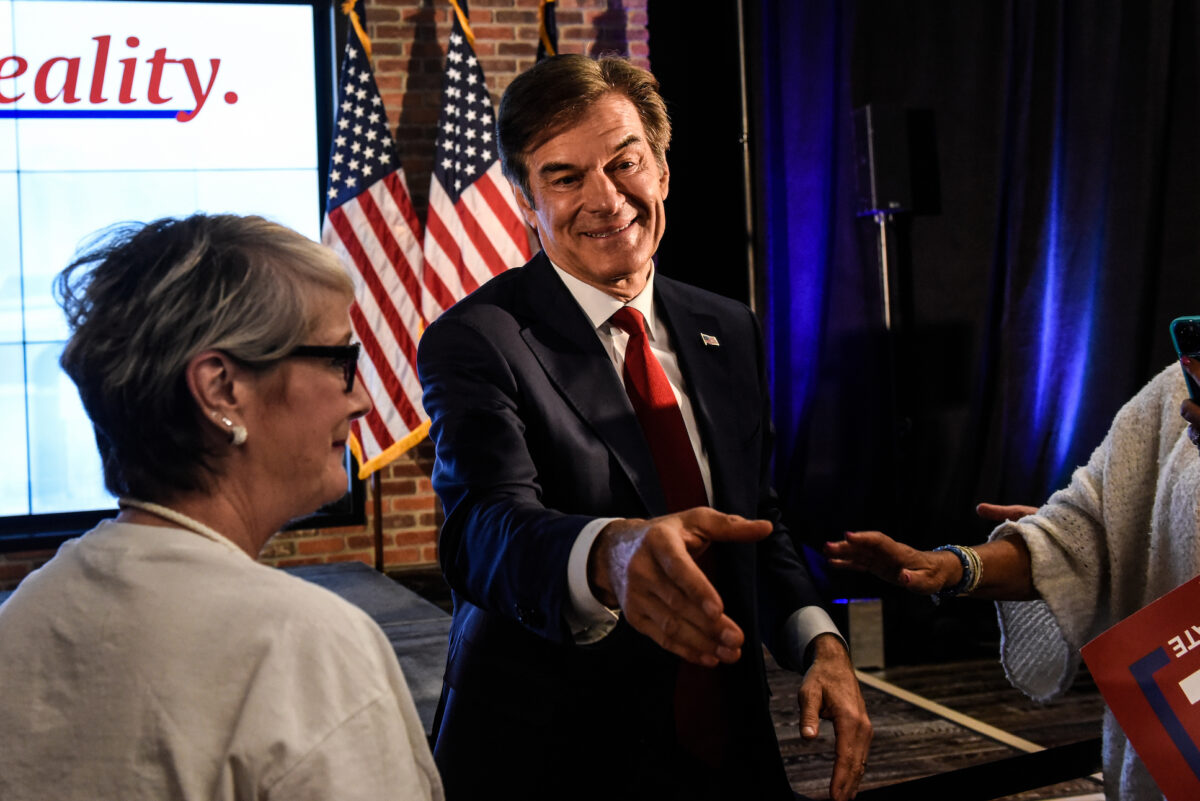 Pennsylvania's U.S. Senate race is one of the most watched in the country. The open seat, being vacated by Republican Sen. Pat Toomey, is pivotal to the Senate's balance of power. It has not been held by an elected Democrat since 1969, although longtime Republican Sen. Arlen Specter switched to Democrat in 2009 while in office. Specter served from 1981 to 2011, when Toomey was elected.
The Senate currently has 50 Republicans, 48 Democrats, and two independents who caucus with the Democrats.
Now, with no incumbent advantage in Pennsylvania, Democrats see potential to flip the seat's power. Their candidate, John Fetterman has consistently had a slight lead in the polls. Fetterman had a comfortable lead in the primary.
Republicans hope to gain power in the Senate by holding on to Pennsylvania with candidate Mehmet Oz and flipping seats in other states. Oz had a tougher primary and Republicans who supported other candidates are still working up their enthusiasm for him.
Candidates Differ Greatly
The candidates are vastly different says political analyst Terry Madonna, senior fellow in residence for political affairs at Millersville University in Pennsylvania.
"Different personalities. Different styles the whole way. I mean, it's rare to find those kinds of huge differences," Madonna told The Epoch Times.
Yet, the polling is close. "I've not seen a single poll that shows a double-digit lead for either," Madonna said.
Oz is a heart surgeon and television personality, Fetterman is the former mayor of Braddock, Penn. and the current lieutenant governor, who has worked alongside Gov. Tom Wolf for the last four years.
Oz wears suits and has a tidy haircut; Fetterman shaves his head and wears baggy shorts and hooded sweatshirts.
But they have a few things in common. Both went to Harvard. Each has a level of political charisma. Neither has put discussion of serious voter issues at the forefront of their campaign.
Fetterman has avoided talking about issues using memorable stunts to illustrate that Oz is not a long-time resident of Pennsylvania but moved to the state soon before campaigning. Fetterman sent an advertising airplane over the New Jersey shore, pulling a banner that said "Hey Dr. Oz. Welcome home to NJ! (Heart) John," and he Tweeted a video of "Jersey Shore" reality television show personality Nicole "Snooki" Polizzi, asking Oz why he would leave New Jersey to look for a new job.
ICYMI… we had a big weekend 😁

fun summer memories down the shore 🥰 pic.twitter.com/jKMtGvzPN2

— John Fetterman (@JohnFetterman) July 13, 2022
Oz has posted Twitter memes highlighting high gas prices and the well-known "I did that" gas pump sticker with President Joe Biden pointing at the price, adding a similar sticker of his opponent labeled the "Fetterman Fee."
Oz also posted a video welcoming Fetterman back to the campaign trail after Fetterman suffered a stroke just before the May primary and has been subsequently laying low since.
In the video, wearing workout clothes, Oz finishes tying his shoes and starts jogging. "I've been praying for him. I'm glad he's OK," Oz says. Now that he's back, Fetterman can't keep hiding forever, he adds.
"Joe Biden hid in his basement. How did that work out for us?" Oz says he wants to debate Fetterman on the energy industry, and crime. "I'm glad Fetterman's healthy, so we can worry less about his heart and hoodie and more about the crazy leftist ideas in his head."
I'm glad John Fetterman is returning to the campaign trail. I have a few questions for him – mainly about his crazy ideas for Pennsylvania. pic.twitter.com/fZT0lRFs8h

— Dr. Mehmet Oz (@DrOz) July 14, 2022
Shifting Parties
More voters are moving away from the Democratic party. This year, as of July 11, Pennsylvania's Department of State voter registration shows 10,972 voters have switched their party from Republican to Democrat, while 35,600 voters have switched from Democrat to Republican.
"That's because the Democratic Party has become the party of the left. These Democrats—working-class voters in the old mining and milling areas of Pennsylvania, became Democrats during Franklin D. Roosevelt's New Deal," Madonna said.
"Over the past decade, the Democrats became a much more progressive party, and there are profound differences."
He cites cultural issues. Many working-class voters are pro-life and they are not wild about gay marriage and LGBTQ issues, Madonna said.
The left's approach to energy is another reason people are leaving the Democrats. In old coal mining and steel towns, there is now the natural gas industry. "Progressive Democrats want to stop natural gas production," Madonna said.
"And let's talk about guns. Progressives are for gun control. Some literally want confiscation. These people are strong supporters of the Second Amendment. So on the fabric of the issues, working-class voters in the southwestern part of our state in particular, and in some areas up in the Northeast, in the old anthracite coal region, are dramatically different from the progressive Democrats." These voters are switching to Republican.
But Republicans are switching to Democrat in the suburbs and cities, he says, especially college-educated suburban women.
"The Republican base is now much more rural and small-town Pennsylvania," Madonna said, and as voter demographics change, where candidates go to campaign will matter.
"Fetterman has done something that Democrats have not done in recent years," Madonna said. "He has gone out and campaigned among ordinary Pennsylvanians, particularly the working-class voters. Hillary (Clinton) couldn't find them."
And he said, Oz has been visiting lots of small towns as well. It is in these interactions voters will pick up more precise information about candidates.
Typically, there is a lull in campaigning over the summer, Madonna said, and in mid-August things will start to intensify.
"I don't think there's any doubt that it's going to be one of the, and maybe the most, covered Senate election in the country."