Oz–Fetterman Race Tightens As Candidates Campaign in Pittsburgh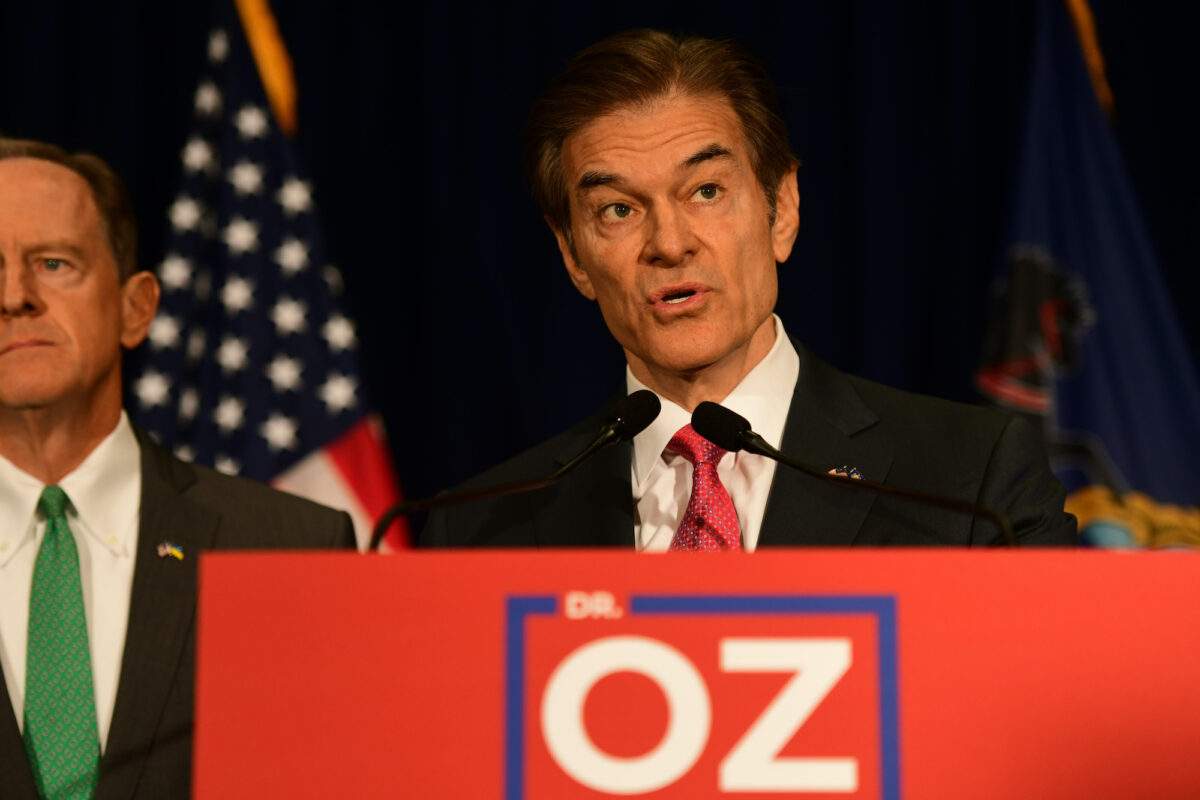 Pittsburgh was front and center last weekend in the Pennsylvania U.S. Senate race as Republican nominee Mehmet Oz held a press conference downtown on Sept. 30 while Democratic opponent John Fetterman spoke at a rally in the city's Strip District the next day.
Fetterman is Pennsylvania's lieutenant governor and a former longtime mayor of Braddock, a borough of 1,633 eight miles southeast of Pittsburgh.
At the Oct. 1 rally, Fetterman walked out to the stage to "Renegade," a 1979 song by Styx that is a fan favorite during Steelers' home games.
"I'm kind of a Heinz Stadium, Dr Oz is more of an Acrisure Stadium," Fetterman said.
Since both candidates won their primaries, Fetterman has trolled Oz on social media and in speeches and interviews, sharing his viewpoint that the celebrity surgeon is a wealthy carpetbagger who is "out of touch" with Pennsylvanians.
Heinz owned naming rights to the Steelers' stadium until this year when was the name of the Steelers' stadium until this year when the iconic Pittsburgh brand opted to not renew their contract. The stadium now bears the name of Acrisure Insurance, which is based in Michigan.
Fetterman had a double-digit lead in polls over the summer when he mostly remained at home recovering from a severe stroke he suffered before the May 3 primary.
Oz, and multiple media outlets, have called for Fetterman to release his medical records, questioning his ability to fulfill his role as a senator if he wins on Nov. 8.
The Oz campaign has also criticized Fetterman for only agreeing to one debate—on Oct. 25, two weeks before the Nov. 8 general election and more than a month after early voting started.
The 53-year-old Fetterman has made few public appearances and has rarely talked to the media since the stroke.
"You know, the only lingering issue that I have after that stroke is sometimes auditory processing, sometimes," Fetterman said at the rally. "And, every now and then, I might miss a word or, sometimes, you know, I might mush two words together.
"Let me give you an example. OK, now imagine, let's assume, I maybe want to go shopping at Wegmans, and I'm actually standing in a Redner's, but I actually think I'm shopping in Wegner's. That's what it's like to kind of mush two words together, but something that doesn't really exist. Thank you, Dr Oz, for that," Fetterman added.
Fetterman's story referenced a video tweeted by Oz in April when he stood in a grocery store and blasted the excessive cost of vegetables he said he needed for a crudite platter.
For months, Fetterman has shared the video and often accompanied it with comments like, "In Pennsylvania, we call that a veggie tray."
"How many of you, how many have you ever heard the word crudites? Anyone? Anyone ever heard it?" Fetterman said. "I actually thought it was about my stroke. I had to Google it to find out what it is."
Oz continues to brush off Fetterman's jabs and focus on his opponent's unwillingness to release his medical records or commit to more than one debate.
"I have tremendous empathy for what John Fetterman is going through. It's an area that I specialize in in medicine. All of these issues are challenges, especially if you're in the political arena, which is physically demanding," Oz told reporters last month.
"Focus on the voters though. They have a right to hear my opponent articulate and defend his policies.
"John Fetterman has been ducking, dodging these debates, which is insulting to the voters of Pennsylvania," Oz added. "And he has to own the reasons for his desire to avoid a debate with me. Either he's healthy, which he says he is, and doesn't want to answer for his radical positions in past statements, or he's lying about his health."
Oz released his medical records in September.
In a statement last week, Fetterman said that Oz's health records from a New York City physician is more evidence that Oz does not live in Pennsylvania.
"We didn't need to know Dr Oz's bone density. We need to know whether he would vote to ban all abortions after 15 weeks. We need to know whether he would vote to raise the minimum wage. We need to know whether he even plans to stay in Pennsylvania after the election," Fetterman said in the statement.
In June, Fetterman released a doctor's letter claiming that he is fit to serve if he is elected.
"We have disclosed more information about John's health than any senator who wasn't running for president—and even some who have," Fetterman campaign spokesman Joe Cavello said in a statement.
"We have released a letter from his cardiologist, John put out a candid letter directly from himself, and talked about this extremely personal process with reporters where he has spoken about the lingering effect of the stroke, his auditory processing issue."
Oz and Fetterman are vying to replace retiring Republican Sen. Pat Toomey. Oz and Toomey spoke at the Sept. 30 press conference in Pittsburgh. They said that Fetterman is "too extreme" for Pennsylvania and attacked the candidate's progressive criminal justice reform policies.
"We have 50 different states. I probably couldn't get elected to Senate in Vermont. Bernie Sanders can't get elected in Pennsylvania," Toomey said.
"John Fetterman aligns himself with the Bernie Sanders wing of the Democratic Party. That is who he is. That is not a fit for Pennsylvania."
Oz reinforced his support for more natural gas drilling in western Pennsylvania and the creation of more pipelines across the state. He also advocated for a liquified natural gas plant off the east coast to carry gas overseas.
Oz and Fetterman experienced different paths to the general election. While Fetterman decisively won the Democratic primary, Oz defeated Republican opponent David McCormick by less than 1,000 votes in a race that was not determined until a recount.
Fetterman's double-digit lead in the polls has decreased to 3 points, according to a Franklin & Marshall poll released last week. RealClearPolitics shows Fetterman with a 4.5-point advantage when factoring in the average of all polls.
Democrats once thought the race was heavily in Fetterman's favor. Republicans now see Pennsylvania as a potential victory as the party strives to regain control of the Senate.
The Senate Leadership Fund, a super PAC that is aligned with Senate Minority Leader Mitch McConnell (R-Ky.) and the National Republican Senate Committee are spending tens of millions of dollars to bolster Oz.
"The chairman [Sen. Rick Scott] feels very confident we can get to 52 [seats], holding Pennsylvania and Wisconsin, and picking up Georgia and Nevada," Chris Hartline, communications director for the National Republican Senate Committee, said in a statement. "They are our core four."