Pelosi Has 'No Regrets' Over Trillions in 'Necessary' COVID-19 Aid Despite Soaring Inflation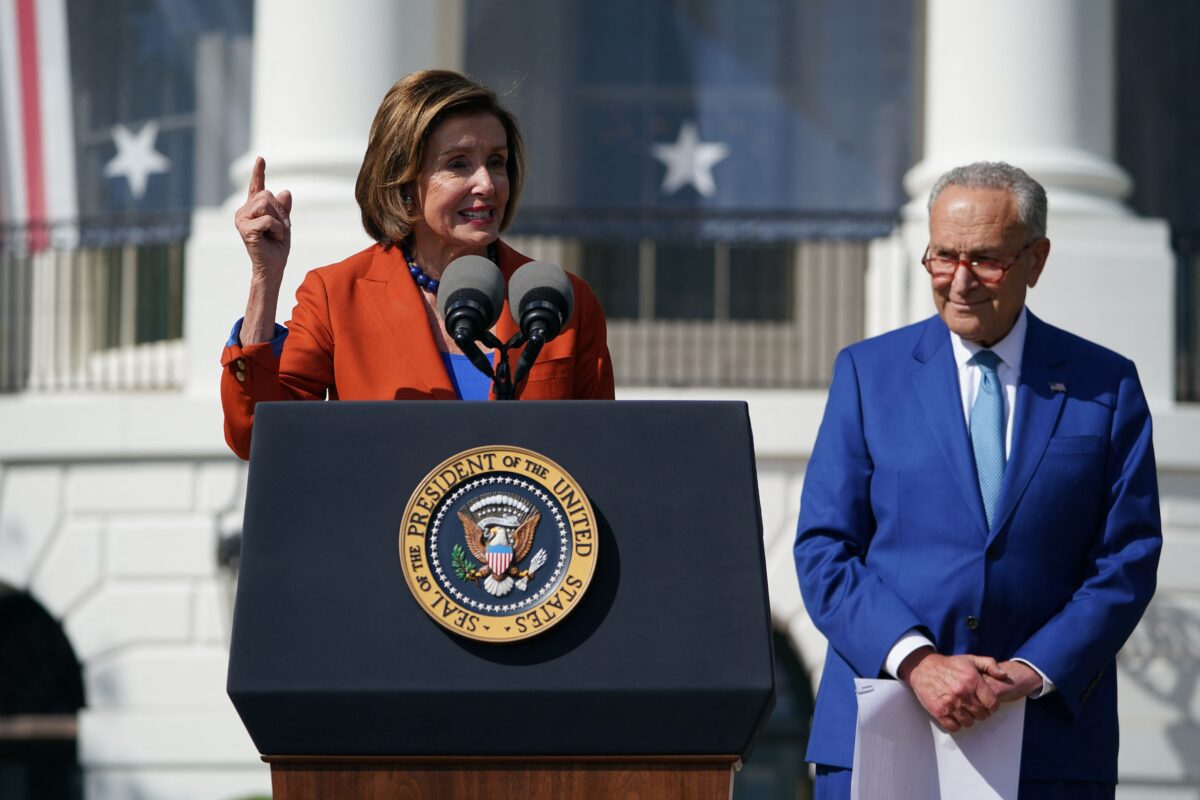 House Speaker Nancy Pelosi (D-Calif.) has defended the trillions of dollars in COVID-19 pandemic aid passed by Democrats amid claims by Republican lawmakers and experts that it fueled the current cost-of-living crisis.
In an interview with CBS' "Face the Nation" on Sunday, when asked if she had any regrets over the unprecedented levels of fiscal and monetary spending, Pelosi said the funding was essential to ensure that people survived during the pandemic.
"No, absolutely not, because that was necessary for people to survive," Pelosi said. "The point is that when you reduce unemployment, it's inflationary. That is a fact."
Republican lawmakers and many economists have argued that President Joe Biden's American Rescue Plan Act (ARPA), which included $1,400 stimulus checks and generous expansions to unemployment insurance, further fueled soaring inflation.
In March, four economists at the Federal Reserve Bank of San Francisco estimated that the rescue plan had raised inflation by about 3 percentage points by the end of 2021.
In September, Laurence Ball of Johns Hopkins University, Daniel Leigh, and Prachi Mishra of the International Monetary Fund, wrote in a paper that had it not been for Biden's ARPA, annualized monthly core inflation would have been 3.7 percent in July rather than 6.5 percent.
Elsewhere in an interview with Vox earlier this month, Marc Goldwein, the senior vice president of the Committee for a Responsible Federal Budget, said that the ARPA had effectively thrown fuel on the fire of the U.S. economy.
"We put gasoline on the fire. That's basically what the ARP did. It was almost written as if we didn't just pass a trillion-dollar stimulus in December," said Goldwein.
Inflation Set to Worsen, Recession Will Be 'Very Real'
As of yet, the exact financial impacts of the ARPA are unclear.
However, the situation may worsen further still, according to New Hampshire Gov. Chris Sununu, who warned this month that much of the spending allocated under the American Rescue Plan and infrastructure package has not yet been spent.
"So, look, everyone talks about the $5 trillion into the economy that has driven inflation, that's absolutely true, there's no doubt," Sununu, a Republican, said in an interview on "CNN Tonight" in reference to some of the billions of dollars in pandemic stimulus money.
"What a lot of people don't realize, I think governors and a few of us who are actually in charge of allocating those dollars and spending them, only a fraction has actually been spent. It's all been allocated. But the actual number of checks that have been cut is very minimal," the governor said.
Sununu explained that much of the ARPA funding was designed to be spent into 2024, 2025, and 2026, meaning that "inflation is going to be very exacerbated for the next few years, and the recession is going to be very real."
Elsewhere during her interview with CBS, Pelosi touted Democrats' work to bring down red-hot inflation—currently at 40-year-highs—while also taking a swipe at Republicans.
"The fight is not about inflation. It's about the cost of living," Pelosi said. "And if you look at what we have done to bring down the cost of prescription drugs, to bring down the cost of energy and the rest in our legislation, you will see that that has been opposed every step of the way by the Republicans, and they have no plan for lowering the cost of living or helping with inflation."