President Biden Stumps for Democratic Candidates in Portland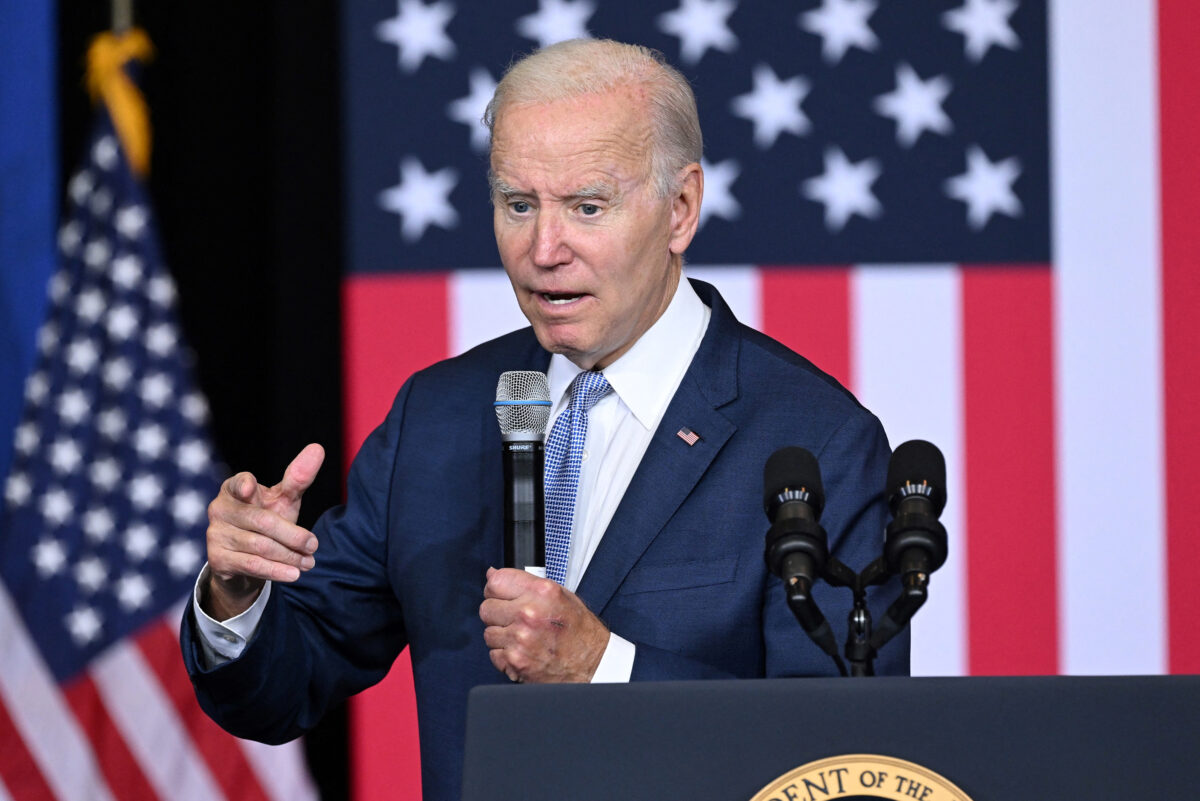 An officer-involved shooting of a knife-wielding parolee wasn't the vibe the embattled city of Portland hoped for as Democrats welcomed President Joe Biden to Oregon on Oct. 14.
The shooting happened around 6 p.m, just blocks from the security fencing erected for the president's visit, according to the Portland Police Bureau.
News about the shooting broke as the president made his way from Air Force One to a local service union headquarters to meet with Democratic lawmakers and campaign workers.
Minutes after the first alert was sent out by police, his motorcade arrived at the union hall "after an uneventful ride," PPB reported.
There, Biden met volunteers making calls to voters as well as Democrat candidates Rep. Suzanne Bonamici, Sen. Ron Wyden, Sen. Jeff Merkley, and gubernatorial candidate Tina Kotek.
With the Oregon governorship and three congressional districts now considered toss-ups, the president went to Portland to tout his policy achievements and bolster Democrat campaigns.
His visit capped off a three-day West Coast tour and came just days before voters will begin to receive their ballots in the exclusively vote-by-mail state.
Appearing alongside Kotek and incumbent Sen. Wyden at a town hall on Oct. 15, the president delivered remarks on "lowering costs for American families."
He reiterated an earlier announcement that he would sign an executive order directing Health and Human Services to explore taking action on lowering prescription drug costs.
Lower costs would be welcome news for Oregonians as inflation and gas prices soar in the Beaver State.
At $5.54 per gallon, Oregon has the third highest gas prices in the nation, behind California and Alaska. The price of groceries has soared by 13.5 percent this year, the biggest year-over-year increase in 43 years.
"We're surprised anyone would want to be seen with the president, who with the help of his Democrat colleagues caused the highest gas prices in Oregon history," tweeted Senate Republican leader Tim Knopp.
Many Oregonians also blame Kotek, who hopes to succeed term-limited Gov. Kate Brown, repeatedly named the most unpopular governor in the nation.
As Speaker of the House in Oregon for nine years, Kotek pushed through billions in new taxes that increase costs to Oregon consumers, including the Corporate Activities Tax (CAT). That controversial law taxes businesses on gross receipts rather than margins.
According to Oregon-based Bi-Mart corporation, the CAT was the final straw that led the company to close its 57 northwest-based independent pharmacies and cut hundreds of jobs.
Kotek also ushered in a $5 billion road tax, adding 10-cents to each gallon of gas in Oregon, as well as a sales tax on cars, a new payroll tax on wages, increased auto fees, new truck taxes, home health care license fees, and the nation's first bike tax.
She also voted for a tax increase on small businesses in the middle of the pandemic.
On Oct. 15, Biden spoke to a crowd at the East Portland Community Center, describing his Inflation Reduction Act and prescription drug price relief for seniors.
He then headed to the Pacific Northwest Carpenters Institute for a $500 per plate fundraiser for Kotek, who is lagging in the polls. Guests who contributed $10,000 or more could take a picture with the president, according to reports from the White House press pool.
After four decades of Democrat control, Republican gubernatorial candidate Christine Drazan is leading Kotek in four different polls. And she's flush with cash after a recent $1.5 million infusion from Nike founder Phil Knight and $1 million from the Republican Governors Association.
Independent candidate Betsy Johnson, who resigned from the Democrat party to make a bid for the governor's seat, trails in the polls but may be siphoning votes from Kotek.
She used the opportunity to take shots at Kotek.
"Welcome to the Rose City and Oregon," Johnson said in the video posted to social media. "I hope you come often because every time you do, Tina's tent cities get cleaned up a little bit more."
Johnson continued.
"While you're here, could you please have a chat with Tina and other local officials, especially our Multnomah County DA Mike Schmidt, about prosecuting people that are breaking the law and actually holding criminals accountable."
Three Oregon congressional seats also hang in the balance in the traditionally deep-blue state.
Democratic candidate Val Hoyle is battling Republican Alek Skarlatos to succeed retiring Rep. Peter Defazio, a Democrat who served for 40 years, in Oregon's 4th District.
Democrat Andrea Salias is facing Republican Mike Erickson in a contest for Oregon's new 6th District, which was based on the 2020 Census.
In the primaries, Democrat Jamie McLeod-Skinner defeated eight-term centrist incumbent Rep. Kurt Schrader (after President Biden endorsed him in April), in the newly redrawn 5th Congressional District. The Cook Political Report now rates her race against Republican Lori Chavez-DeRemer as a toss-up.
The outcome of those races could affect the partisan balance of the U.S. House of Representatives in the 118th Congress.
The president hopes his visit will shore up those Democratic candidates.
But the pitch comes as his approval ratings hit new lows.
According to a new poll from Morning Consult, more voters disapprove than approve of Biden in 41 states. Oregon was among the states that saw the steepest decline in his net approval rating over the past two months.
As the parties continue to battle for advantage along the west coast, more national surrogates are expected.
On Oct. 18, Drazan will rally with Virginia Gov. Glenn Youngkin, a Republican who flipped his state red in 2021 and has been campaigning for swing state governors this year.
Massachusetts Sen. Elizabeth Warren, a Democrat, is scheduled to stump for Kotek the following week.
Registered Oregon voters will begin to receive their mail-in ballots this week and the gubernatorial candidates will meet for their final debate on Oct. 19.