Progressive Women Rally Against Michigan's Reproductive Freedom for All Ballot Proposal
A group of Progressive women gathered on the steps of the Michigan Capitol Building in Lansing on Oct. 13 to urge the state's voters to reject a proposed amendment to the Michigan Constitution that they say would deregulate the state's thriving abortion industry and put women in danger.
Kristen Day, executive director of a national organization called Democrats for Life, told the crowd, "It doesn't matter if you're pro-choice or pro-life. This is about … making sure that (women) are not put in unsafe situations when faced with an unplanned pregnancy."
Democrat Monica Galloway, president of the Michigan Municipal League and a former Flint, Michigan, city council member, said in her remarks, "The amendment would take away the right for parents to be informed if their daughter is seeking an abortion … (the) amendment extends the fundamental right to abortion to children and blocks any restrictions on it if the restriction infringed on the person's autonomous decision-making."
Galloway predicted that, should Proposal 3 pass, "Women in this state will be travailing and wailing over the fact that they have given up their parental rights.
"I am asking parents to take a serious look at what this says."
The president of the Progressive Anti-Abortion Uprising, Terrisa Bukovinac, a self-described "atheist, feminist, and leftist," called Proposal 3 a truly "anti-woman proposal."
"There's nothing progressive about [it]," she said, adding that Proposal 3 would "remove all safety regulations for abortion seekers."
Several speakers warned voters not to be deceived by "slick marketing" and urged them not to be taken in by the lengthy proposal's "simple and innocuous" summary printed on the ballot.
Sarah Burchart, president of Michigan Democrats for Life, warned, "Proposal 3 sounds like it's keeping the status quo … [but] the wording of this proposed constitutional amendment [goes] far beyond Roe."
Burchart quoted a portion of the proposition's language that says the state cannot "penalize, prosecute, or otherwise take adverse action against someone for aiding or assisting a pregnant individual in exercising their right to reproductive freedom."
For some time, other critics of the proposal have maintained that the use of the word "individual" does not differentiate between adults and minors.
They say the proposal specifically characterizes sterilization as a protected right not requiring parental consent, and through that process, brings transgenderism into the Michigan Constitution.
"These radical changes have been quietly slipped into the text in such a way that Michigan voters will not see them if they only read the summary of the proposal," said rally speaker Lucy Moye, the national chairperson of the American Solidarity Party.
Loren Khogali, executive director of the American Civil Liberties Union of Michigan, an organization that strongly supports Proposal 3, wrote on the group's website:
"We will not allow forced pregnancy in our state, nor will we stand by as the devastating impacts of a post-Roe world disproportionately impacts people of color (and) LGBT communities.
"The majority of Michiganders know that abortion is health care.
"Michigan is on the right side of history as we lead the way with Reproductive Freedom for All."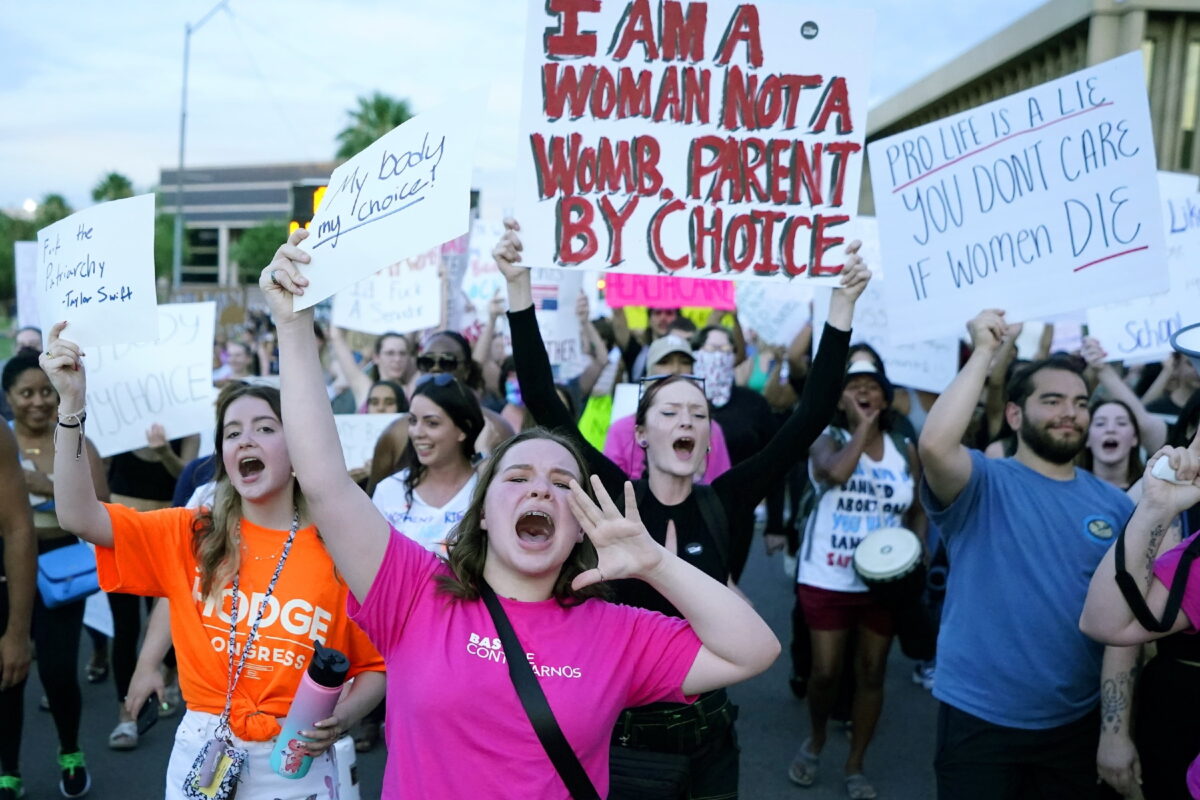 The Right to Reproductive Freedom Initiative received more than enough petition signatures to obtain a place on the Nov. 8 ballot.
The proposal survived an effort to keep it off the ballot due to numerous spelling, punctuation, and grammatical errors in the text of the petitions.
If approved by voters, legal experts believe Proposal 3 will invalidate dozens of existing Michigan statutes, such as the 24-hour waiting period before an abortion can be performed; providing pregnant women with fetal development information and ultrasounds of the infant prior to an abortion procedure; a law requiring abortions to be performed only by physicians; and the possible redefinition of statutory rape, which currently holds that a minor child is legally incapable of giving consent to having sex with an adult.