Q&A With Dorey Houle, Republican Candidate for New York 42nd State Senate District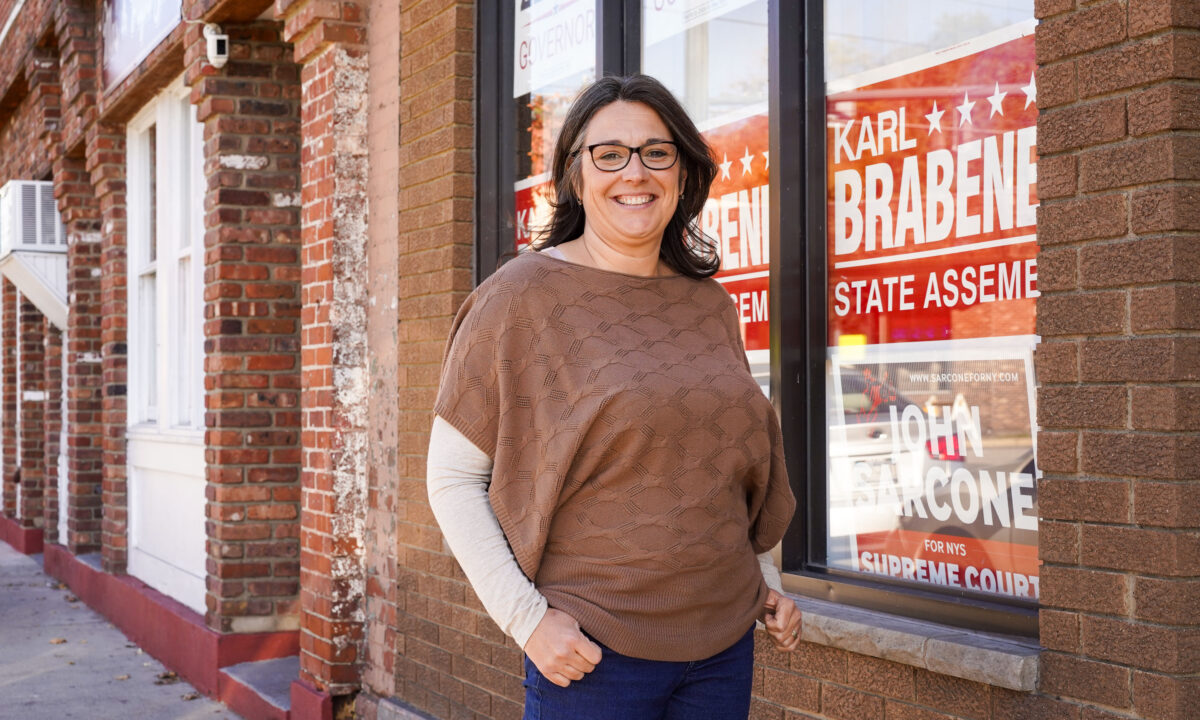 Dorey Houle, a Town of Monroe councilwoman and mother of five, is running to represent the newly drawn 42nd State Senate district in New York, which encompasses almost all of Orange County.
She faces Democratic State Sen. James Skoufis in the general election.
Houle spoke with The Epoch Times in a Republican campaign office in Port Jervis, New York, on Oct. 21. The interview has been edited for brevity and clarity.
The Epoch Times: You got elected to a four-year term at the Monroe Town Board last November. Why did you decide to run for the state senate this year?
Houle: When I was working on my education degree in college, I would hear my professors talk about how they'd love to do X, but the state said that they must do Y. So, I knew very early on that the biggest impact that I wanted to have would be at the state level, and that was where I wanted to be.
When the incumbent Republican Senator Mike Martucci decided not to seek reelection this year, quite a few people in the party suggested that I run. I had butterflies in my stomach. I also felt very badly because I had just gotten elected to the town board, and several people worked very hard to get me elected to that seat; I was also afraid of whether I was turning my back on the town board by doing this run. But when I spoke with them, they assured me that I had their full support. My family was supportive too. I agreed to run and haven't looked back since.
The Epoch Times: You worked as a college lecturer and program director, a village trustee, and a town councilwoman. How do those experiences prepare you for a state senator job?
Houle: When I was a sign language lecturer at the College of Staten Island, I developed a 16-section minor program. That experience enabled me to understand the needs of the students, compare them to the capabilities of the college, and balance those two. I think that is essentially what elected officials do: they take the needs of their constituents, look at the capabilities of the government, and balance those two.
Through the Monroe village trustee and town board positions, I have five years of experience in dealing with budgets and balancing the needs and financial burdens of residents. When we look at a budget, we'd like to take a look at not just now, and not just last year, but a trend. One of the best things that we did was to start capital reserve funds in the village and town so that when we have an emergency, we are not going into the fund balance.
The Epoch Times: If you got elected, what would be your number one priority?
Houle: Public safety. I want to repeal the bail reform, the new discovery law, and the HALT [Solitary Confinement] Act (that puts further limits on inmate conditions and punishments) to make New York and Orange County safer for our residents.
I come from a law enforcement family. My father was a police officer in New York City before he became a fireman; all my uncles were police officers, and my husband works at NYPD. I was also the village police liaison when the bail reform passed. I know how bail reform has contributed to crime on the street and hurt those very low-income people it intended to help, how the discovery law has led to an enormous misuse of time not only for prosecutors but police officers like my husband, and how the HALT law caused violence to rise in jails.
Don't get me wrong. I believe there is room for improvement in the criminal justice system. But to have real, meaningful reform, we need to speak with those who work within the system and get their input. They are the experts, and they know what they need to do a better job.
When we repeal those laws, we make New York State and New York City safer. Then you are going to see an increase in tourism in Orange County, and those tourism dollars are going to become part of the city, county, and state budgets. As a result, our residents' tax burden will be reduced.
The Epoch Times: You mentioned on your campaign website that fighting inflation and the rising cost of living was one of your priorities too. What are your plans?
Houle: We live in one of the highest-taxed states in the country, but we are not spending the money in places where it will make the biggest impact on our residents.
We need to restore state funding to our school districts to lower the taxpayer cost of maintaining schools. That is going to help our residents in the greatest way because school taxes account for 75 percent of their property taxes.
We also need to take away unfunded state mandates at school districts that eat away at our tax dollars. For example, the state has required that school districts develop social-emotional learning curricula without providing any funding. We need to do away with those and get back to the basics of reading, writing, and math.
The Epoch Times: Another priority of yours is to promote common sense growth in Orange County. Can you tell us more about that?
Houle: Common sense growth is about balancing development with land and resource preservation. For example, we know that there is a need for senior apartments, starter homes, and workforce housing in Orange County, and they can be met with townhomes, condos, and apartments. But as we try to meet those needs, we should also be sensitive to the limitations of our water supply and wastewater management.
At the state level, it's all about creating tax incentives and grant opportunities to get municipalities to understand the importance of balancing development with conservation.
The Epoch Times: The latest campaign finance disclosures show that you've raised about $18,000 by Oct. 7 this year, whereas your opponent Sen. Skoufis has raised 10 times more, around $218,000, by Oct. 24.
Houle: By the end of July, I had realized that I could no way raise the amount of money that Skoufis was able to raise and that this campaign was not going to be about money. Once we realized that, I said that I needed to be everywhere—I needed to be at every event, and I needed to be knocking on every door.
When people see how hard I'm willing to work on the campaign trail, that's going to be an indication of how hard I'm going to work come January.
The Epoch Times: The State Senate has been under a Democratic supermajority since 2020; the State Assembly and governorship are under Democratic control as well. If that continues, how do you get your priorities done?
Houle: If Democrats are still a supermajority after this election, it is going to be very difficult for the Republicans to get anything done. And the real loser is going to the people who live in New York. People must come out and vote.
One of the things that we are severely lacking is discourse. We have not had meaningful discourse in the senate or the assembly because we've had a supermajority. Democrats have been able to get anything and everything that they want to be passed because they have the supermajority.
If we can balance that and make it so that the Democrats need to have Republican support on some of their bills, and the Republicans need to have the Democrats' support on their bills, then we are going to get balanced, common-sense reforms and policies out of Albany.