Rep. Matt Gaetz Wins GOP Primary in Florida, Will Face Former State Health Department Official in November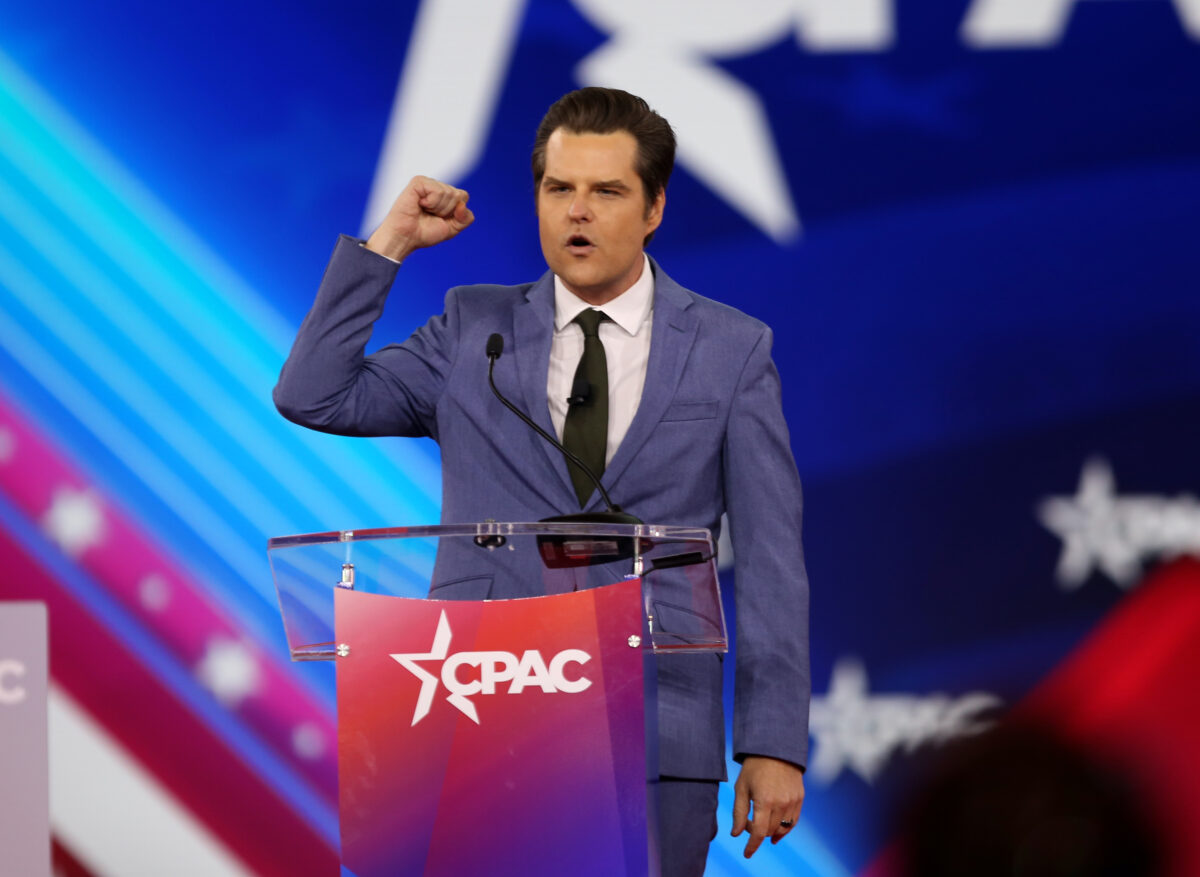 Rep. Matt Gaetz (R-Fla.) won the Aug. 23 Florida primary against his Republican challengers, bringing the incumbent representative closer to securing a fourth term in Congress in November.
His Democratic opponent in the Nov. 8 general election will be Rebekah Jones, former data manager for the Florida Department of Health.
Gaetz, who represents the westernmost part of Florida in the 1st Congressional District, beat GOP challengers Mark Lombardo, a Marine veteran and former FedEx executive, and Greg Merk, a retired military officer and pilot.
Gaetz is a member of the House Freedom Caucus and a high-profile ally of former President Donald Trump, who endorsed Gaetz on Aug. 20.
"Matt is a Champion of our MAGA Agenda, who tirelessly works to Drain the Swamp, Secure the Border, Support our Brave Veterans and Law Enforcement, Defend the Second Amendment, Stand Up to the Woke Mob, and Fight the Never-Ending Witch Hunts from the Radical Left that are destroying our Country!" Trump wrote on his Truth Social platform.
Donald Trump Jr. also campaigned for the congressman in Pensacola, Florida.
Hoping to 'Win With a Mandate'
Gaetz was elected to Congress in 2016 and is nearing the end of this third term. Previously he served in the Florida House of Representatives from 2010 to 2016.
In early August, Gaetz told NTD's "Capitol Report" program that he anticipates Republicans will take back the House in November. GOP lawmakers plan to set up a select committee to investigate the Biden family's business dealings.
"We're going to win. But I don't want to win by default or dissolution. I want to win with a mandate to actually win battles for our people again," Gaetz said. "So many Americans right now feel beat down and beleaguered by the spending with our government that's caused inflation, the vaccine mandates, tyrannical lockdowns, a border that we've just allowed to convert into a turnstile."
Gaetz said he hopes to convert every congressional committee into an oversight committee.
"We will expose how these bad decisions from the Biden administration have directly led to the challenges that people are having to overcome in their lives," he said.