Republican Lawmakers Criticize Biden Over Releasing 15 Million Barrels of Oil From Reserve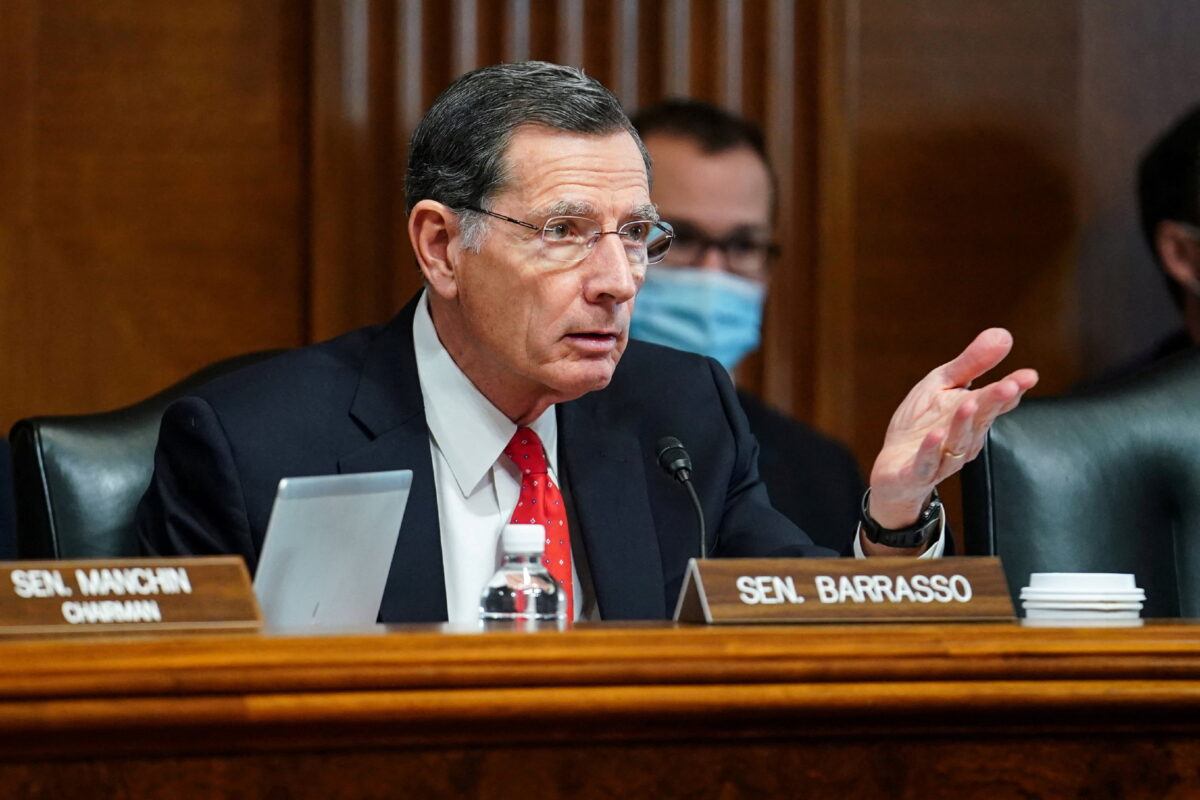 Republican lawmakers are criticizing President Joe Biden over his decision to release 15 million barrels of oil from the Strategic Petroleum Reserve (SPR), arguing that his move was politically motivated and left the United States vulnerable to foreign adversaries.
"President Biden is draining the SPR to bailout Democrats ahead of the midterms, further surrendering our energy security AND national security to countries like Russia, China, Saudi Arabia, and Venezuela," Republicans on the House Energy and Commerce Committee wrote on Twitter on Oct. 19.
Sen. John Barrasso (R-Wyo.), ranking member of the Senate Committee on Energy and Natural Resources, shared a similar sentiment.
"The Strategic Petroleum Reserve was built for a national energy crisis—not for a Democrat election crisis," Barrasso said in an Oct. 19 statement. "His dismal approval rating is not a justifiable reason to continue to raid our nation's oil reserves."
"The surest way to bring down energy prices is to unleash American energy production," Barrasso added.
Rep. Mike Gallagher (R-Wis.), a member of the House Permanent Select Committee on Intelligence and the Armed Services Committee, characterized Biden's decision as "nothing more than an election gimmick" in a statement.
"When Republicans win back the House, we will fight to restore energy independence and put an end to this insanity," Gallagher wrote.
'Blatantly Political'
During a White House event on Wednesday, Biden said the new SPR release would "continue to stabilize markets and decreases the [gas] prices. He rejected the idea that politics played a role in his decision.
"It's not politically motivated at all," Biden said. "It's motivated to make sure that I continue to push on what I've been pushing on, and that is making sure there's enough oil that's being pumped by the companies so that we have the ability to be able to produce enough gas that we need here at home, oil we need here at home, and, at the same time, keep moving in the direction of providing for alternative energy."
When asked to comment on Republicans' remarks that he was helping Democrats in the midterm elections, Biden said, "Where have they been the last four months? That's my response," a response suggesting that his political opponents had not followed his recent efforts to reduce gas prices.
Wednesday's announcement—releasing 15 million barrels from the SPR—completes the release of a total of 180 million barrels authorized by Biden in March. According to the president, the new release translates to about 500,000 barrels of oil per day, when delivery occurs in December.
"We're producing 12 million barrels of oil per day.  And by the end of this year, we will be producing 1 million barrels a day more than the day in which I took office," Biden said.
In 2021, the United States used about 20 million barrels of oil per day, according to data from the Energy Information Administration. Some analysts say the sale of 15 million more barrels is going to have a minimal impact on gas prices.
Further SPR releases won't have a significant impact on oil prices. However, further SPR sales certainty raise my concern level about energy security. Currently SPR levels aren't comfortable, but tolerable. If the SPR declined to under 300-350 million barrels, eesh.

— Patrick De Haan ⛽️📊 (@GasBuddyGuy) October 19, 2022
The emergency reserve as of Oct. 14 dropped to 405.13 million barrels of oil or the lowest level since 1984. That's down from 638.09 million barrels on Jan. 22, 2021.
On the current inventory level of SPR, Biden said it is "more than enough for any emergency drawdown."
Many other Republican lawmakers have also voiced their criticism of Biden's decision, including Rep. Michael McCaul (R-Texas), ranking member of the House Foreign Affairs Committee.
"It's the Strategic Petroleum Reserve. It's not the political petroleum reserve," McCaul told Fox News on Wednesday. "He's playing politics with this national security asset that we have that's really developed and is really for a time of war that we need the energy."
Sen. Pat Toomey (R-Pa.), who serves on the Senate's banking, budget, and fiance committees, took to Twitter to say that Biden's decision "is an abuse of power, reckless, and blatantly political."
"The strategic petroleum reserve is meant for a national emergency. The Democrats' impending election loss doesn't qualify," Toomey wrote.
China
Some Democrat lawmakers have applauded Biden for tapping the reserve. Rep. Frank Pallone (D-N.J.), chairman of the House Energy and Commerce Committee, praised the president in a statement for "taking decisive action to provide relief to the American people."
Rep. Chrissy Houlahan (D-Pa.), who sits on both the House's foreign affairs and armed services committees, took to Twitter on Oct. 19 to say that Biden's move invokes an important issue relating to China.
"Today would be a good day to ban our foreign adversaries like China from buying oil from our strategic petroleum reserves," Houlahan wrote.
She said her bill—introduced in late July along with Reps. Don Bacon (R-Neb.), Peter Meijer (R-Mich.), and Elaine Luria (D-Va.)—"would do just that" against China.
The legislation (H.R.8614), titled "Banning Oil Exports to Foreign Adversaries Act," would amend the Energy Policy and Conservation Act, a U.S. law that gives the U.S. president the authority to direct the Secretary of Energy to conduct a public sale of oil from the reserve.
For each sale from the SPR, the Department of Energy (DOE) holds a competitive auction and awards contracts to the highest bidder.
If enacted, the legislation would prohibit the "export or sale of petroleum products" drawn from the reserve to China, Iran, Russia, and any other country that has been sanctioned by the United States.
Additionally, any entity "owned, controlled, or influenced by" the Chinese Communist Party would also be banned, according to the language of the bill (pdf).
"Like many, I was shocked to learn that a Chinese company was able to purchase oil from our Strategic Reserves," Houlahan said in a July statement announcing the bill. "When I called on President Biden earlier this year to release oil to help lower the cost of gas for Americans, I thought this oil would stay within our borders, where it belongs."
"Today we're taking the first step toward closing that loophole," Houlahan added.
The DOE sold nearly 6 million barrels of oil from the SPR from September 2021 to July to Unipec America, the U.S. trading arm of Chinese state-owned oil and gas company Sinopec, according to DOE documents reviewed by The Epoch Times.
In early September, Rep. James Comer (R-Ky.), ranking member of the House Committee on Oversight and Reform, and Rep. Nancy Mace (R-S.C.) wrote a letter to Energy Secretary Jennifer Granholm, raising concerns that U.S. oil could be used by the Chinese regime to support Russia's invasion of Ukraine.
"Research shows Chinese firms recently trading with Russia's defense sector, including with companies supporting Russia's ongoing war with Ukraine," the letter says. "In light of China's friendship with Russia having 'no limits,' there are serious questions about whether SPR oil is benefiting Russia or companies assisting Russia in the invasion of Ukraine."
"It would be unacceptable for China to support Russia's invasion of Ukraine with oil from the United States."